You have already learned about the amazing stuff you can do with connectors, from drawing to formatting them. Many times when you draw connectors between slide objects, the connector may use the shortest path between two slide objects. This might overlap the connector over other shapes, text boxes, or any other object. You might have another reason to use a longer connector between two slide objects as well. Whatever your reason may be, the good news is that you can easily reroute your connectors—either automatically or manually.
When you use the automatic option to reroute the connector, it always links between two slide objects using the shortest route. For longer paths, you will have to manually reroute the connector. You will learn about both these options in PowerPoint 2011 for Mac on this page.
Reroute Connectors Automatically
To fix the connector routing automatically, carefully right-click (or Ctrl + click) just the connector (not the slide objects that it connects) to bring up the contextual menu. Choose the Reroute Connectors option that you see in Figure 1.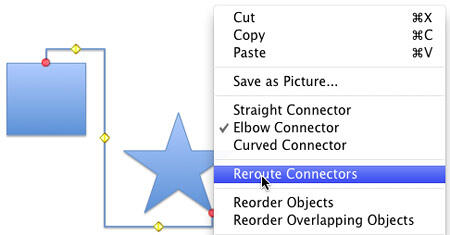 Figure 1: Reroute Connectors option
This will reroute the connector to the closest points between the shapes (compare Figures 2 and 1).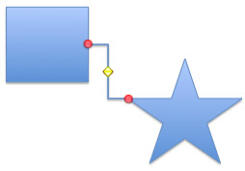 Figure 2: Connector automatically rerouted between two shapes
Reroute Connectors Manually
To reroute connectors manually, you first need to select just the connector (not the shapes that it links). You will find one or more yellow diamonds on the connector, as shown in Figure 3 below.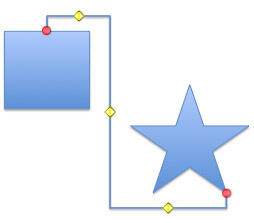 Figure 3: Example of a connector with more than one yellow diamond
Tip:
Don't see any yellow diamonds on selected connectors? Yellow diamonds show up only on elbow and curved connectors, and not on straight connectors. Look at our
Connector Types
tutorials to learn about different types of connectors. Also, if you want to learn more about how to edit shapes with these yellow diamonds, refer to our
Manipulating Shapes by Dragging Diamonds in PowerPoint 2011
for Mac tutorial.
What's so special about these yellow diamonds? They have special attributes to format the shape of the connector—pulling them around lets you change the length and shape of your connector. Look at the top example in Figure 4, and compare it to the example on the bottom. The difference in the connector's orientation was achieved by pulling the yellow diamond on the connector towards the second shape.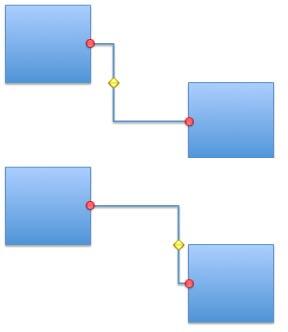 Figure 4: Dragging diamonds reorients the connector
Here are some guidelines on using the yellow diamonds to reroute connectors:
For elbow connectors, the yellow diamond allows you to change the location of any branch of the elbow.
For curve connectors, the yellow diamond allows you to change the curvature of the connector.
Straight connectors need no manipulation, so they don't have any yellow diamonds.