You can do any of the typical positioning tasks in PowerPoint for your pictures such as resizing, aligning, and grouping. In addition, you can also reorder the pictures on your slide. In fact, you can also reorder a bunch of pictures and other slide objects such as shapes quite easily using the various ordering options available within the program.
Now, look at Figure 1, which has three slide objects, where two of them are pictures and one of them is just a rectangle shape. We want to reorder them so that the rectangle is placed between the larger and the smaller pictures, with the smaller picture placed above the other two objects.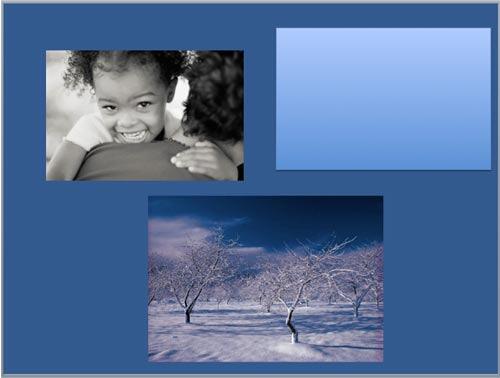 Figure 1: Pictures and Rectangle placed on the slide
Follow these steps to learn more about reordering pictures in PowerPoint 2011 for Mac:
Select both pictures and the rectangle. Then align them to the center, and then to the middle of the slide. To learn how to align and distribute pictures and other slide objects to the center of a slide, refer to our Align and Distribute Pictures tutorial. When we aligned the pictures and the rectangle on our slide, the resultant slide ended up looking like what you can see in Figure 2, below. Note that the smaller picture (a smiling child) has been rendered invisible. This picture was our primary focus object for this slide. We now need to correct the order of pictures and other slide objects.

Figure 2: Small picture hidden behind the rectangle

Note: The result of applying align to center and middle options may be different, depending upon the present order of your slide objects.

We now need to bring the small picture of the smiling child above all the other objects. The order of our slide objects should be similar to what you see in Figure 3.

Figure 3: Correct order of the slide objects
To achieve this objective, you can reorder the slide objects using any of the following ways:

Use the Arrange options. To learn more about Arrange options, refer to our Reorder Slide Objects tutorial.
Access the Dynamic Reorder view. In this view, drag the slide objects to reorder them as required (Figure 3, above actually shows the Dynamic Reorder view). To learn more, refer to our Dynamic Reorder of Overlapping Shapes tutorial. This tutorial explains how to reorder shapes dynamically, but the same techniques work with other slide objects including pictures. Just in case your objects do not overlap, refer to our similar Dynamic Reordering of Shapes tutorial.

After reordering, you can see the resultant arrangement of pictures, as shown in Figure 4.

Figure 4: Pictures and Rectangle reordered properly
Save your presentation.
This is the original page. An AMP (Accelerated Mobile Page) version of this page is also available for those on mobile platforms, at Reorder Pictures in PowerPoint 2011 for Mac.