Although it is so easy to insert a picture in your PowerPoint slide, you should almost always look at doing more with your pictures thereafter. Probably the first thing you can do to make the picture more effective is cropping. In addition, you can also adjust how the picture looks by applying adjust picture options. Thereafter, you may apply any of the preset Picture Styles available. However, PowerPoint packs quite a punch as far as picture edits are concerned. You can even play with the borders that surround your pictures.
In this tutorial, we will explore the Border options that allow you to add anything from a simple outline to a beautiful frame to make your pictures stand apart. Follow these steps to learn more:
Open your presentation, and navigate to a slide that contains the picture that you want to apply the border to. Make sure that the picture is selected.
Alternatively, if you want to start from the beginning, launch PowerPoint. Here, you will see the Presentation Gallery. Click the Cancel button in this gallery to open a blank presentation with a new slide. PowerPoint 2011 for Mac users can change the slide layout to Blank by selecting the Home tab | Layout | Blank option. Then, insert a picture and select it.
This brings up the Format Picture tab on the Ribbon (highlighted in

red

in Figure 1, below). Make sure that this contextual tab is activated.

Figure 1: Border button within the Format Picture tab

Note

: The

Picture Tools Format

tab is a

Contextual

tab. These tabs are special tabs in the

Ribbon

that are not visible all the time. They only make an appearance when you are working with a particular slide object which can be edited using special options.

At this point, you can add a border to your selected picture using any of the two ways mentioned below:
Apply a Picture Style that includes a border, and edit it later, as required.
Click the Border button (not the downward pointing arrow in it), as shown highlighted in

green

in Figure 1, above. This adds the default border that you can edit later.
After adding a border to your selected picture, you can edit it using border editing options. First locate the Picture Styles group within the Format Picture tab. In this group, locate the Border button, and click the downward pointing arrow next to it (highlighted in

blue

in Figure 1, above).
This opens the Border drop-down gallery that you can see in Figure 2, below.

Figure 2: Border drop-down gallery
Let us explore all options within the Border drop-down gallery, as referenced in Figure 2, above:

A. No Line

Choose this option to remove the picture border altogether from your selected picture.

B. Theme Colors

Here, you can select any of the colors which are from the active Theme of the presentation for the picture border. You can also select any of the 5 tints or shades for any Theme color. Learn more about Themes here.

C. Standard Colors

You can choose any of the ten standard colors available. These ten standard colors are just choices of colors that PowerPoint believes to be widely used. You don't have to limit yourself to either the Theme colors or Standard colors, as we'll show you in the next options, although it's a good design idea to use Theme colors as far as possible.

D. Recent Colors

Here you can find the colors most recently used. If you have just launched PowerPoint and created a new presentation, the Recent Colors option may be entirely absent since you haven't selected any color recently!

E. More Colors

This option summons the Mac OS X Color picker as shown in Figure 3.

Figure 3: Mac OS X Color picker
In this Color picker, you can choose any color from the wheel. Thereafter adjust the selected color's luminosity within the long, thin slider on the right. Once you are happy with the color attained, you click OK to get back to your slide.

F. Line Effects

Selecting this option takes you to the Line (border) editing options within the Format Picture dialog box, as shown in Figure 4. Here, you can make any changes to the selected picture's border, using the options available.

Figure 4: Border (line) editing options within the Format Picture dialog box
Also, if you want to apply the gradient style to the border, you can use the options within Gradient tab of this panel. To learn more about Gradient lines, refer to our Gradient Lines in PowerPoint 2011 for Mac tutorial.
To make changes to the transparency level of the picture border, you can select the Solid tab, and use the Transparency slider, or, you can also enter percentage values for the transparency in digits within the box next to the slider (both have been highlighted in

red

in Figure 5 below).

Figure 5: Transparency slider within the Format Picture dialog box

G. Weight

Using this option, you can change the thickness of the border. Weights are available starting from a hairline width to a chunky, thick line. Learn more about line thickness in our Formatting Line Weight and Thickness for Shapes in PowerPoint 2011 for Mac tutorial. Although the linked tutorial is about shape borders, the procedure explained in the tutorial applies to picture borders as well.

H. Dashed

These are different dash types for the picture border. Learn more about these options in our Formatting Line Dashes for Shapes in PowerPoint 2011 for Mac tutorial.
Once you have added/edited the picture border, remember to save your presentation. In Figure 6, you can see a border added to the selected picture. Compare Figures 1 and 6.

Figure 6: Picture border added and enhanced
More Picture Border Options
To edit a picture that has a Picture style applied that already includes a border, select the picture, and right-click (or Ctrl + click) to access the contextual menu that you can see in Figure 7. In this menu, select the Format Picture option.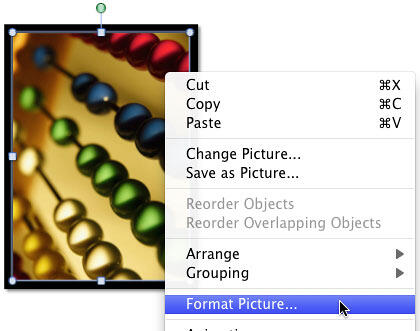 Figure 7: Format Picture option to be selected
This summons the Format Picture dialog box that contains a plethora of options you can use to format your picture borders. All these options are accessible if you choose the Line option in the sidebar (refer to Figures 4 and 5, above).
This is the original page. An AMP (Accelerated Mobile Page) version of this page is also available for those on mobile platforms, at Picture Borders in PowerPoint 2011 for Mac.