Introduction
About Style Workshop
Why Style Workshop?
Using Style Workshop
Elements in PowerPoint
Pricing and Support
Conclusion
---
Introduction
Everyone wants their PowerPoint presentations to look different. And so do you - but where do you start? With a template? That's part of the answer - but you also need color coordinated buttons, icons and bullets - and nice visuals that match the look and feel of your presentation. That's where Style Workshop comes into the picture.
Back
---
About Style Workshop
Style Workshop is from Indigo Rose, the same company that creates Autoplay Media Studio, Setup Factory and other products.
My contact at Indigo Rose for this review was Colin Adams, who heads Indigo Rose - I wish to thank him for responding incessantly to all my questions. You can learn more about Style Workshop and other products at the Indigo Rose site.
Back
---
Why Style Workshop?
I asked Colin about what motivated them to create Style Workshop - here is his response:
"As for our motivation, we created Style Workshop to fill the need for high-quality image components that could be used with PowerPoint and other multimedia and presentation packages. While there are a lot of companies selling stock templates for PowerPoint, Style Workshop takes an unique approach. Rather than being plain old background images like other products, Style Workshop is a collection of interchangeable color-coordinated image elements. You get over 125,000 bullets, bars, buttons, panels, abstract backgrounds and other building blocks. You can easily drop them into PowerPoint presentations and arrange them to complement your message. The best part though is that they're provided in the new 32-bit PNG format, which gives you impressive shadow effects, transparent regions and seamless overlapping of elements. In effect, you're not limited to working with rectangular areas, which is a real limitation of other libraries. Style Workshop was created to give your presentations a competitive edge!"
Back
---
Using Style Workshop
Using Style Workshop is different than using a PowerPoint template - in fact, I'd rather call Style Workshop a collection of coordinated design elements that actually go much further than a basic template. Having said that, this sort of freedom and minute control means that Style Workshop offers no one-click makeover for your PowerPoint presentation.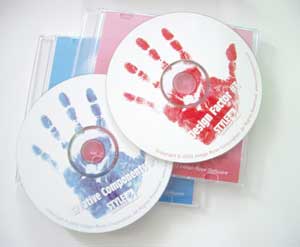 The entire Style Workshop collection comprises five CDs - each CD contains over 2800 photographs, 3500 buttons, 700 backgrounds, 1050 template-style backdrops, 3500 page panels, 3500 icons, 3500 bars and 3500 bullets. All five put together, it is an enormous collection of style elements.
To use any of these elements, you first need to choose them from within Style Workshop, a contained application that runs straight off the CD. You'll find several tabs within this browser-style application, but you need to open the Media Browser tab to preview and save all style elements (see screenshot).
There are nice tutorials on the Style Workshop site that show how you can organize your content within the media browser and use it in various applications including PowerPoint.
Back
---
Elements in PowerPoint
Look at this screenshot: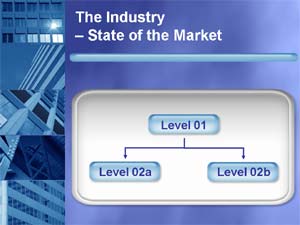 The blue background is a Style Workshop background - on the left are five color coordinated images from the same Style Workshop CD. You'll also find a blue vertical bar and a grey panel within the slide. Finally, I've created an organization chart from the buttons - this gives a sophisticated look that's different from a conventional organization chart.
Back
---
Pricing and Support
There are five Style Workshop CDs. Each CD is based on a different theme. Individual CDs cost US$59, while the entire 5 volume collection costs US$199.
A free trial version of Style Workshop that contains 180 images from the entire collection of over 129,000 images is available for you to test the product.
Colin provided more info about support:
"We provide free technical support for Style Workshop through our online support center. Additionally, free tutorial videos are provided on the Style Workshop website. The video tutorials show you how to use the Style Workshop image elements with a variety of presentation and design packages, including Microsoft PowerPoint, Adobe Photoshop, Macromedia Flash, AutoPlay Media Studio and about ten other applications."
Back
---
Conclusion
For what it does at its price point, Style Workshop is a good investment. It is important that you remember that you cannot just open Style Workshop and get it working within PowerPoint - you'll need to choose the style elements you need and then get them into PowerPoint or any other application. That in itself is a good thing since you have the freedom of choosing and mixing your own style elements and creating a design that entirely individual.
Back
---
This is the original page. An AMP (Accelerated Mobile Page) version of this page is also available for those on mobile platforms, at Style Workshop.