Introduction
About OfficeFX
Download and Installation
Using OfficeFX
OfficeFX Options
Pricing and Support
Conclusion
---
Introduction
OfficeFX isn't like other PowerPoint add-ins that make small changes -- this product metamorphoses your entire presentation into something that's completely different from the original PowerPoint as far as the look is concerned. Thankfully, it applies all its magic non-destructively -- all your PowerPoint presentations including their text, bullets, custom animations, slide timings, slide masters, hyperlinks, etc. are left unchanged! And they are respected and used by OfficeFX – which just might be the product's greatest advantage. Although presenters and audiences love creating jaw-dropping content with magical effects and moving backgrounds, everyone wants their PowerPoints to also be available in the original form, and they want to leverage their own PowerPoint design and animation skills. OfficeFX enables this blend -- call it the best of both worlds.
Back
---
About OfficeFX
OfficeFX is from Instant Effects, a company based in Santa Barbara, United States. You can learn more about OfficeFX and download a free trial version from their site.
My contact at Instant Effects for this review was Mike Wilson - thank you, Mike.
Back
---
Download and Installation
Before you purchase a license, or download a trial version of OfficeFX, you should run the System Checker that's available on the Product Download page. This utility checks if your system is compatible with OfficeFX. To be fair, OfficeFX requires a higher-end graphics card -- and will run better with a dedicated graphic card rather than your motherboard's built-in graphics -- for this reason, it's best that you first work with the trial version to see if your system is compatible or not. And I'm glad to see a company that's honest about their product's system requirements for a change!
The setup routine will also check for the latest version of Microsoft's DirectX runtime -- and will download the missing components for you -- for this purpose, do set aside at least half an hour of your time along with a fast internet connection to ensure a proper installation.
When installed, the add-in creates an OfficeFX toolbar within PowerPoint as shown in Figure 1 -- if you don't find it there choose View | Toolbars | Office FX.

Figure 1: The OfficeFX Toolbar
Back
---
Using OfficeFX
As I said earlier, all OfficeFX imagery leaves the original presentation content intact -- but it does store extra Office FX info within the presentation itself -- for this reason, your original PowerPoint file sizes may balloon a little -- my test presentation went from 1 mb to 1.23 mb. Of course, you can always save the OfficeFX enhanced PowerPoint files with a new name.
Beyond the small file size increase, and the graphic card compatibility requirements, OfficeFX has everything to keep the audiences tied to their chairs. With the impressive repertoire of moving backgrounds, interactive 3-D models, text effects, slide transitions, and animations, OfficeFX can bring wows from viewers -- in fact, the end product hardly resembles PowerPoint at all.
Before I show you how you can use OfficeFX, don't forget that no presentation with zero content can attain a wow factor solely on the basis of cool effects. So start with a presentation that's already compelling and complete -- then add OfficeFX to it so that you can make a statement.
Follow these steps to use OfficeFX on a PowerPoint presentation.
Open any presentation in PowerPoint -- then click the OfficeFX button from the toolbar. This will open the interface shown in Figure 2.

Figure 2: The OfficeFX Interface
OfficeFX works with FXThemes -- and sets of FXThemes are contained within Theme Packs. When the application is opened for the first time, you get a basic Theme Pack -- extra Theme Packs can be downloaded and purchased from the OfficeFX site. A visit to the Instant Effects Theme Gallery and Free Asset pages will give you an idea of the array looks and 3D "insert scenes" that are available.
Select a Theme Pack and you will see the FXThemes it contains. Figure 3 shows the interface with a FXTheme selected.

Figure 3: OfficeFX Interface with the FXThemes
Apply the options as required -- each option is explained later in this review.
Click OK to apply the changes to the presentation, and get back to PowerPoint. Remember to save the presentation again in PowerPoint.

Alternatively, click either of the FXShow buttons to view the presentation using the OfficeFX effects. One FXShow option starts a full screen presentation on your primary monitor. The other option starts a Presenter View utility much like PowerPoint's similarly named tool for use in dual monitor setups.
Note: Choose File | Save PPT As to save OfficeFX enhancements to a different PowerPoint filename -- this won't change the original PowerPoint presentation.
Back
---
OfficeFX Options
The OfficeFX interface is divided into three parts, as shown in Figure 3. These are explained below:
A. Slide Pane
Shows all the slides contained in the active presentation. Select a slide, or more than one slide -- and then make changes elsewhere in the dialog box -- such as applying a variation, adding videos or animated 3-D models, transitions, etc.


B. Preview
Shows the slides as you apply changes on them. You can view slides individually as you work on them. The Design Mode shows the current slide with applied variations, transitions etc., and the Interactive Mode is a smaller preview of the actual slide show. It allows you to click inside the preview window to trigger custom animation and transition to the next slide. In the area below the Preview, you can see detailed information about the selected slide and applied theme variation.


C. Control Panel
Contains six tabs which provide access to all the features and settings of OfficeFX and allows you to apply those to your PowerPoint file

Themes (see Figure 4) is where you choose the Theme Pack and the FXTheme for the presentation.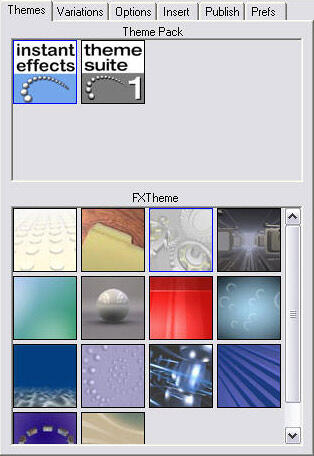 Figure 4: Themes tab
Variation (see Figure 5 ) allows the user to apply an FXTheme's different variations to selected slides. Variations can simply be different color renditions of a moving background (as in the FXTheme used for this review), or they might include different layouts to accommodate title slides or content slides. The variations options will differ from theme to theme.

Also included on the Variation panel are the Transitions options. Each FXTheme has its own custom transitions that pick up on its particular design. There are also a set of over 30 standard transitions that come with OfficeFX. Those can be used with any FXTheme. And if you prefer to use PowerPoint transitions, that option is also available to you.



Figure 5: Variation tab
Options (see Figure 6 ) is where you can fine-tune various slide elements -- such as text appearance in the presentation, interactivity, animation, etc. For example, if you want OfficeFX to respect the colors you've choosen for bulleted text on a particular slide, this is where you select that option.



Figure 6: Options tab
Insert (see Figure 7) allows you to add 3D scenes and videos to your slides and allows you to tweak their placement and performance. For OfficeFX Professional users, the video insert scenes are particularly interesting. They project your AVI, WMV, or MPEG videos onto actual 3D objects like animating laptop computers, cell phone screen, or billboards. They also can simply play your video full screen, but either in front of or behind your PowerPoint content.



Figure 7: Insert tab
Publish (see Figure 8) tab is used for exporting the changes made on the presentation into a video or standalone FXD file. FXD files are a special OfficeFX file format that can be played using the free FXD player application -- this is a great option if you want to distribute your OfficeFX presentations to people who don't have the full version of OfficeFX installed. Publishing to video and FXD format is a feature of OfficeFX Professional.



Figure 8: Publish tab
Preferences (see Figure 9 ) provides global settings that apply to the entire OfficeFX application -- by clicking the Advanced button, you can make even more changes.



Figure 9: Preferences tab
Back
---
Pricing and Support
OfficeFX is available in two versions -- Office FX and Office FX Professional -- high-end options like inserting 3D video insert scenes, publishing to video and FXD format, and content creation of themes is only possible using the Professional version.
The basic version costs $149.95 -- and the Professional version costs $649.95 -- volume discounts are available.
Support is through email and an online FAQ. I should add that email support was first rate.
Back
---
Conclusion
OfficeFX is a compelling product and they have all the bases covered -- for high end users, they have OfficeFX Professional. Everyday users can choose the basic Office FX version that provides 80 percent of the abilities at 25 percent of the price -- and if you only want to view the OfficeFX enhanced presentations in FXD format, there's the free FXD player.
Whichever version suits you, do remember to test if your graphics hardware can cope up with the product -- beyond that, the product is amazing.
Back
---