HTML Export
Flash, Director, Java and SVG
Streaming Media and Video
---
HTML Export
Another option for distributing a presentation widely is to post it on the Web via HTML code. Starting with PowerPoint 97, Microsoft has provided an option to create an HTML version of a PowerPoint presentation (File | Save as Web Page). PowerPoint 2002 takes this a step further to create DHTML (dynamic HTML) output, which can better cope with such presentation niceties as animations and transitions. The conversion feature isn't perfect, though; the resulting code is rather rough, the files are relatively large, and some animations get lost anyway. And you'll need Microsoft Internet Explorer 5 or above to view the resulting presentations.
If you need clean or editable HTML output with more options than you can imagine, you might want to try a product called PPT2HTML, developed by Steve Rindsberg.
Rindsberg says his motivation for creating PPT2HTML was:
To give the user total control over what appeared in the HTML, to make it possible for the user to produce HTML that's compatible with any browser out there, or, if it's more appropriate for their needs, to produce HTML that fully exercises the abilities of a particular browser.
PPT2HTML does just that, but to appreciate its full capabilities, of course, you also need to know a little about writing HTML.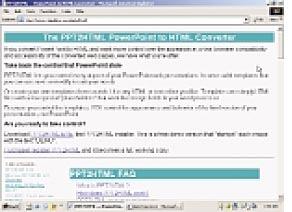 PPT2HTML lets you convert PowerPoint files for the Web and features editable HTML code
Back
---
Flash, Director, Java and SVG
In the past couple of years there has been a deluge of applications that convert PowerPoint content into the Flash SWF format. These include Presedia Express Communicator, PresentationPro PowerCONVERTER and Wanadu iCreate.
These programs provide server-based or desktop-based solutions, or a combination of both technologies. Of all the solutions, Presedia creates the most faithful translations. Predictably, it also costs more than the others (starting at $15,000 for an ASP enterprise package), and is almost entirely server-based for subscribers only. PowerCONVERTER, at $299, is the simplest of the lot and is supplemented by additional tools that allow distribution of such Web presentations through e-mail and the Web, and as autorun CDs. iCreate, the newest kid on the block, uses both desktop- and server-based tools to convert PowerPoint presentations to the Flash SWF format. An individual version is available for $995, and additional stations or enterprise-wide capabilities are priced upward from there.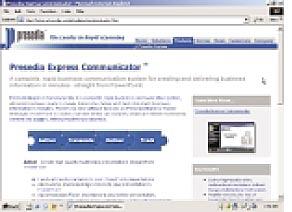 Presedia can convert PowerPoint files into the Flash SWF format (trainers love it), but it's part of an enterprise package that starts at $15,000
Macromedia Director users have a handy option available to them. PowerPoint presentations can be imported into Director for further edits and enhancements, but you must save your PowerPoint presentations to the version 4.0 format before Director can accept them. (This is only available in PowerPoint version 2000 and earlier; it's not available in PowerPoint 2002.) Thereafter, these Director movies can also be exported in Shockwave DCR format for online delivery.
Among the best distribution options available anywhere for PowerPoint presentations is Impatica for PowerPoint. The software converts PowerPoint slideshows into Java presentations that retain almost all transitions and animations—even background music and narration. Impatica's biggest drawback is that newer versions of Internet Explorer and Windows are not Java equipped, but that limitation can be overcome by downloading Sun Microsystem's Java Virtual Machine.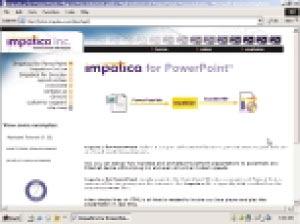 Impatica converts PowerPoint slideshows into animation-preserving Java
Back
---
Streaming Media and Video
Another option is the ability to convert a PowerPoint presentation to a Web movie to stream over the Internet. If you own the Mac version of PowerPoint 2001, you can output your entire presentation as a QuickTime movie. This also works with a PowerPoint presentation created on Windows—just open it on a Mac and export it as QuickTime.
On the Windows side, Microsoft provides its free Producer add-in for PowerPoint 2002, which converts entire presentations—along with any other content such as images, audio and video—to rich media Web presentations. Producer works only on Windows 2000 and XP, but movies created with the program can be viewed on other Windows operating systems.
Another option is to "capture" a running presentation onscreen and save it in a movie format. Entire PowerPoint slideshows can be screen-captured using tools such as TechSmith's Camtasia Studio and Hyperionics Technologies HyperCam and saved in different movie formats or converted into streaming RealMedia or Windows Media content. They can also be converted to video CDs and DVDs that can be played on television screens.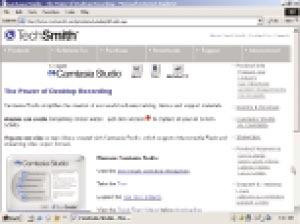 Camtasia Studio lets you capture a running PowerPoint presentation to save it in different movie and streaming formats
Back
---
This is the original page. An AMP (Accelerated Mobile Page) version of this page is also available for those on mobile platforms, at PowerPoint Repurposing Page 02.