This article appeared in the erstwhile Presentations magazine dated February 2003.
PowerPoint Viewing For Everyone
The Viewer
Autorun CDs
---
That presentation you worked so hard on doesn't have to die. It can be reused in any number of other ways—as an autorun CD, QuickTime movie, e-mail presentation and much more.
Editor's Note: Techniques mentioned in this article work with most Windows and Macintosh versions of PowerPoint, although none of the third-party products discussed are available on the Mac platform.
Today, billions of electronic presentations inhabit millions of hard disks in every corner of the world, and more than 90 percent of these presentations were created with Microsoft PowerPoint. Unfortunately, most have a short life span. Typically these presentations are used only once or twice, then filed and forgotten—an enormous waste of time and valuable information.
Yet this content can be repurposed, redistributed and reused in a number of different ways. Sure, some content is confidential and time-bound. But the majority of presentations contain information that isn't confidential at all—information that is relevant and consistent with an organization's goals over time, worth having more people inside and outside the organization know about, and capable of being reused or repurposed in other ways, via e-mail or CD-ROM, in other presentations or software formats, as autorun presentations, even as screen savers.
Precisely how do you redistribute this content efficiently and easily? In typical Microsoft fashion, the answers aren't obvious—but they aren't tremendously complicated, either.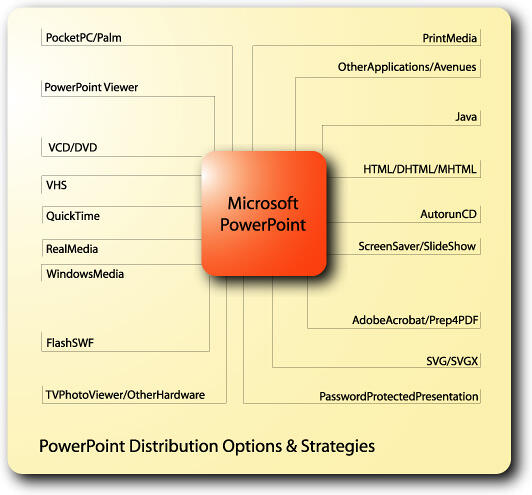 As you can see, it is possible to repurpose PowerPoint files in a variety of ways
Back
---
PowerPoint Viewing For Everyone
Making sure everyone can access the PowerPoint files you create is the first and most basic requirement for redistributing them. As ubiquitous as PowerPoint is, not everyone has the program installed on their computer, and therein lies the problem. Until the release of PowerPoint 97 for Windows, Microsoft included a free Viewer application that enabled anyone to see a PowerPoint slideshow. Microsoft has since neglected to update the Viewer, despite a reported flood of requests from users on Microsoft's wish-mail service begging it to do so.
In practice, this means that anyone using the downloadable 97 Viewer to read PowerPoint files created in versions 2000 or above will have varying degrees of success, and sometimes none at all.
Note from Geetesh: Since then, Microsoft has been more consistent with Viewers. PowerPoint 2003 for Windows and later versions have always had some sort of updated Viewers. However, the lack of Viewers has always been an issue for users of PowerPoint for Mac.
Back
---
The Viewer
Despite these problems, the 97 Viewer is still the best option when e-mailing a basic PowerPoint presentation to a colleague who does not have PowerPoint installed. Just be sure to mention the link to the PowerPoint Viewer download. A Viewer for the Macintosh is available.
Specifically, the principal flaw of the Viewer is that it does not support new technologies introduced in the last few PowerPoint versions. These include new transitions and animations as well as support for animated GIFs and picture bullets.
Other than the Viewer, Microsoft also has the Pack and Go feature built within PowerPoint, which in essence archives the active presentation into a self-extracting executable file. But even if the vintage 97 Viewer were updated, it might not provide a solution to everyone's problems. Nowadays it is common to hear requests to convert entire PowerPoint presentations into Flash, HTML, Java, PDFs, QuickTime movies, autorun CDs or other formats. Such demands have given birth to a whole industry of ancillary, third-party solutions, a sampling of which we'll examine here.
Back
---
Autorun CDs
An easy way to distribute a PowerPoint file as a handout or giveaway is to create an autorun-CD file. Even with the latest Windows XP version, this isn't possible using PowerPoint alone.
But there are a number of software programs that create autorun CDs from PowerPoint presentations. These programs typically place a copy of the PowerPoint Viewer on the CD. The principal limitation of CDs created by such programs is posed by the Viewer itself, which does not support some of the latest features found in PowerPoint 2000 and 2002.
The most popular of these autorun-creation programs is Sonia Coleman's Autorun CD Project Creator. She says
A CD is ideal for distributing presentations large and small that target an audience with systems that do or do not have PowerPoint installed," says Coleman. "CD presentations can make heavy use of graphics, video and audio, as well as link to other document types, including Word, Excel, PDF and Web pages, and can seamlessly link to an unlimited number of other presentations.
Another such product is RunIt!, created by Presentations columnists Jennifer Rotondo and Claudyne Wilder. RunIt! is an easy way make an autorun CD out of a PowerPoint file.
Geetesh: Both programs don't exist any more.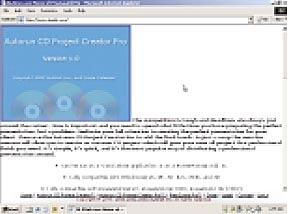 Autorun CD Project Creator Pro lets you create autorun CDs from PowerPoint, Word, Excel and Adobe Acrobat files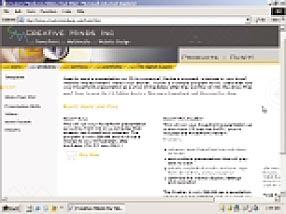 Creative Minds' RunIt! does one thing well—lets you create autorun PowerPoint CDs
Back
This is the original page. An AMP (Accelerated Mobile Page) version of this page is also available for those on mobile platforms, at PowerPoint Repurposing.