Security Options
Portable Document Format files
Hand-helds and PDAs
Slideshows and Screen Savers
---
Security Options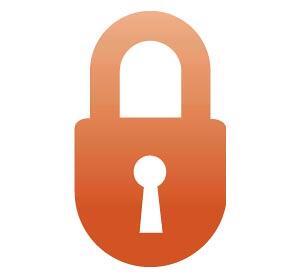 Redistributing PowerPoint content is really only one side of the coin. The other side involves distributing content securely so that no one can steal or edit it. Many of us also want our presentations to be viewed in a specific sequence, without giving the viewer the option to jump around. Although some distribution methods include features such as password protection, you might want to look at specialized security options for PowerPoint—both native and third-party.
Password protection has long been available for Microsoft Word and Excel documents. Since PowerPoint 2002, Microsoft has included a password-protection feature for PowerPoint presentations as well. Unfortunately, such protected presentations won't open in earlier versions of PowerPoint, even if you use the password. A simple way to overcome this limitation is to archive an entire presentation using the file-compression program WinZip or a similar application that supports password-protected archives.
SecurePack from Shyam Pillai is an add-in for PowerPoint that creates password-protected executables from presentations. SecurePack can create packages of one or multiple presentations into a single executable show that includes files linked from within the presentation. PrezGuard Pro from Aladat is a similar product that provides a password-protection procedure for viewing and editing PowerPoint presentations.
Back
---
Portable Document Format Files
Another way to get around the aforementioned PowerPoint Viewer problem is to convert your PowerPoint presentation to a PDF document, which can be read by anyone using Adobe's free Acrobat Reader, the closest thing the computing world has to a universal reader. If you have Adobe's full Acrobat application installed on your computer, you'll find a convenient PDF icon within your PowerPoint interface that converts the active presentation into a PDF. The only problem is that the resulting PDFs are completely static and devoid of any slide transitions, action buttons or interactivity. You'll even lose your hyperlinks. However, the newest version of Acrobat 5.0 does offer some improvements—hyperlinks and some transitions are now translated, but action settings still don't make it through the conversion.
If you want to use the PDF format but absolutely must retain those animations, a program called Prep4PDF from Reilly and Inc. might be just the ticket. Prep4PDF is not a PDF-creation tool in itself, but when you "print" to PDF via Prep4PDF, all your slide transitions, hyperlinks and action settings translate into the resulting PDF file. In addition, Prep4PDF provides extended control over cropping, document information and a host of other features.
Back
---
Hand-helds and PDAs
Have you ever wished you could edit your PowerPoint presentation on your handheld PC or PDA? Dataviz's Documents To Go includes a Slideshow To Go component, which allows you to synchronize, edit and rehearse your PowerPoint files and make last-minute changes to your presentation.
Also, if you have an older hand-held that runs Windows CE, you may be able to find a copy of Pocket PowerPoint included with the product. For some reason, Microsoft seems to have abandoned the development of Pocket PowerPoint for the PocketPC platform, so on the new PocketPC 2002 platform, you'll have to look to third-party software solutions such as CNetX's Pocket Slideshow and Conduits Technologies' Pocket Slides.
Finally, if you want to use your PDA to actually deliver your presentation through a projector, Margi's Presenter- To-Go is a great hardware solution for the Palm OS, PocketPC handhelds and Sony's Clié.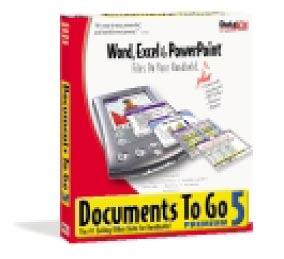 Dataviz's Documents to Go for hand-held PDAs
Back
---
Slideshows and Screen Savers
Finally, what about that screen-saver idea? Well believe it or not, a clever way to repurpose PowerPoint presentations is as a screen saver—and you'd be surprised how many people use them.
ScreenTime and ShowTime are two popular programs for converting PowerPoint presentations into screen savers that can be distributed commercially. A screen saver could be a great marketing tool. In truth, PowerPoint presentations can be repurposed in more ways than we can possibly cover in one article. A few of these ideas should help you get much more out of all the time and energy that went into creating those presentations in the first place.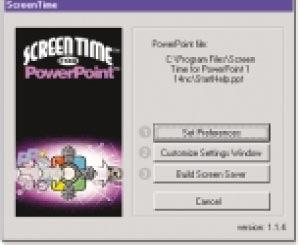 ScreenTime converts PowerPoint files into screen savers
Back
This is the original page. An AMP (Accelerated Mobile Page) version of this page is also available for those on mobile platforms, at PowerPoint Repurposing Page 03.