Terry Irwin is a consultant surgeon in Belfast, Northern Ireland working for the National Health Service (NHS), which provides healthcare free of charge to all UK citizens. In addition, he is Director of Surgery at the Royal Victoria Hospital, the main regional centre in Northern Ireland. His surgical specialty is colon and rectal surgery - always a good conversation stopper when people ask him what he does. His response is that he repairs waste disposal systems!
Terry is also a long time PowerPoint user and co-author of a book on PowerPoint geared towards the designing of medical presentations. He is married to Jenny, a nurse who teaches travel medicine and has become quite an expert in using PowerPoint in recent years!
Geetesh: Tell us more about yourself, and how your work involves PowerPoint?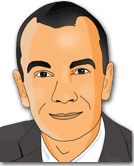 Terry: I started using computers when I was appointed as a consultant in 1989. Initially it was all about word processing. At that time slides for presentations were typed on plain paper and photographed. The really cool guys used negatives to get a black background, and the nerds stuck transparent tape behind the text to get multicoloured monstrosities! Then along came Harvard Graphics, and finally PowerPoint and everything changed. It is not that long since we did our first presentations using a computer and projector - perhaps 15 years, but it seems longer!
Now PowerPoint is a daily part of all hospital doctors' lives. We present cases, results, research and plans for the future using this ubiquitous software.
---
Geetesh: What's different in the way that the medical community works with PowerPoint? What are the challenges they face?
Terry: Doctors use graphic rich presentations, because medicine is very visual, especially surgery. Video is now very common, especially with laparoscopic (key hole) surgery and endoscopy. Both systems provide beautiful full colour high resolution video output, ideal for teaching. Previously you could only look over someones shoulder to see what they were doing, and hand held cameras were always difficult to get good images with. The big challenge is to get video to work!
Radiology systems now output very good digital images of X-rays. It is always fun explaining to intelligent people that these are greyscale images and if they learned where the button was to convert them to greyscale, they would reduce file size a lot!
Doctors are busy people, they love presenting but take too little time learning how. The major challenge is trying to get them to unlearn bad habits, such as over-busy slides, reading their slides, overused animations etc.
---
Geetesh: What are the typical presentation scenarios in the medical community?
Terry: Teaching and training are a major part of the teaching hospital doctors workload. PowerPoint is the workhorse for this. We also use it to present management data -- linked Excel spreadsheets are a great advance. I feel that PowerPoint is sometimes overused. We don't use it at the bedside, but when people are presenting cases at a meeting, it is used. In these cases it is more to prompt the presenter, than for the audience and I try to resist that.
---
Geetesh: Tell us more about your book on PowerPoint. How does it address the field of medical presentations?
Terry: Perfect Medical Presentations, the book came out of a Diploma in Medical Informatics that I completed a few years ago. One of the modules was on presentations. I had always been interested in this, but was stimulated to learn more and stumbled across a tutorial written by Julie Terberg about .PNG files. I wrote to her and asked her if she wanted to write a book. After some hesitation, she finally agreed.
The book teaches PowerPoint from the very basics to a quite advanced level, aimed specifically at healthcare workers -- not just doctors. We have tried use my own experience of the problems that doctors have come to me with. Indeed the catalyst for writing came when a colleague couldn't get a 120 Mbyte talk to run on a very old laptop at a major meeting. He had no USB ports and only a floppy drive! I compressed all his images, extracted them to a folder, moved them in batches to another computer and got him up and running with a minute to spare. He dedicated his talk to me!
The book has been good to me. I have recently been asked to teach PowerPoint in Dubai, and in Beijing!
---
Geetesh: How do you source medical visuals? Are any sources better than others, what are your favorites?
Terry: This is a complex issue. We have to consider patient confidentiality and copyright issues, so you cannot use just any image. We take very specific consent from patients, even if we are only using their radiology films. I have just written a very lengthy policy for our hospital on the use of medical images. The images remain the property of the hospital, because they are part of the patient record (not surprisingly, there is a whole chapter in the book dedicated to this!).
I like images with an immediate appeal that tell a story. Many of these can be downloaded and used safely from the net. Flickr is a great source, but you need to check permissions for use. Medical journals will often release copyright for teaching use. Some textbooks will have a CD with good images that can be used for teaching.
I try to take most of my own images of patients.
---
Geetesh: Can you share some trivia? Anything about an unconventional use of PowerPoint, or a humorous incident, or just something that you want to share with Indezine readers?
Terry: Many people feel that presenting was much simpler in the days of 35mm slides. They have short memories! A good friend presenting at an international meeting recalls that a manic projector suddenly erupted and belched my slides in the air one after the other! Many of us have suffered from the helpful chap at the back of the room who turned the carousel of slides upside down to fix the latch at the bottom -- but who always seem to forget to put the top on, so that your entire talk was distributed around the floor!
I gave a talk on PowerPoint in Prague a few years ago. The chairman had invited a government minister to the meeting and (as they do) he decided to speak even though he was not on the programme. He had never seen PowerPoint used. In fact he rattled on for far too long and...well I had recently bought a digital camera that also took mpeg movies (they were very new). Imagine his surprise when he appeared in my PowerPoint talk in a movie a few minutes later.
---