When you launch PowerPoint 2003, it opens an empty presentation of just one slide. Typically this one slide has a title placeholder and another placeholder for a subtitle, and typing any text within these placeholders shows black text over a white slide background. This is the default template PowerPoint 2003 provides. However, you don't have to live with these defaults. You change this blank presentation so that you get a slide that's part of your custom PowerPoint template. Or even any of the other templates built within PowerPoint.
Before we show you how you can change the default template, let's explore what you get when you launch PowerPoint. You get the one slide blank presentation, as shown in Figure 1, below. However, there's more here than what meets the eye. First of all, this blank presentation also has a template. You will find the template name mentioned on the Status Bar, as shown highlighted in red within Figure 1, below.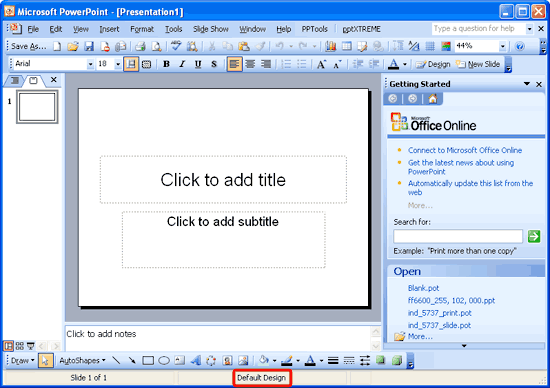 Figure 1: The blank presentation slide has its own secrets
Now that we know that this default blank template influences the black text on white slide look, can we change this to something else? Yes! And to do that, you need to follow the steps given below:
Save a Default Template
Follow these steps to save your own default template in a specified location and also provide it with the right name:
Open a template file or a presentation based on the template you want to use as your default.
Click the File | Save As menu option, as shown in Figure 2.

Figure 2: Save As option
This brings up the Save As dialog box, as shown in Figure 3.

Figure 3: Save As dialog box
Within the Save As dialog box, select the Design Template (*.pot) from the Save as type list, as shown highlighted in

red

within Figure 4.

Figure 4: Save as type list
PowerPoint automatically chooses the correct folder for you when you choose to save as a template. Notice the area highlighted in

blue

within Figure 5, below. Can't read the folder path? Just click on the area to see the actual path (highlighted in

green

within Figure 6, below).
Accept the folder location and provide a name to the template. Remember, the template must be named Blank.pot, as shown highlighted in

red

within Figure 5.

Figure 5: Provide a file name

Figure 6: Click to find out the path to the folder
Hereafter, when you choose the File | New menu option, or even just launch PowerPoint. Then, a presentation will be created based on the template you choose as the default blank template.
Note: To return to the original plain default blank template, just delete the Blank.pot file you saved.
Where are these folders?
Depending upon your version of Windows, the following are the correct folders for the default template (Blank.pot). Substitute your user name for <UserName>.
Windows Vista:
Template: C:\Users\<UserName>\AppData\Roaming\Microsoft\Templates
Windows XP:
Template: C:\Documents and Settings\<UserName>\Application Data\Microsoft\Templates
If you are not taken to one of these folders automatically, navigate there manually. The best part about knowing these folder locations is that once you have created the Blank.pot file, you can easily copy this from one computer and then place it within the same location in any other computer. You end up setting the default template without even launching PowerPoint!