After picture has been inserted, you might want to make adjustments to the picture itself so that it looks distinctive and focused. You can change a picture's look by re-sizing, cropping, changing color values, adjust saturation, or by applying artistic effects. In this tutorial, we'll explore the options available within PowerPoint to make these picture adjustments. Later, in subsequent tutorials of this series, you will learn more about the individual options we discuss in this tutorial.
When a picture is selected, the Picture Tools Format tab appears on the Ribbon as shown in Figure 1 (highlighted in red).


Figure 1: Picture Tools Format tab activated
Note: Not only can you make adjustments to pictures inserted on slides, but also to pictures used as fills for shapes. If a shape that has a picture fill is selected, the Ribbon area will show two contextual tabs: the Drawing Tools Format tab and the Picture Tools Format tab, as you can see in Figure 2.
Make sure that you select the Picture Tools Format tab (highlighted in red within Figure 2) which includes picture format options, and not the Drawing Tools Format tab which includes options to alter the container shape.


Figure 2: Two contextual tabs appear when a shape with a picture fill is selected
Within the Picture Tools Format tab, you can see the Adjust group (highlighted in blue within both Figures 1 and 2, above) which includes various options to make adjustments to the picture. Let's explore these options individually from left to right as shown in the Ribbon tab:
Remove Background
This is a new feature for PowerPoint 2010 for Windows that figures out the boundaries of an object in the picture automatically, and allows you to keep some portion of the picture, and remove the rest. If you want to retain only some selected part of the picture, this is the best option to use. Note that this option doesn't work with texture fills and picture fills that are tiled. To learn how this option works, refer to our Remove Background from Pictures tutorial.
Corrections
This option is used to adjust the sharpness, softness, brightness, and contrast values of the picture. To learn more about this option, refer to our Picture Corrections tutorial.
Color
This option comes handy when you want to change the overall color of the picture, like adding a monochromatic tint. You can find more information about this option in our Color Picture tutorial.
Artistic Effects
Here you can select various artistic effects from a Artistic Effects drop-down gallery. To learn more about this option, refer to our Artistic Effects for Pictures tutorial.
Compress Pictures
By default, PowerPoint embeds your inserted pictures into your presentation leaving the size and format largely unchanged. You can reduce the size of the inserted picture using the Compress option. Just select the picture, and click the Compress button within the Adjust group to summon the Compress Pictures dialog box that you can see in Figure 3.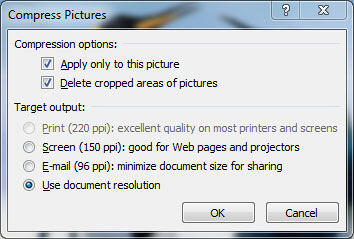 Figure 3: Compress Pictures dialog box
Within the Compress Pictures dialog box, you can decide the quality of the inserted picture choosing between any of the four Target output options. Then, if you have cropped the picture, select the Delete cropped areas of picture check-box to remove the unused portions of the picture permanently. And select the Apply only to this pictures check-box to apply the changes. Once you are done, click OK. Learn more about compression in our Compress Pictures tutorial. Also, see our Set Document Resolution page.
Change Picture
This option enables you to change a picture on your slide with retaining all the effects or animations applied to the original picture. You don't need to delete the original picture and start all over again. Just change any existing picture into another with just a couple of clicks. Learn more in our Change Picture in PowerPoint 2010 tutorial.
Reset Picture
This option resets the picture to its original state. However, this option will not do a full reset if you have already used the Compress Pictures option, explained earlier on this page. More in our Reset Pictures in PowerPoint 2010 tutorial.
Crop
Although this option is not within the Adjust group we'll explore the Crop option also. Instead of just one kind of crop, there are three crop variations which have been explained in the tutorials Crop Picture and Crop Pictures to Shape. Also refer to our Reposition Picture Fills with Crop tutorial to learn how you can adjust the picture fills using Crop option.