Unlike in Windows versions of PowerPoint, there is no option in PowerPoint 2016 for Mac to insert online pictures. If you must use online pictures, you could use two workarounds, and both of them are not perfect, but can help in some cases:
Search online outside PowerPoint
Use an Online Image Placeholder
We will explore both options:
Search Online Outside PowerPoint
You can search pictures online using Google Image Search or Bing Image Search within a browser, and save the files locally. Yes, you may lose all the options such as those for licensing, but do bear in mind that many of the options for online pictures are available in Bing's Image Search, shown in Figure 1, below. We explore these options in our Bing Image Search series of tutorials.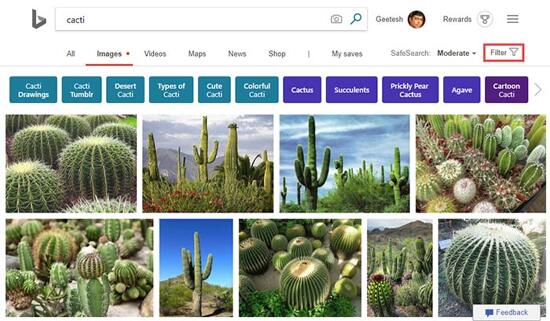 Figure 1: Bing Image search results
Google Image Search also has a corresponding set of search options. In addition, Google Image Search also has an amazing Source Search option.
Whatever your source of images may be, always remember to respect copyrights.
Once you have found an image with licensing terms that allow it to be used, you can save the image locally on your computer, and insert it as a picture in PowerPoint 2016 for Mac.
Use an Online Image Placeholder
PowerPoint 2016 for Mac allows you to create a placeholder that lets you insert an online image, as explained in our Inserting New Placeholders in Slide Layouts in PowerPoint 2016 for Mac tutorial. However, this isn't the real thing! Rather, clicking this placeholder only allows access to your iCloud picture library, which is essentially synced copies of your pictures saved offline on your computer.