Do you have a picture somewhere that's been with you for years, and you have the perfect opportunity to use it in next week's big presentation? And then you just realize that you have no clue about where this picture came from? Did you buy it from a stock photo site, was it a free picture from some other site, is it even part of any Creative Commons license that allows you to use it legally? Or worse, did you just get this from Google's Images Search? We know, this is a very strange scenario to be in. You don't know if that picture can be used without breaking some law, and the last thing you want to do is start searching for an alternative picture that can be legally used. The solution to this problem is more simple than it sounds. You can use Google's image source search! We'll show you how to use this option after we explore another scenario.
Let's imagine you found an amazing picture using the image search option on Google, and now although you could ask permission from the site owner of the site where you found it, there's really no guarantee that this site owner actually owns that picture. In fact, there's no way you can be sure if that site owner used that picture legally in the first place! Google's image source search can help you find legally acceptable sources for the same picture or even a similar one.
How this works?
Let's start with a real walkthrough. We were looking for a picture to describe the term "technology" for a presentation. While researching for this article on Google Images Search, we found many results, as shown in Figure 1, below. We really liked the picture of a finger touching a rounded square (highlighted in red within Figure 1), as this provides a human touch to technology.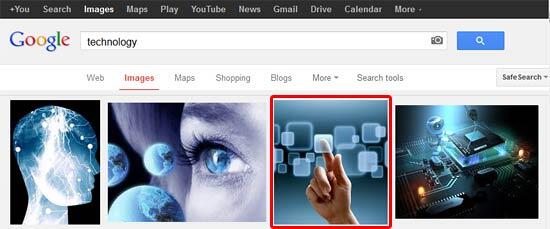 Figure 1: Google Images Search
Now, we want to ascertain the source of this picture. Of course, we can contact the webmaster of the site from where it shows on Google Images Search but there's no way to determine if this picture belongs to the site that uses it. It's quite possible that they bought a license to use this picture from a stock photo agency, or they might have even found it on Flickr. In some cases, it is possible that the picture was found in a similar Google Images Search, and used without any permission. This of course is not a valid option.
So how will we ever know about the source of this picture, or even if there are multiple sources? Where did this picture come from, and how can we source a legitimate license to use in a presentation?
So how can you find out who owns this original image? You start with a lesser known option on Google Images search:
Navigate to the Google Images Search page, as shown in Figure 2, below. Do you notice the Camera icon within the Search field, as shown highlighted in

red

within Figure 2, below? Yes, that does all the magic we explain in this tutorial.

Figure 2: Camera option in the Search field
Click on this Camera icon, and you will see the Search by image options within the same area, as shown in Figure 3.

Figure 3: Search by image
Note that you now see two options above the Search field. These are:

Paste image URL: You type in, or paste the URL to an image (picture) within the Search field. For this option to work, the picture you want to research into needs to be online on any web site.
Upload an image: You click on this option to upload an image (picture) that's already saved on your computer. If you choose this option, the page will change to include a Browse button, as shown in Figure 4, below. Click this button to select and upload a file from your computer.

Figure 4: Upload an image from your computer

Tip: Don't see a Browse button? Do you see a Choose File button instead? It doesn't matter as both the buttons work identically. They may be named differently based on the web browser you are using.

Either way, you will thereafter see results from Google based on the picture you provided a URL for, or uploaded, as shown in Figure 5, below.

Figure 5: Results from Google matching the image
You can see Google's intelligence, or should we call it intelli-sense at work here. Not only is Google able to identify the picture, but it also finds out a keyword (or a key phrase) for the uploaded picture. Notice the phrase "touch screen technology" mentioned in the Search field. Look at Figure 5 again, and you will notice that the first two picture results are actually the same as the one we uploaded. In fact, you can go ahead and hover your cursor over those thumbnails to get more detail, as shown in Figure 6, below.

Figure 6: Hover cursor over the thumbnails to get more detail
Notice the two links on the box that you see when you hover. These are Similar and More Sizes (see Figure 6 again). You can click on any of these to see more pictures that are similar to, or just the same as the picture we started with. For now, just ignore these options and scroll down to see web search results. Here's what you need to do next:

Check whether any of these results actually links to a stock photo site. If you find any stock website listed, then just click on that link, or even better, just right-click on the link and opt to open as a new tab in your web browser. Continue doing so for all such results.
Alternatively, do you see any picture sharing sites such as Flickr in the search results list. You can then navigate to the site and request permission of the owner. If this is a Creative Commons licensed picture, you must credit the picture in your slides.
With our test picture, we found Dreamstime as one of the links, as shown highlighted in Figure 7, below. We know that Dreamstime is a popular stock photo site. Other popular sites are iStockphoto, Bigstock, Fotolia, Shutterstock, etc. Click on the link to visit the site of the stock photo vendor.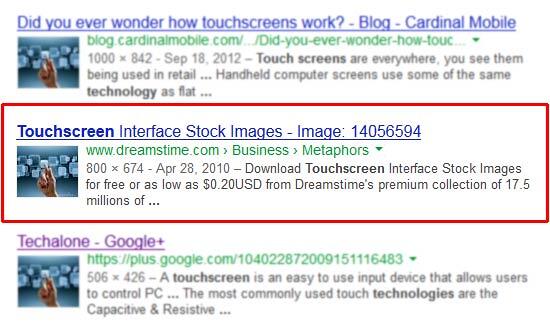 Figure 7: Probably, the original source of your picture!
Go to the Stock Photo Site
Note that you will not see the same stock photo site for each picture you search, and results may vary. You may see one or more stock photo sites here, or you may also see results from Flickr. In case you see multiple results, it's a good idea to click on all the links and see pricing options. There's a huge difference in what one stock photo site will charge you compared to the other, and it's good to save some money!

All this may seem like some sort of magic but there's an intelli-sense here. We try and explore this sense in our Google's Image Search Algorithms article.
This is the original page. An AMP (Accelerated Mobile Page) version of this page is also available for those on mobile platforms, at Google's Image Source Search.