In PowerPoint 2019 for Windows, all information that you need about your currently active presentation is available in a single easily accessible location. This location is the Info tab of Backstage View. Using the options available within this tab, you can access information about permissions set for the active presentation, prepare your content for sharing, and also possibly recover older versions of unsaved files. In addition, the Info tab also provides access to many more properties that we will discuss on this page.
To access the Info tab, click the File tab of the Ribbon, as shown highlighted in red within Figure 1.

Figure 1: File menu
Tip: When you click the File tab, you essentially summon PowerPoint 2019's Backstage View.
This brings up the Info tab of Backstage View in PowerPoint 2019 for Windows, as shown in Figure 2.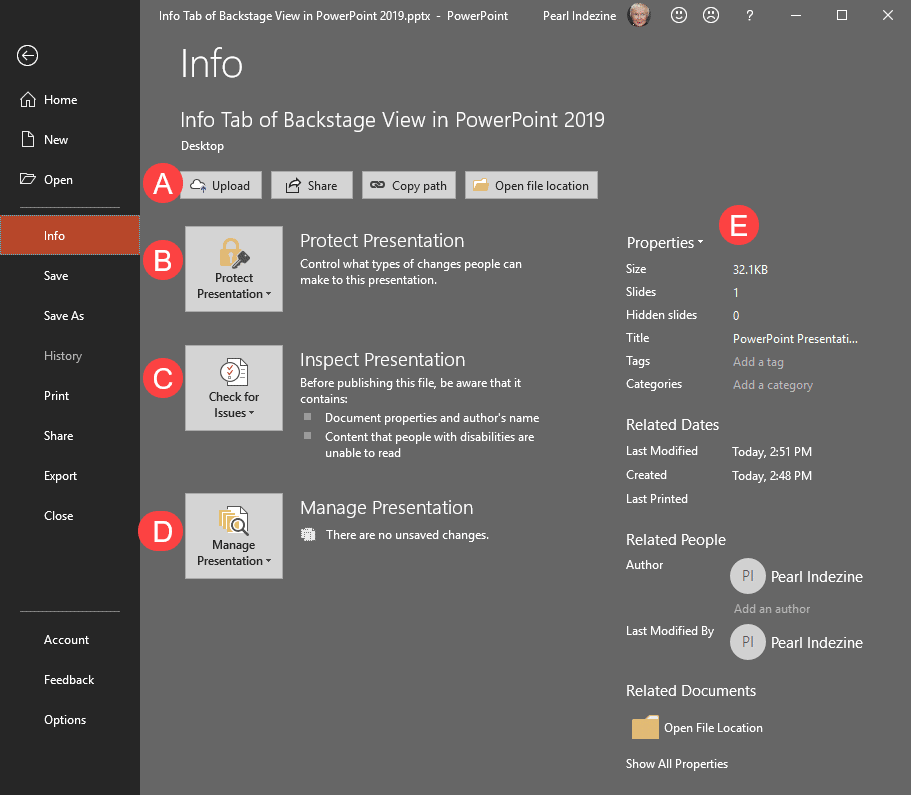 Figure 2: Info tab of Backstage View in PowerPoint 2019 for Windows
All the options within the Info tab of Backstage View are explained below, as marked in Figure 2 above:
A. File Options
The four buttons here provide quick access to some useful options:
Upload: This option is only available for local files. If you see no Upload button, you may have opened a file from your OneDrive account. For local files, clicking this button brings up the Share Task Pane, as shown in Figure 3, below.

Figure 3: Share Task Pane
Share: Again, opens the Share Task Pane shown in Figure 3, above.
Copy path: Copies the path of the presentation file to the clipboard. This could be the local path or the path to the OneDrive location where your file is located or shared.
Open file location: This button opens the local folder where the presentation is saved. For presentations on OneDrive, the local OneDrive folder is opened.
B. Protect Presentation
Brings up a flyout menu that provides several options to protect your presentation, as shown in Figure 4. Essentially, you can control the types of changes users can make to this presentation.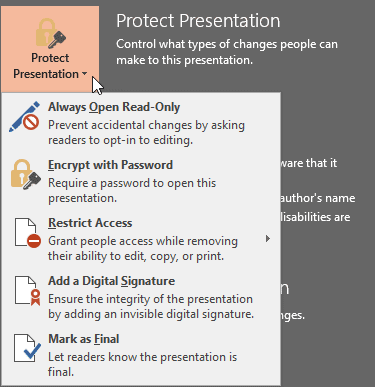 Figure 4: Protect Presentation option
The links below provide detailed information about the Protect Presentation features:
Always Open Read-Only: Opens your presentation as a read-only file as the default, so that accidental changes are prevented.
Restrict Access: When clicked, it brings up a flyout menu, as shown in Figure 5, below. This flyout menu contains a single option that enables you to connect to Information Rights Management (IRM). Doing so lets users access the presentation with restrictive privileges to edit, copy, or print. WRM is a larger topic and is best addressed by your sysadmin or help desk staff.

Figure 5: Restrict Access flyout menu
Media Options
If you have some media files (audio or video) contained within your presentation, then you will see an additional option within the Info tab called Compress Media, as shown in Figure 6, below. The Compress Media option lets you optimize any media files so that they take less space. More about this option is explained in our Video Compression Options in PowerPoint.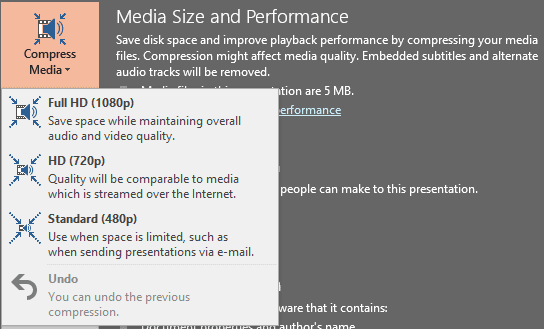 Figure 6: Compress Media
C. Inspect Presentation
If you are planning to share your presentation with others, you should inspect your presentation for confidential information, validate its accessibility, and check for compatibility with previous versions. You can also do a spell check, and examine the presentation for hidden data and personal information stored in comments, notes, or document properties. All these tasks can be performed within this area. Figure 7, below shows options within the Check for Issues flyout menu.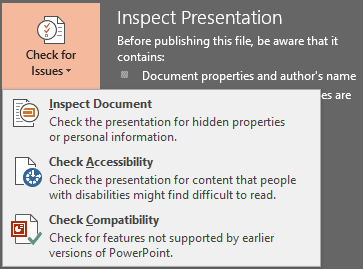 Figure 7: Inspect Presentation option
These links below provide detailed information about the options:
D. Manage Presentation
In this section (see Figure 8), you are provided with options to recover your unsaved presentations. This can be so helpful if you inadvertently closed your file without saving it, or if your computer or application crashed.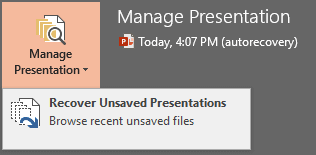 Figure 8: Manage Presentation option
Learn more in our Recovering Presentations Manually page.
E. Properties
Options within this area allow you to create and modify many of the presentation's properties. The links below provide detailed information: