PowerPoint provides ample choices in chart types for almost every kind of graphical data representation. However, as you probably know all charts are not equal. Charts should be chosen depending upon the topic of your presentation, your audience, and the disposition of the presenter.
The fact that you can change from one type of chart to another is a great way to experiment and play. Deciding upon the chart type though is just one of the decisions you need to take. You can then explore the different variants within each chart type. And if that was not enough, you can reposition, remove, or add chart elements such as data labels, legends, titles, etc. in differing layouts. Then color your charts as required, and ascertain whether you must animate them, or let them be static.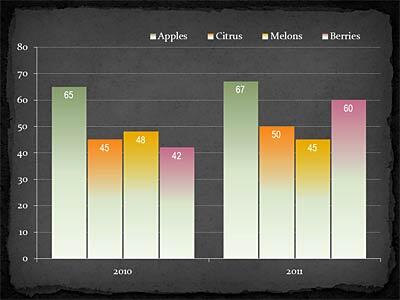 All these choices put together mean that your charts almost are an extension of your personality, your company's corporate identity, and even reflect what your audience may comprehend. Yet, deciding how our chart should look is not easy. These many choices end up making the decision more difficult!
In subsequent articles of this series, we will look at chart types available within PowerPoint, along with information on scenarios in which different chart types can be used. All articles linked below show sample charts as well. Here are some of the chart types we will explore in subsequent tutorials of this series. If any of the chart types below has a hyperlink, you can click it to go to that page for more detailed explanation on that chart type:
We hope you find this series on charting helpful. In addition, we already have many articles that talk about inserting and editing charts in various versions of Microsoft PowerPoint. You will find links to all these articles in our PowerPoint Chart Tutorials page.
This is the original page. An AMP (Accelerated Mobile Page) version of this page is also available for those on mobile platforms, at Chart Types in PowerPoint.