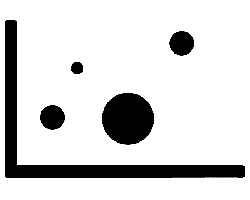 In a bubble chart, data that is arranged in columns on a worksheet can be plotted, so that X values are listed in the first column. The corresponding Y values and bubble size values are listed in adjacent columns of the data. This data can can be collectively plotted in a bubble chart.
Scroll down to the bottom of the page to see a sample presentation containing bubble chart types and subtypes:
Bubble charts have the following subtypes:
Bubble
The bubble chart type compares sets of three values instead of two. The third value determines the size of the bubble marker.
Bubble with 3-D effect
This chart works the same as bubble chart the only difference is the 3-D effect.
Bubble Chart Type in PowerPoint Sample Presentation
Click below to view on SlideShare
Click below to view on YouTube
This is the original page. An AMP (Accelerated Mobile Page) version of this page is also available for those on mobile platforms, at Bubble Chart Type in PowerPoint.