When a column chart in PowerPoint contains only one data series and several categories, then, by default the individual chart columns may use the same fill color. If your chart uses the same colored series in all categories, it can make your chart look dull as with the chart shown in Figure 2, later on this page. This similar colorization also does not provide a proper way for your audience to compare elements within the individual series.
PowerPoint lets you resolve this problem using two ways like how older versions did. The first way is to select each column individually and change its fill color, which is time consuming. The second option is using the Vary colors by point option. This option fills individual columns with different colors in a single step. Another benefit of using this option is that since these changed colors are Theme based, if you apply a new Theme to the presentation, these colors change automatically to match the new Theme colors. Also, if you add an extra element within the same category, the new column automatically chooses a new color from the Theme without you having to do anything.
Before you proceed further, there are certain characteristics of the Vary colors by point option that you should be aware of:
Not enabled by default for Column, Bar, and Line charts, but can be turned on
Enabled by default for Pie and Donut charts, but can be turned off
Does not work for other chart types such as Area, XY Scatter, Stock, etc.
When you insert a new chart it may look like the one you see in Figure 1, below. As you can see, this is a column chart in which there is a set of 3 series in each of the 4 categories. The color of these 3 series (Grapes, Apples, and Bananas) represent the 1st, 2nd, and 3rd accent colors in the active Theme respectively, from left to right. You cannot really vary colors of all columns representing "Grapes" series in this case since that will end up confusing your audience!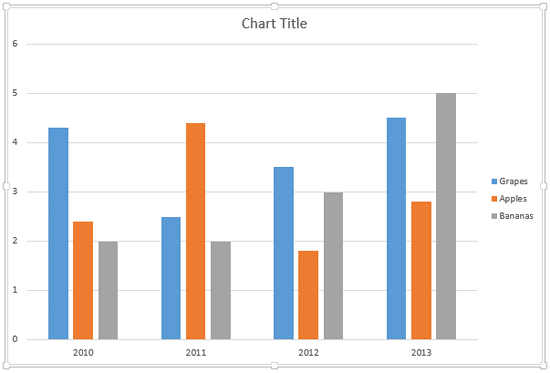 Figure 1: A Column Chart in PowerPoint
However, the Vary colors by point option works for a column chart with a single series and two or more categories, as shown in Figure 2, below.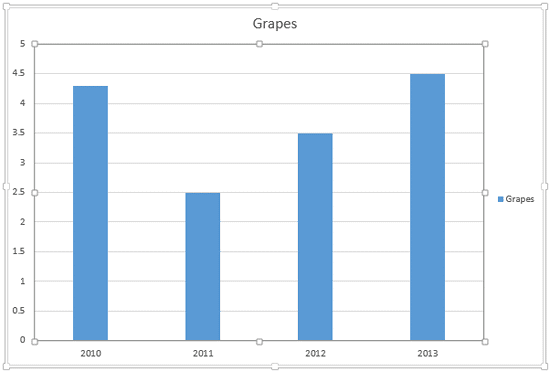 Figure 2: Chart with one series and four categories
Follow these steps to learn how to change the color of category elements in a chart with just a single series and multiple categories in PowerPoint 2013 for Windows:
Select the data series by clicking once on any of the columns, or within the chart elements drop-down list. Right-click to bring up the contextual menu, as shown in Figure 3, below. Within this contextual menu, select the Format Data Series option, as shown in Figure 3.

Figure 3: Format Data Series option

Contextual Tabs

The Format Data Series tab is contextual tab. Contextual tabs are special tabs in the Ribbon that are not visible all the time. They only make an appearance when you are working with a particular slide object which can be edited using special options.

This action will bring up the Format Data Series Task Pane, as shown in Figure 4, below. Within this Task Pane, make sure that Fill & Line button is selected, as shown highlighted in

red

within Figure 4, below. Next, select the vary colors by point check-box, as shown highlighted in

blue

within Figure 3, above. Remember that this option will be available only when there is a single series in your chart.

Figure 4: Vary colors by point check-box selected
Doing so will change the color of individual category elements to match the accent colors of the active Theme of your presentation, as shown in Figure 5, below (compare with the chart in Figure 2, shown previously on this page). Also, compare the Legend in both Figures 2 and 5. You will see that Legend has also been updated to match the varied fills, as shown highlighted in

red

within Figure 5.

Figure 5: Chart Series colors changed

Where Did These Colors Come From?

So, how did PowerPoint decide which colors should be used as fills for the individual series' elements? If you look at Figure 1, shown earlier on this page, you will notice that the multiple fill colors used are the same as those shown in Figure 5, above. As you can see, the colors of second and third series in Figure 1, have been applied to the second and third categories in Figure 5. These color values are sourced from the active Theme. Apply a new Theme to your presentation and these colors will change!

Save your presentation.
Custom Colors or Automatic?
If the selected series of your chart are filled with any other fill than Automatic, like a pattern, gradient, a picture or a solid color fill, then selecting the Vary color by point check box will immediately change the fill to Automatic. Automatic is the same as the color fills that are based on the active Theme of the presentation.