The Chart Area is essentially the entire area that encompasses your chart. Everything on the chart is placed atop this area. Thus, you can say that the Chart Area is that part of your chart that's placed below all other chart elements. Look at Figure 1 below, where you can see the Chart Area colored in pale blue, which is surrounded by selection handles.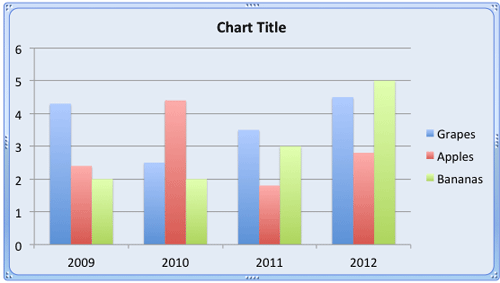 Figure 1: Chart Area
By default, the Chart Area doesn't show any fill or any formatting unless you have used a particular Chart Style. Even though this default status works well, you can opt to format as required. You can change the appearance of the Chart Area, or make the entire chart text use a single font attribute, or change the position of the chart on the slide with just a few clicks.
Follow these steps to explore more about Chart in PowerPoint 2011 for Mac:
Select the chart that you want to format the Chart Area for. If you don't have a chart, insert a chart in your slide. You can also change the chart type from one to another.
Now, select either the Chart Layout or the Format tab of the Ribbon. Both of these tabs contain the Current Selection group that you can see in Figure 2 towards the extreme left. Within this group, you can see the Chart Elements selection box (highlighted in

red

within Figure 2) which contains a list of elements in the selected chart. Within this list, click on the Chart Area option, now you can see a tick mark prefixed to this option, as shown in Figure 2 to indicate its selected status.

Figure 2: Chart Area selected
Below this Current Selection list is the Format Selection button, as shown highlighted in

red

within Figure 3. Click this button.

Figure 3: Format Selection button
Alternatively, carefully right-click (or

Ctrl

+click) the Chart Area (click close to the edge of your chart). From the contextual menu, select the Format Chart Area option as shown in Figure 4.

Figure 4: Format Chart Area option
Either way, you will summon the Format Chart Area dialog box as shown in Figure 5.

Figure 5: Format Chart Area dialog box
In this dialog box, you can see various options (within the sidebar) that help you to format the Chart Area.
Select the required option and format the Chart Area as required.
Save your presentation often.
This is the original page. An AMP (Accelerated Mobile Page) version of this page is also available for those on mobile platforms, at Chart Area in PowerPoint 2011 for Mac.