Troubleshooting
Design Corner: Using Chart Formatting Options
---
Troubleshooting
Locating Missing Menus and Toolbars
I can't find the menus or toolbar buttons you mention.
Be sure that Microsoft Graph is active if the text mentions that this menu or toolbar button is part of that application. If you're in PowerPoint, the Graph options aren't on the screen. To activate Microsoft Graph, double-click your chart.
Resolving Datasheet Format Problems
My datasheet numbers display in exponential formatting.
You need to apply a formatting category other than the default General formatting if your numbers exceed 11 digits. To do so, choose Format, Number from within Microsoft Graph and change to a category such as Number or Currency.
Finding the Add Trendline Menu Option
I can't see the Add Trendline option from the Chart menu.
You can only create a trendline with unstacked area, bar, column, line, stock, XY (scatter), and bubble charts that don't have a 3D effect. To make this menu option available, change your chart to one of these types.
Removing Empty Spaces
My chart has empty spaces where there should be a data series.
If you don't need one of the existing datasheet rows or columns, you need to remove it entirely from the datasheet, not just the contents. Otherwise, it can display as an empty space on your chart and disrupt formatting. If a series you entered is missing, verify that none of your columns or rows is hidden. To include a hidden row/column, choose Data, Include Row/Col from within Microsoft Graph.
---
Design Corner: Using Chart Formatting Options
PowerPoint, in combination with Microsoft Graph, offers numerous chart-formatting options to help you create visually appealing charts. This example shows how even minor changes can enhance your chart.
For example, you could create a basic column chart by choosing the Title and Chart layout from the Slide Layout task pane (see the "Before"figure). To liven up the chart (see the "After" figure), follow these steps using the techniques you learned in this chapter:
With your chart active, choose Chart, Chart Options to open the Chart Options dialog box.
On the Titles tab, enter a title for your chart.
On the Legend tab, place your legend on the bottom.
Click the down arrow to the right of the Chart Type button on the Standard toolbar to display a palette of options.
Click the Bar Chart button to change to a bar chart format (pause the mouse pointer over the buttons to identify the right button).
For each chart object that has text, select it and set the font to match the font used in the slide design.
In only a couple of minutes, you enlivened your chart and made its format better suit your needs.
Before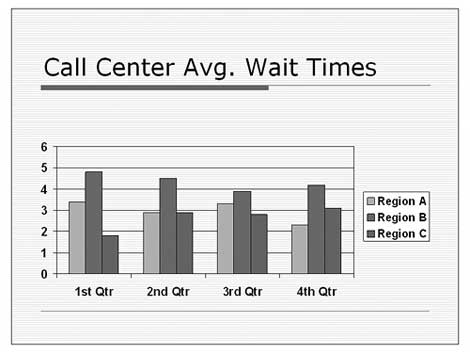 Figure 11.30

After

Figure 11.31
This is the original page. An AMP (Accelerated Mobile Page) version of this page is also available for those on mobile platforms, at Working with Charts - 4 of 4.