Image Folders
Image Quality & Types
Downloading Images
Pricing and Support
Conclusion
---
Image Folders
Image Folders are similar in concept to Lightboxes that professional designers use. It's a virtual central repository that stores all your image assets for a particular project you are doing.
Let's assume I create an Image Folder and store a few search results within that. First of all, I would need to choose a unique name for an Image Folder or opt to save within an existing Image Folder. Image Folders can be edited, deleted and also emailed. Emailing an image folder means that you are sending a unique URL to a client or associate that lets them view the visual assets you propose to use for a project. The client can add their comments next to each image thumbnail and delete images they don't want to be used. The Image Folders feature thus opens up many possibilities in creating your own visual asset workflow.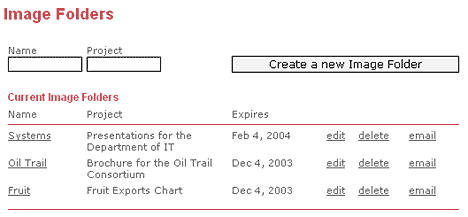 Back
---
Image Quality & Types
Image Express offers three types of images:
Vector clipart are available in WMF (for Windows) and EPS (for Macintosh) - all vector illustrations are entirely scalable.
Hemera's Photo-Objects are available in a maximum resolution of 8.3 x 8.3 inches at 72 dpi (2 x 2 inches at 300 dpi).
Photographs are available in a maximum resolution of 8.3 x 8.3 inches at 72 dpi (2 x 2 inches at 300 dpi).
As you can see, image resolution is more oriented towards business and home users who want to add a quick visual within a presentation, brochure, card or an email. For high resolution images, you might want to check out Hemera's AbleStock option.
Back
---
Downloading Images
Downloading images you buy or access through a subscription is easy. Since most images are small enough, downloads are quick even if you are using a dial-up access rather than broadband.
Having said that, I suppose that the capability to download all images within a particular Image Folder with one click would be welcome.
Back
---
Pricing and Support
Single images cost US$4.95 for the first five images and US$0.95 for every subsequent image. Subscriptions for a month costs US$19.95. A year's subscription costs US$99.95.
Support options include an extensive FAQ online and email support.
Back
---
Conclusion
It's easy to like Image Express - and at this particular price point, it does offer excellent value for money. Hemera also offers a free trial for 6 images at the Image Express site.
Most of the images work well for PowerPoint presentations and web sites - some of them can be used for print as well. All said, Image Express is a good investment if you use visual content often.
Back
This is the original page. An AMP (Accelerated Mobile Page) version of this page is also available for those on mobile platforms, at Hemera Image Express Page 02.