Exclusive: Pictures of PowerPoint v.1 | More Pics | Version 2 Review | Version 3 Retrospective
---
A Look at PowerPoint
The Need for Memorabilia
Memorabilia Links
Steve's Musings
A PowerPoint Chronology
---
A Look At PowerPoint
PowerPoint over the years has developed into a premier presentation program. From being one of the 'other' programs thrown in to form the Microsoft Office suite until today, it's been a long and interesting journey for both PowerPoint and its users.
Every new version has seen the addition of newer features. Most of these features have been welcome, although users have always asked for even more features!
PowerPoint's competitors have been very able as well and many have a feature set surpassing that of Microsoft's offering. Nevertheless, PowerPoint aided by its simple interface and integration with other programs has rolled on the presentation juggernaut ahead of others.
PowerPoint certainly is today's de facto presentation standard commanding around 95% of the market share, but many of us may not be aware that it was the first presentation program ever created.
---
The Need for Memorabilia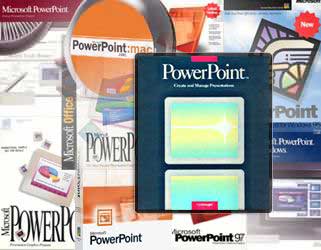 It was some of these factors which led us to seriously consider a PowerPoint Memorabilia page. This page is forever evolving, and we would love to incorporate user experiences with earlier PowerPoint versions on this page. So, if you are ready to share your nostalgia, this is the place! You can get in touch with us through our feedback page.
---
More Memorabilia
Jim Endicott authored Growing Up With PowerPoint (PDF 154 kb), an article that discusses the growth of the program from version 1 until PowerPoint 2000. He has graciously allowed us to host the article on this site. The article originally appeared in the February 2000 issue of Presentations magazine. Jim's own site at Distinction Services has a great section on PowerPoint tips.
---
Steve's Musings
Steve Rindsberg, one of the PowerPoint veterans and earliest of the MVPs has shared a few experiences, reproduced below with his permission:
...I went looking for my original PowerPoint book ... the first copy of PowerPoint I got came with a beautifully printed, the only hardbound software manual I've ever seen. Unfortunately, I must have thrown it away in a spring cleaning fit, because I can't find it any longer...
...I never really had much use for the earlier versions of PowerPoint - Persuasion on both Mac and PC, and Freelance on the PC only were both far superior programs at the time. I only had PowerPoint because we occasionally needed to image slides for customers who used it.
At the time, I was writing a monthly column for The Cobb Group's Inside Freelance magazine (this was Freelance DOS, by the way). When they discontinued the magazine and chose not to do an FL/Windows one, the editor asked if I wanted to write a column about PowerPoint instead. Sure, why not? That was *just* before PowerPoint 4 came out and became part of Office. In other words, just before PowerPoint took over the world.
Steve Rindsberg creates the PPTools range of PowerPoint add-ins.
---
This is the original page. An AMP (Accelerated Mobile Page) version of this page is also available for those on mobile platforms, at PowerPoint Memorabilia.