Paul Tumey is the founder and director of Presentation Tree, a 10-year old PowerPoint design company in Seattle, Washington. Paul has a unique skill set that allows him to deliver superior presentation design and support. His background includes notable achievements in graphic design, writing, public speaking, publicity, and marketing consulting. In this conversation, Paul shares some wisdom about creating PowerPoint presentations, and talks about Presentation Tree, how it was founded and the type of work they do.
Geetesh: If you had one piece of advice to give someone about PowerPoint presentations, what would it be?
Paul: Define your goal or goals for the presentation first. Write it down. I like to use the tree model. Your structure is the trunk and branches. By structure, I mean the different sections of your presentation and they way they connect. Your actual content (information and insights) is the leaves and fruit. And underneath it all, your goals are the roots.
I just had a consultation this morning with a company gearing up to make a significant investment in a big, polished PowerPoint presentation, and when I asked them what their goals were, they struggled to articulate half-formed thoughts. I see so many people rushing into making slides before they understand why they're creating a presentation and what they need to accomplish with it. Knowing that from the start allows you to more effectively develop both the content and the way it's presented, and to become much more subtly powerful in the process of making the presentation.
Most presentations are meant to either persuade or inform… so that's a good starting point for thinking about your goal(s). Over the years, I have also worked with savvy clients who used their clearly stated objectives as the basis for the project, and have been delighted to see them enjoy a great deal of success with the final presentation. If your presentation is made with a clear sense of what you want to accomplish, chances are your presentation will be more effective.
---
Geetesh: Besides having a clear goal for the presentation in mind, are there any other general helpful tips you can give for PowerPoint users?
Paul: Oh, there's so much I could say! Here's a good one: Have an agenda slide, divider slides, and a summary slide if it makes sense to do so, and it usually does. You want to make the structure of your presentation as obvious as you can. Tell 'em what you're going to say (agenda slide), then tell them (the main part of the presentation), and then them what you said (summary and takeaways). Don't be afraid to repeat your main messages and takeaways. In fact, you need to repeat yourself if you want your audience to retain anything. Aside from that, my biggest tip is to make your slides as visual as you can. This is critically important.
---
Geetesh: Why are visuals on slides critically important?
Paul: In the 1970's brain researchers discovered the two halves of the brain have different functions. The left brain is logical and verbal. The right brain is intuitive and visual. It was found that in certain tasks, people favor one side over the other. So some people are right-brained in the way they will absorb information at a presentation, meaning they will respond most to text on the slides. The left-brainers in the audience will respond most to the visuals. If you make a slide with just text, you are losing the left-brainers out there. Likewise, if you just have a series of photographs, the right-brainers will find it revolting. So you have to have a mix of both text and visuals in your presentation. Also, in a live presentation, the person speaking is providing the verbal (left-brain) component, which adds even more weight to making the slides as visual (right-brain) as you can. I think it's a lot to ask someone to read, say 100 words of text and listen to someone speaking at the same time. It's so much more effective (and easier) to have 10 key words and a relevant visual. In your first draft, you can go ahead and write those 100 words into the slide. Then, make another pass, find the key words and move the text block into your speaker's notes. OK, I'm off my soapbox, now. (laughter)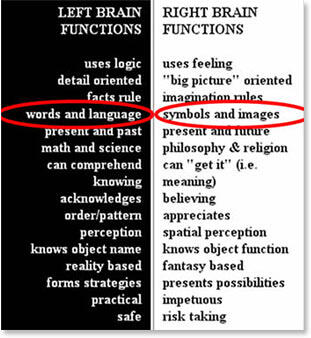 ---
Geetesh: Can you tell me more about Presentation Tree, and how it evolved?
Paul: We are a small, 11-year old company focusing exclusively on helping people's presentations stand out from the vast forest of confusing, bad PowerPoint presentations. Rather than being a graphic designer who works in PowerPoint, I come from a background in marketing and communications, so the emphasis is on clear, compelling presentations that communicate and serve the client's goals.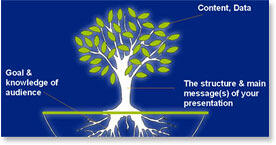 About 10 years ago, I was working in the creative services department of Zones, a large computer hardware and software mail order retailer (The PC Zone, The Mac Zone). In just this one company, I saw a vast, underserved need for support in creating good PowerPoint presentations for internal use. I literally saw executives spending hours of their valuable time drawing little shapes, coloring them in, and putting labels on them to make cryptic slides that were more confusing than anything! A little knowledge is sometimes a dangerous thing!
---
Geetesh: So you created Presentation Tree?
Paul: That's correct! Presentation Tree was founded to provide solid and reliable support in creating clear, compelling PowerPoint presentations. It seemed obvious to me, even back then, that this was going to be a vastly underserved niche. And here's why: most professional designers avoid PowerPoint. It's like asking a NASCAR driver used to sleek, fast racing machines to win a race driving a Volkswagen mini-van! Compared to the tools designers use every day, PowerPoint can seem pretty crude, and non-intuitive. I don't mean to run the application down. I personally think it's really neat, but it was never made as a tool for a professional graphics designer. And even if a graphics person does work in it, the ability to make good-looking slides is actually separate from the more mission-critical need to make slides that effectively communicate. This opens up a great niche for a talented, stubborn few people who have the unique skill set needed to do this right: graphic design, writing and editing, public speaking, and computers. So in 2000, armed with that rather bizarre skill set, I went into business obsessively focusing just on PowerPoint. The obsession has only deepened over the last ten years! Our offices are in Seattle, but our client base reaches across the United States to Europe, Asia, and is still growing!
---
Geetesh: Tell us more about your presentation design work.
Paul: We build high-end presentations from scratch, design elegant and easy-to-use PowerPoint templates, and give existing presentations "makeovers". Our past and present clients include Starbucks Coffee Company (we did their annual shareholder's PowerPoint presentations for 3 years, and also ran them on site at each event, attended by thousands!), Expedia.com, Microsoft, Alaska Airlines, and RealNetworks, and a host of really great businesses, start-ups seeking funding, and speakers. We also "use our powers for good," and work with various non-profit organizations to help educate people about climate change, smart growth, and other environmental issues. Lastly, I also provide training in creating effective PowerPoint presentations and travel to various US locations several times a year as a trainer.

---
Geetesh: Where would you like to take Presentation Tree in the next 5 years?
Paul: That's a great question. I've become more and more interested in using PowerPoint to educate and train others. I think this is largely unexplored territory. Last year, we made a series of really fun, informative training presentations for Microsoft. These are being given to older people on Holland America Cruises (more information here) and teaching them all about tools in Windows 7, such as the easy photo editing tools, or how to set up a blog and share their trip photos. The response was tremendous and we moved on to adapting the shows for community colleges all over the United States. I'd love to work with an educational or medical institution or a company like, say, Boeing, and develop a series of training presentations. Or maybe work with an organization to create some educational presentations like a series on famous black Americans, or women aviators. PowerPoint has advantages over video in that it is much cheaper to make, and much more flexible, and easy to change. The field is really wide open and I'm excited where we'll go.

---
Geetesh: In your experience, what's a good ratio of slides to time allotted for a presentation?
Paul: I am often asked how many slides are appropriate for, say a 20 minute presentation. There is no hard and fast rule. It could be 1 slide or 60. It depends on what you have to say. In general, though I like more slides with less information on them, because this is more dynamic. People are genuinely shocked when I create 40 to 60 slides for a 20-minute show, which I've done. I realize this is outside of most people's thinking, which is usually about 1 slide per minute. But I am thinking about simple slides with less information on them. The reason I advocate spreading your content across more slides is because most of us are now trained by TV and modern movies to take in visual communications in mere seconds. In a 30-second commercial, it is not unusual for there to be 25 cuts… that's almost one per second. And yet, we somehow absorb it very easily. Believe me, if the ad designers didn't have realms of research showing human beings absorb visual information super fast, then we'd have more static commercials. If you have a slide on the screen for 2 or 3 minutes with nothing happening on it, most people (especially younger folks) will tune it out and stop seeing it. They'll be texting on their iPhones!
---
Geetesh: Any final advice for people creating PowerPoint presentations?
Paul: One of the best pieces of PowerPoint wisdom I've heard comes from the visual communications expert, Edward Tufte, who taught me the best way to improve your presentation is to improve the content. If you ever find yourself flipping through your slides and they don't seem to be as compelling as you'd like, resist the all-too common urge to throw in a funny cartoon and animation to jazz it up. Instead, go the extra mile and think about what else you have for your audience that they will value. Have confidence that you do have something valuable to say. Of course, you can always call me at Presentation Tree to help your slides, too! Thank you, Geetesh, for the interview!
---