Sway has a three pane interface, as you can see in Figure 1, below. The leftmost area typically sports the All Cards pane, and that can be turned off by clicking the Close button on its top-left area. The rightmost area is reserved for the Preview pane. Right in between these two panes is Sway's Storyline area, as shown highlighted in red within Figure 1. All Cards you create and edit within Sway live within the Storyline.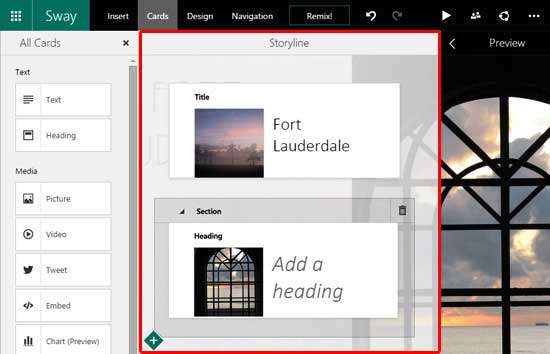 Figure 1: Sway's tri-pane interface
Note: The Sway interface may look different in a browser within a mobile or tablet device. In fact since Sway is a web based program, it may look different than what it looks like today, at the time of writing!
Above the three panes is Sway's toolbar that we will explore in another tutorial. For now, we will only explore the Storyline within this tutorial. You will learn how to reorder, select, and delete Cards within the Storyline:
To reorder the position of a Card, click on the top area of the Card and start dragging. Note that when you start dragging, a thick colored line appears, as shown in Figure 2. This indicates the place where you can drop the Card.

Figure 2: Card being dragged

Tip: Want to undo a step? Quickly press the Ctrl+Z (or ⌘+Z on a Mac) keyboard shortcut!

To select a Card, click within the editable area of the card and you'll see the Card Selection check-box, as shown in Figure 3. Activate this check-box to select the card (refer to Figure 3 again).

Figure 3: Card selected

Note: You can select multiple cards by activating the Card Selection check-box within more than one Card. To deselect, click the Card Selection check-box again.

Once you select a Card, you can click the Delete icon, as shown highlighted in

red

within Figure 4. This will delete the active Card. Note that if multiple cards are selected, all of them will be deleted at one go!

Figure 4: Delete icon
This is the original page. An AMP (Accelerated Mobile Page) version of this page is also available for those on mobile platforms, at Storyline in Microsoft Sway.