Office Background in PowerPoint 2013 for Windows
Learn how to change the Office Background in PowerPoint 2013 for Windows. The Office Background is like a patterned wallpaper for your Ribbon, and you may want to remove it altogether.
---
Author: Geetesh Bajaj
Product/Version: PowerPoint 2013 for Windows
OS: Microsoft Windows 7 and higher
Besides many other new features, PowerPoint 2013's most noticeable cosmetic change is its user interface. Additionally, PowerPoint 2013 (and all other applications of Office 2013) now introduces the concept of "Office Background", which essentially is the small image strip visible on the top right area of the program interface, as shown in Figure 1 below. Looks like PowerPoint just got tattooed?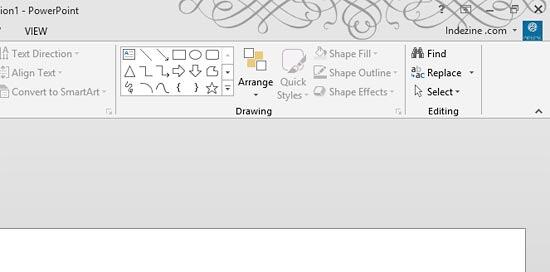 Figure 1: The Office Background
Note: When used within Windows 8, PowerPoint 2013 no longer shows translucent interface elements so that it matches to flat look of that OS. However PowerPoint 2013 does show translucent interface elements in Windows 7, if you have enabled the Aero display engine.
Don't see any patterned image strip? No worries -- by default, these image strips are not turned on -- we show you how you can enable and change the "Office Backgrounds" image strips later in this tutorial. In addition, there are fourteen such strips that provide a touch of personalization to the software suite experience. Frankly, we are quite happy with the default no-image-strip option but we agree that they can be fun to explore! Follow these steps to learn more:
Choose the File menu to bring up the Backstage view, as shown in Figure 1. Now, select Options (highlighted in

blue

within Figure 2).

Figure 2: PowerPoint Backstage view
This brings up the PowerPoint Options dialog box, as shown in Figure 3. Make sure that General option is selected within the sidebar. On the right side of the dialog box locate the Office Background option (highlighted in

red

within Figure 3) within the Personalize your copy of Microsoft Office section.

Figure 3: PowerPoint Options dialog box
Now, click the downward pointing arrow next to the Office Background selection box to bring up a drop-down list, as shown in Figure 4.

Figure 4: Office Background drop-down list
Note that No Background option is selected by default (refer to Figure 4). You can however choose any one of the fourteen available backgrounds such as Calligraphy, and click the OK button. The selected background graphic will appear as a small, tattoo-like pattern on the top right corner of PowerPoint application window, as shown highlighted in

red

within Figure 5.

Figure 5: Calligraphy background images added within PowerPoint Interface
Choose the Office Background you want for your PowerPoint interface -- be aware though that the same background will show up on all of your Office applications. Below are screenshots of all the fourteen background images giving you an idea of how your interface will look like:
No Background

Calligraphy

Circles and Stripes

Circuit

Clouds

Doodle Circles

Doodle Diamonds

Geometry

Lunchbox

School Supplies

Spring

Stars

Straws

Tree Rings

Underwater

If you want, you can follow the same steps, and in Step 3,select the No Background option to turn off the Office Background - or, you can also choose another image strip.
---
See Also:
01 05 14 - Interface Overview: Office Background (Glossary Page)
Office Background in PowerPoint 2016 for Windows
Office Background in PowerPoint 365 for Windows

You May Also Like: Output Notes from PowerPoint | Animals - W PowerPoint Templates
---
Popular Posts
Pictures in Presentations
Is a picture is worth a thousand words? You probably have heard this adage so often that we decided not to repeat this phrase throughout this book! Now here's some more info: the human brain uses a larger part of its area to store visual information rather than textual content. And that's possibly because a picture describes so much more than text.
Go and get a copy of our Pictures in Presentations ebook.
This is the original page. An AMP (Accelerated Mobile Page) version of this page is also available for those on mobile platforms, at Office Background in PowerPoint 2013 for Windows.