Sound files of various types such as MP3, WMA, or WAV files can be used in PowerPoint 2007. As far as possible, work with a presentation that has been saved at least once, and then copy any sound/music file you want to loop to the same folder as the presentation.
Follow these steps to insert sound in PowerPoint 2007 for Windows:
Navigate to the slide where you want to add a sound. From the Insert tab of Ribbon, click the downward arrow below the Sound button to bring up the menu, as shown in Figure 1, below. From this menu, choose the Sound from File option, as shown highlighted in

red

within Figure 1.

Figure 1: Sound from File option
Doing so brings up the Insert Sound dialog box, as shown in Figure 2, below. Navigate to the folder where your sound clips are saved, and select any file.

Figure 2: Insert Audio dialog box
This get you back to your slide and brings up a message window, as shown in Figure 3, below, asking how you want the sound to start in the slideshow.

Figure 3: Audio icon placed on slide
If you choose Automatically, PowerPoint will play the audio the instant that the slide containing the sound is shown in slide show view.
If you choose When Clicked, the presenter will have to click on the audio icon that PowerPoint places on the slide to play the sound.
You can choose the When Clicked option, but Automatically works best. So, go ahead and select Automatically.
Whichever option you choose (as explained above), PowerPoint will place an audio icon on the center of the slide, as shown in Figure 5, below.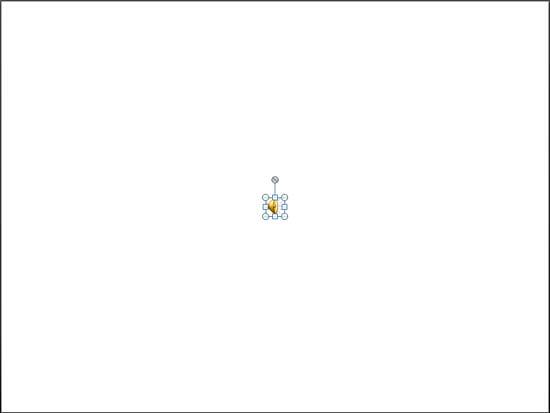 Figure 4: Audio icon placed on slide
Save your presentation often.