We have explored several hyperlinking tutorials in PowerPoint 2013 for Windows. However, what happens when you hover any of these hyperlinks before you actually click the anchor? Typically PowerPoint just uses something for the ScreenTip (screen tip) when you hover over a hyperlinked slide object, as shown in Figure 1, below.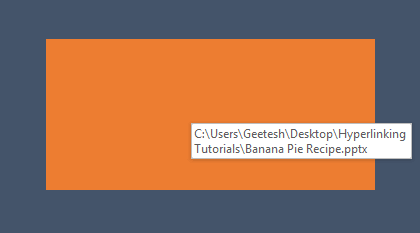 Figure 1: The typical screen tip
What is a ScreenTip?
Yes, PowerPoint calls this sort of hover-on information a ScreenTip. Other programs may call it a tool-tip, info tip, hint hover, etc. Whichever term you use, it is the same interface concept!
As you can see in Figure 1, PowerPoint defaults to showing the path to your hyperlink. This can work most of the time, especially if you are presenting and you know what you must click. However, if you need to distribute your slides, it looks more professional if you have a proper screen tip added to your hyperlink. For example, you could add a screen tip that says Click to open the recipe slides.
Follow these steps to learn more:
Select an existing anchor that includes some sort of hyperlink. Then access the Insert tab of the Ribbon. Then, click the Hyperlink button, as shown highlighted in

red

within Figure 2, below.

Figure 2:

The Hyperlink button

Tip

An anchor is any slide object that you can select, as explained in our Anatomy of a Link tutorial.
You can also press the

Ctrl

+

K

keyboard shortcut instead of clicking the Hyperlink button.

PowerPoint Keyboard Shortcuts

Do you want more keyboard shortcuts?

Explore our PowerPoint Keyboard Shortcuts and Sequences Ebook that is updated for all PowerPoint versions.

Either way, you bring up the Edit Hyperlink dialog box, as shown in Figure 3, below.

Figure 3:

Edit Hyperlink dialog box

Click the ScreenTip button, as shown highlighted in

red

within Figure 3, above. Doing so will bring up the Set Hyperlink ScreenTip window, as shown in Figure 4, below. Type in ScreenTip text, and click the OK button.

Figure 4:

Set Hyperlink ScreenTip

Press the OK button again in the Edit Hyperlink dialog box, as shown highlighted in

green

within Figure 3, previously on this page.
Now test the slide in Slide Show view, and you will see that the ScreenTip shows exactly as you typed, as shown in Figure 5, below. Compare with Figure 1, previously shown on this page.

Figure 5:

New ScreenTip message