While you can link from an anchor object on a slide to almost anywhere, you will certainly want first to explore how you can link between slides in the same presentation. This is simple to do, and also very useful because it lets you use your presentation in a non-linear way and you are not limited to viewing your slides in a sequential order.
Follow these steps to create links between slides in PowerPoint 2013 for Windows:
Open any presentation that has several slides. Since this is a test presentation, make sure you work on a presentation you no longer need. Alternatively, create a copy of your presentation and work on it. Now select an anchor on any slide. An anchor is any slide object that you can select, as explained in our Anatomy of a Link tutorial. As you can see in Figure 1, below, we selected a basic rectangle shape as an anchor.

Figure 1:

Select your anchor

With your shape selected, access the Insert tab of the Ribbon. Then, click the Hyperlink button, as shown highlighted in

red

within Figure 2, below.

Figure 2:

The Hyperlink button

You can also press the

Ctrl

+

K

keyboard shortcut instead of clicking the Hyperlink button.

PowerPoint Keyboard Shortcuts

Do you want more keyboard shortcuts?

Explore our PowerPoint Keyboard Shortcuts and Sequences Ebook that is updated for all PowerPoint versions.

Doing so will bring up the Insert Hyperlink dialog box, shown in Figure 3, below. Make sure you select the Place in This Document option in the sidebar, as shown highlighted in

red

within Figure 3.

Figure 3:

Choose a location within the active presentation

You will now see a list of all slides within the active presentation. These are found in the Select a place in this document area. If there are many slides, you can scroll down and choose the slide you want. Once you have selected a slide to link to, click the OK button, as shown highlighted in

blue

within Figure 3, above.
Once the hyperlink is applied, play the presentation in Slide Show view. Click the anchor to test the hyperlink.
Show and Return
Notice the Show and return checkbox, as shown highlighted in green within Figure 3, is grayed out? This option is only available if you have a Custom Show selected within your Select a place in this document area.
In Figure 4, below, you will notice that we have selected an existing Custom Show within the Select a place in this document area. Moreover, now the Show and return check-box, as shown highlighted in green, is no longer grayed out.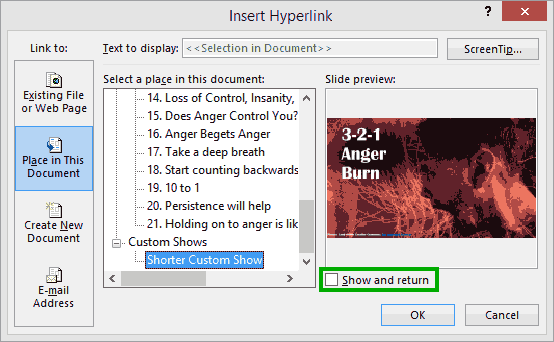 Figure 4: Show and return
So what does selecting this check-box do? If you click on an anchor, and that brings up a Custom Show, then at the end of the Custom Show, you will be returned to the same slide that contained your anchor! As you can see, this is an excellent way to make so much interactivity happen in your PowerPoint presentation, using a combination of Hyperlink and Custom Show options.