Introduction
About Kevin Steingruebner
Registration and Benefits
Using The Site
Indexing Presentations
Pricing & Support
Conclusion
---
Introduction
PowerPointforTeachers.com is a website that attempts to be a repository of PowerPoint presentations on all types of subjects that teachers can download and use in their classrooms.
For those who want to know more about the use of PowerPoint in education, do look at this page.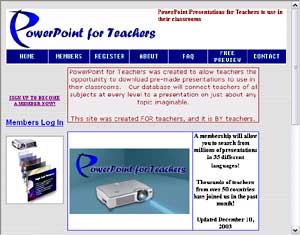 ---
About Kevin Steingruebner
The site is run by Kevin Steingruebner, who has provided an excellent background about himself and the development of the site:
I have been teaching high school social studies for nine years in Valley Stream, Long Island, New York, focusing primarily on American Government. I am constantly looking for new, innovative ways to teach, and computer technology has been the perfect opportunity for me to try new things. The development of Microsoft's PowerPoint and the internet have changed the way many of us use technology in the classroom.
Although these technologies have become readily available in hundreds of thousands of classrooms in America and around the world, much of it is minimally used, or not at all. It is really this lack of usage that has driven me to create my website.
The biggest factor preventing teachers from using PowerPoint is the amount of time it takes to create a presentation. I have found that many teachers have a general working knowledge of the program, but do not feel comfortable enough to use it regularly. Many schools have spent numerous staff development days creating presentations to share with each other. It is this sense of file sharing that also led to the development of the site.
In the summer of 2002 I initially launched powerpointforteachers.com as a site where teachers could share and sell their own PowerPoint files. Over the past 18 months and thousands of hours of research, I found that there are millions of pre-made presentations in cyber-space, on just about any topic, and in all languages.
Many of these presentations are specifically made by teachers for the purpose of presenting information in the classroom. My website's main feature is that it allows teachers to search from among many of these specific presentations. Each one of these has been reviewed and summarized by my staff. The summaries allow teachers to review a presentation file before actually downloading it, which can be a time consuming task in itself.
The site also includes a Google search, which has search capabilities to find specific PowerPoint files. These search results do not include summaries, and might not be made specifically by teachers for classroom purposes.
Overall, the website has been developed for the purpose of saving teachers valuable preparation time while giving them the opportunity to incorporate technology into their teaching strategies.
Thank you, Kevin!
---
Registration and Benefits
PowerPointforTeachers.com does not contain any actual presentations to download - it actually is a researched catalog of linked PowerPoint resources from university and school sites. Rather than search (or not be aware of) this presentation content, you can browse a list of linked content that's cataloged according to some keywords. We'll explore how this works later during this review.
To become a member, you'll need to register and process a payment of US$12.95 through PayPal. You'll also need to choose a username and password to login.
---
Using The Site
Once you get to the homepage (or any page on the site), you'll find a link for the Members section. Log-in to the members section using your username and password and you'll be presented with a keyword search option.

Figure 1: Enter a keyword or a combination of keywords in the search form for presentations.
Enter any keywords - for example, a search for the term 'dinosaur' returns two hits. All search results are hyperlinks that you can click.

Figure 2: Search results are actually hyperlinks that link to pages that provide more information.
Clicking one of these links provides detailed info about the presentation. Most of this information has been reviewed by opening and viewing each presentation and analyzing the content. The following table shows some sample information you can typically expect to see at PowerPointforTeachers.com
On the top of the info page, you'll find the actual download link for the presentation.
---
Indexing Presentations
As can be expected from a site like this, a continuous indexing of presentation content takes place all the time. Kevin adds that "at this point indexing of presentations is a search by keyword of web pages that include the summary of each presentation."
Also, all links are checked every week to ascertain whether they are dead or live.
---
Pricing & Support
An individual annual subscription costs US$12.95 - group rates are available on request. An annual subscription allows unlimited use of the search facilities.
Payment for membership is through PayPal, an eBay company that facilitates micro-payments through your credit card.
I asked Kevin about support, which is "...through e-mail because most issues are not very complex. I have spoken to a few customers on the phone. A customer service number is provided when a purchase is made".
---
Conclusion
On the whole, this site is great for educators who want readymade PowerPoint content to use or edit. It's a small cost that provides access to thousands of presentations that have been all indexed for keywords.
This is the original page. An AMP (Accelerated Mobile Page) version of this page is also available for those on mobile platforms, at PowerPoint for Teachers.