Cattle Annie's Restaurant & Entertainment Club is one of Virginia's premier music venues. Located in Lynchburg, Virginia, Cattle Annie's has been the host of major music artists since the club was established in 1993.
Cattle Annie's features a diverse format of popular entertainment including live Rock, Top 40, and Country music and DJ's playing the latest dance hits. In addition, the club features a large dance floor, tex-mex restaurant, game room, and three bars. There is so much to do, and so much happening, Cattle Annie's has to use every means possible to inform their guests!
Several years ago, Cattle Annie's promotional team implemented PowerPoint slides broadcast through their closed circuit television system, including large screen projectors, to present upcoming entertainment and other promotional items. The project was successful at informing the guests, but keeping the slides up-to-date proved tedious and over time, the appearance of the slides deteriorated. The promotional team began looking for a timesaving and cost-effective solution.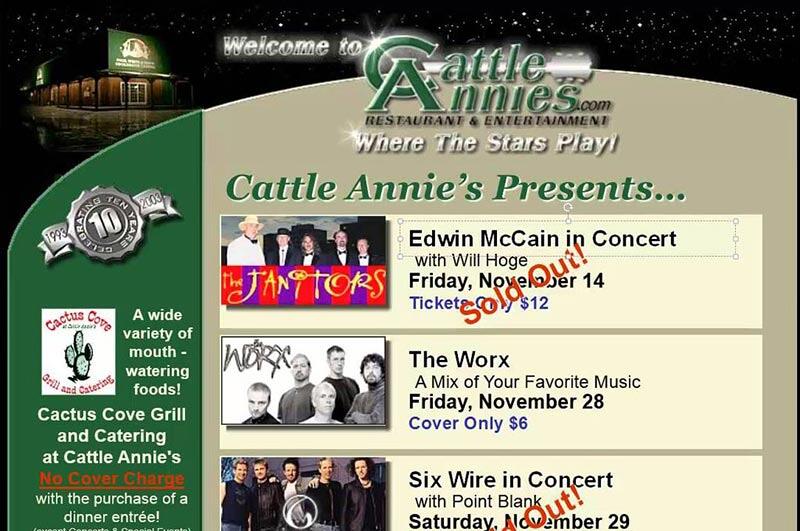 Linking the club's scheduling database to the slides seemed to be the solution. However, PowerPoint doesn't natively support database linking. Learning and writing code wasn't worth the time that would be expended. Take-Off Software answered the call for a cost-effective solution with DataPoint.
By linking Cattle Annie's scheduling database (a Microsoft Access application) to PowerPoint, the promotional team found a simple solution to assure up-to-date and attractive promotion of its entertainment schedule.
This is the original page. An AMP (Accelerated Mobile Page) version of this page is also available for those on mobile platforms, at Cattle Annie's Uses DataPoint.