Editing the Notes Master
Printing Speaker Notes
Creating a PDF File
---
Editing the Notes Master
You can perform global formatting of your notes pages on the Notes Master. (It works just like the Slide Master discussed in Chapter 12.)
For instance, if you add bullet symbols to the Notes Master, bullets will automatically appear when you enter text on all notes pages. You can also add page numbers, format the text in a different font, or resize the slide and text placeholders.
To edit the notes master:
Choose View > Master > Notes Master.
The Notes Master appears (Figure 19.16).

Figure 19.16 To globally format notes pages, make changes to the Notes Master.
Zoom in if necessary.
Make any of the following changes:
Adjust the size and position of the slide or text placeholders.
Format the text as desired-add bullet symbols, adjust indents, change the font, and so forth. Figure 19.17 shows the text placeholders after we decided to apply bullets to the second level, and automatic numbering to the third.

Figure 19.17 In this Notes Master, the second level is bulleted and the third level numbered.
To add text that you want to appear on each page (page number or presentation title), use the View > Header and Footer command. You should apply the formatting (bold, font size, italics, color, lines, etc.) to the text placeholders on the notes master, though.
When you are finished, click Close Master View on the small floating Notes Master View toolbar.
Tip
Any headers or footers you add do not appear on the Notes Master; however, you will see them in Notes Page view.
---
Printing Speaker Notes
After you have typed your notes and formatted the Notes Master, you are ready to print the notes pages.
To print speaker notes:
Choose File > Print.
Choose a print range.
From the Print What menu, choose Notes Pages.
Click OK.
Tips
In the Print Options dialog box, you can click the Preview button to see how your notes will look.
If you want to add information or edit your notes in a word processor, you can choose File > Send To > Microsoft Word.
You can view your notes pages during a slide show by right-clicking the screen, choosing Screen, and then Speaker Notes (Figure 19.18). This is not recommended if your speaker notes remind you to not pick the wax out of your ears while speaking…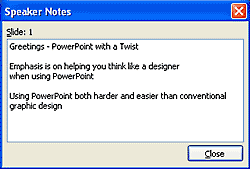 Figure 19.18 During a show, you can access your speaker notes.
Also, see "Taking Notes During a Slide Show" in Chapter 15.
---
Creating a PDF File
Today, any professional involved in graphics needs to understand the opportunity and the power behind creating Adobe Acrobat or Portable Document Format (PDF) files. When you create a PDF file from a PowerPoint presentation, you make it possible for others to view your slides without owning PowerPoint. You also make it possible for printers to print your slides on high-quality imagesetters and color printers.
Creating PDF files is not a built-in capability of PowerPoint; it requires a separate purchase-of either Adobe Acrobat or the popular alternative, JawsPDF. There are also freeware and shareware PDF creation programs available, but we cannot vouch for their quality.
In either case, after you install one of these programs, an additional printer choice becomes available, as shown in Figure 19.19. Printing to Acrobat Distiller or JawsPDF Creator creates a PostScript file that is converted into a PDF file.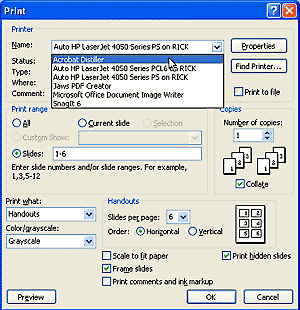 Figure 19.19 Printing to Acrobat Distiller is the most common way to create PDF files.
Both Acrobat and Jaws offer the option to create a toolbar within Office applications for easy PDF creation, and this contributes to the popular, albeit mistaken, belief that PowerPoint includes built-in support for PDF file creation.
If you have not yet done it, try using Adobe Acrobat or JawsPDF the next time you need a presentation printed professionally. It has become the official standard method for creating press-ready files.
---
Altman/Altman, MICROSFT OFFICE POWERPT 2003 WIN: VISUAL QUICKSTART, ©2003 Reproduced by permission of Pearson Education, Inc. Publishing as Peachpit Press. ALL RIGHTS RESERVED.
---