Smart Connectors
More AutoShape Ideas
---
Smart Connectors
Many PowerPoint users simply aren't aware of connectors and how they differ from lines. It isn't unusual for users to draw lines between two shapes to show a relationship.
Lines and connectors might look the same in some instances, especially if all you need is to draw something linking two shapes. In reality, there are subtle differences between them. The biggest difference is that if you attach a connector to a shape, it moves with the shape. Attach a line to a shape and it will never move with a shape.
Tip: Using connectors and basic shapes, you can create any type of relationship chart inside PowerPoint. Figure 5-32 shows you an unconventional diagram that was created using just rectangles and connectors.
Although connectors are just another AutoShape type, they have no fill attributes. All line formatting options, including line thickness, dash styles, and arrowheads, are available.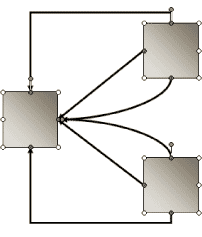 Figure 5-32: Connector samples.
Types of connectors
PowerPoint provides three types of connectors:
Straight connectors
Elbow connectors
Curved connectors
Each connector style has three variants:
No arrowheads on either side
Arrowhead on one side
Arrowheads on both sides
Drawing connectors
Draw the connectors only after your shapes are in place. To draw a connector between shapes, follow these steps:
Select a connector style from the Connectors flyout menu on the AutoShapes menu in the Drawing toolbar. The flyout can be dragged out by its handle to spawn a new toolbar.
The minute you move your cursor near a shape, you'll find several blue, square handles highlighted on the shape, as you can see in Figure 5-33.
Click the cursor on one of the handles to determine the start point of the connector.

Figure 5-33: You can't tell it from this black-and-white book, but those handles are blue.
Move toward the shape you want to connect, and the blue squares are highlighted on that shape.
Click any of the blue handles to set the connector's closing point.
Changing the connector type
To change the connector type, right-click the connector and choose the new connector type from the flyout menu, as shown in Figure 5-34.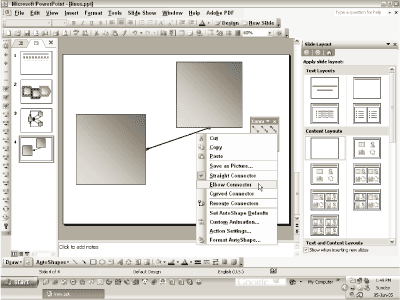 Figure 5-34: Change your Connector types.
Using the yellow diamonds
Curved and elbow connectors, when selected, sport yellow diamonds that allow you to change the elbow location in elbow connectors and the curvature in curve connectors. Straight connectors need no manipulation.
After manipulating the curve and elbow connectors, you might want to change their shapes back to the original forms. Just right-click the connector and choose Reroute Connectors from the resultant context menu.
Adding, changing, or reversing arrowheads
You might want to add or remove the arrowheads from a connector. You might also want to reverse the arrowheads in a connector.
Follow these steps to add, change, or reverse arrowheads:
Select the connector that you want to edit and choose Format|AutoShape (or just double-click the connector). This summons the Format AutoShape dialog box.
In the Colors and Lines tab, the bottom third of the dialog box is concerned exclusively with arrowheads. You can set the begin and end styles for the arrowheads and also make the arrowheads smaller or larger.
When you're done, click OK.

Tip: There are many ways to get to the Format AutoShape dialog box, but the easiest route is to double-click any AutoShape (including connectors).
Moving connectors and shapes
Remember: Follow these guidelines:
When you move a shape with an attached connector, the connector moves with the shape and automatically becomes longer or shorter to accommodate the distance between shapes.
Connector ends attached to a shape have a red circle handle. Connector ends unattached to a shape have a green circle handle.
To move a connector, first select the connector and then drag one of the ends to another shape or leave it unconnected.
Expanding your chart horizons
You can combine shapes and connectors to create any sort of chart in PowerPoint. For most data-based charts, you can use PowerPoint's own charts. However, for other types of charts, the shape-and-connector approach works very well.
Some examples of this approach include:
Relationship charts
Mind maps
Flowcharts
Callouts
Concept charts
Connectors: Design guidelines
Follow these guidelines to create better connectors:
Experiment with connector formatting options — especially line thickness and color. Dark-color connectors work well over light background colors, and vice versa.
Use a consistent line color and thickness for the shapes and connectors on the same slide to maintain a unified design look.
Animate connectors in sequence with the shapes to create a sequential chart build.
---
More AutoShape Ideas
Almost everything on a PowerPoint slide has something to do with AutoShapes. Even then, some ideas are better than others. Here are some of my favorite AutoShape ideas.
Transparent fills
Technical Stuff: This only works with PowerPoint 2002 and 2003.
All fill styles can be made transparent to varying degrees. To change the transparency value:
Double-click the AutoShape to open the Format AutoShape dialog box.
In the Colors and Lines tab, drag the Transparency slider to show any value between 0 and 100 (see Figure 5-35).


Figure 5-35: Creating AutoShape ghosts with the Transparency slider.
A tale of tables
PowerPoint's native tables can't be animated in sequence one row or column at a time. To do this, you have to convert a table to AutoShapes first.
Follow these steps to convert a table into AutoShapes:
Draw your table and select it or choose an existing table.
Duplicate the slide so you can get your old table back!
Choose Draw|Ungroup on the Drawing toolbar.
PowerPoint warns you that you're about to discombobulate a table, but that's one warning you can ignore if you don't need to add more new columns or rows to your table.
If your table isn't yet ungrouped to AutoShapes, choose Draw|Ungroup once again.
You're now free to animate the individual cells of the table as you see fit.
Quick drawings
You can combine AutoShapes to create quick drawings even if you need to use them outside of PowerPoint. For example, you can combine
Five or six ovals to create a flower
Several hexagons to create a honeycomb pattern
Two or more donuts to create a target for darts
Other quick drawings you can create with AutoShapes include clocks, road maps, and geometric abstracts. This can be a very helpful and quick alternative to conventional clip art.
Callouts
Callouts are a category of AutoShapes that allows you to create comic book–style text and thought balloons. Combine them with drawings or photos of human or animal characters to create something that's different, yet universally appealing. Figure 5-36, shows you how this coin-tossing man is coping with three callouts!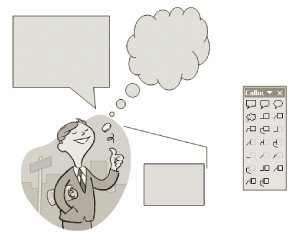 Figure 5-36: Call out for callouts.
To use a callout:
Draw or insert the character associated with the callout.
In the Drawing toolbar, choose AutoShapes|Callouts and select the callout style you need.
Just click anywhere on the slide.

Warning: Don't drag-and-draw callouts. The text in the callouts doesn't reflow on its own if you do that!

Type text inside the callout shape and format the font as required.
Resize the callout to fit the entire text content.
Drag the diamond handle of the callout toward the character associated with the callout.
Export your AutoShapes
You might end up creating something that needs to be used outside of PowerPoint. Follow these steps to export shapes to a graphic file format in PowerPoint 2002 and 2003 — this trick doesn't work in older versions:
Select all the shapes and then group them by choosing Draw|Group on the Drawing toolbar.
Right-click the graphic and choose Save Picture As.
In the Save As dialog box, choose the graphic format you need from the Save as Type drop-down list.
Type a name for your graphic in the File Name text box and then click Save.
If you're using PowerPoint 2000, you can simply select your group of shapes, copy it (Ctrl+ C), and then paste it (Ctrl+V) into another Microsoft Office application.
While this regular copy-and-paste routine works well most of the time, designers often need to move their compositions to high-end drawing and page-layout applications. To export your graphic to an industry standard format, such as EPS, you need to have Adobe Acrobat (the full version, not just the Reader) and Adobe Illustrator installed on your system. This trick works in all versions of PowerPoint:
Select your shapes and choose Draw|Group in the Drawing toolbar.
Print the slide(s) to PDF.
Print your slide containing the AutoShape to a PDF document by using the Acrobat printer driver.

Remember: Make sure that each slide that contains your composition is saved as a separate PDF document. All versions of Adobe Illustrator can't import multipage PDFs.

Edit outside PowerPoint.
Open the single-page PDF inside Adobe Illustrator. Edit as required before you save to an EPS graphic. EPS graphics can be used in page layout programs like Adobe InDesign and Quark XPress.
Beyond AutoShapes
If you love the AutoShape concept, you might want to explore Microsoft Visio and SmartDraw. Both applications use the shape metaphor to create diagrams. Both Visio and SmartDraw work very well with PowerPoint.
On the CD: You'll find an evaluation version of SmartDraw on the CD attached to this book. I've often used SmartDraw to create quick charts, timelines, and tree diagrams. These charts can then be used within PowerPoint.
This is the original page. An AMP (Accelerated Mobile Page) version of this page is also available for those on mobile platforms, at AutoShape Magic - 4 of 4.