This book extract is from Cutting Edge PowerPoint for Dummies, a book that will teach you how you can make your PowerPoint dance and sing.
Okay, you've PowerPointed before, right? And you knew there must be more cool things you could do? Here they are! This handy guide gives you pointers on what makes a powerful presentation, tips on using the right formats and templates, and directions for dressing up text, wowing 'em with color, adding action, and much more.
The book is part of the Dummies series, published by Wiley.
I wish to thank Greg Croy, Pat O'Brien, and Eric Holmgren for facilitating the permission to extract.
---
---
Introduction
Presentation graphics can emphasize your essential message and keep your audience's attention. But great presentation graphics often take time that you can better spend elsewhere in your business (especially if you aren't already an expert designer — or maybe you just need more time to study astronomy).
PowerPoint AutoShapes can give your presentations the pop you need with just a few simple steps. This chapter shows how you can quickly create and customize presentation graphics with AutoShapes.
Tip: AutoShapes use PowerPoint's basic line, color, and font tools. If a tool in this chapter is unfamiliar, it's covered elsewhere in this book. Colors, for example, are covered in Chapter 3; fonts and text are in Chapter 7.
---
Why AutoShapes?
AutoShapes are preset, intelligent shapes like circles, arrows, stars, and callouts that you can use to draw almost anything inside PowerPoint. Figure 5-1 shows some of these AutoShapes. Combine these shapes to create amazing visual content so fast that your colleagues will be left blinking and dazzled.
With AutoShapes, you can
Draw circles, rectangles, arcs, hexagons, cubes, and many other shapes.
Place a thought bubble beside a picture of Aunt Eliza and make her think (for a change).
Combine several shapes to create diagrams, charts, and timelines.
Draw an exotic thunderbolt shape fit for Harry Potter's forehead.
Draw stars with more points than you can count.
If you want to create better presentations, you'll love AutoShapes.
You can create professional-looking drawings on your slides even if you have led an uneventful, boring, or sinister life that required no artistic expression. If you have led a moral and eventful life full of artistic vision, you'll still love AutoShapes because Microsoft beta-tested this technology with all sorts of guinea pigs (er, users).
Remember: Although AutoShapes are versatile, you can't get too far in your presentations by using them as they are. After all, how much impact can a set of green shapes on a white background make? Not to worry — in this chapter, you find out how to combine them with exotic fills. In fact, you discover the easiest route to create cutting-edge PowerPoint presentations that scream wow!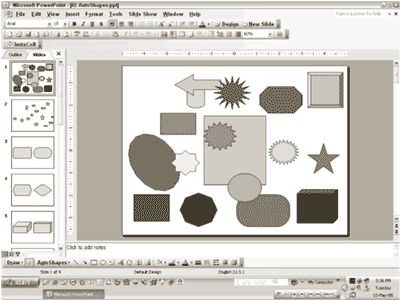 Figure 5-1: AutoShapes may be at the bottom of the PowerPoint interface, but they're the tops in PowerPoint.
Types of AutoShapes
Each type of AutoShape is accessed from the AutoShapes toolbar, as shown in Figure 5-2.

Figure 5-2: The AutoShapes toolbar.
PowerPoint offers nine types of AutoShapes:
Lines: Lines (with or without arrows), curves, freeform paths, and scribbles. Chapter 6 shows you more about drawing lines and paths.
Connectors: Connect AutoShapes with straight and curved connectors. You can have arrowheads on either, none, or both ends of the connectors.
Basic Shapes: Create circles, rectangles, cubes, hearts, and many not-so-basic shapes.
Block Arrows: An assortment of arrow styles will make sure that you move in the right direction.
Flowcharts: Create a number of standard flowchart shapes, such as process, decision, and data.
Stars and Banners: Draw stars, explosions,scrolls, and banners.
Callouts: Insert comic book–style and line callouts.
Action Buttons: Add push-style buttons that allow you to add navigation between slides.
More AutoShapes: Not really an AutoShapes, this option opens the Clip Art Organizer and lets you use clip art as an AutoShape.
Drawing AutoShapes
AutoShapes can be found in the Drawing toolbar. If you can't see the Drawing toolbar within PowerPoint, choose View|Toolbars|Drawing. By default, the Drawing toolbar lives at the bottom of the PowerPoint interface (refer to Figure 5-1), but you can move the toolbar anywhere you want.
Click the AutoShapes icon in your Drawing toolbar and then drag the handle to spawn a standalone AutoShapes toolbar (refer to Figure 5-2). You'll find nine icons on the toolbar. All but the last one open their own flyout menus that can be dragged off by their handles to create new toolbars.
Warning: Before you get enthusiastic about keeping these toolbars open all the time, remember that PowerPoint can spawn enough toolbars to make the combined population of China and India appear sparse. For proof, look at Figure 5-3, which shows all the AutoShape toolbars on display. Fortunately, Microsoft placed icons to draw lines, rectangles, and ovals right on the Drawing toolbar, so you needn't encounter all the menus and toolbars before you get to these common shapes.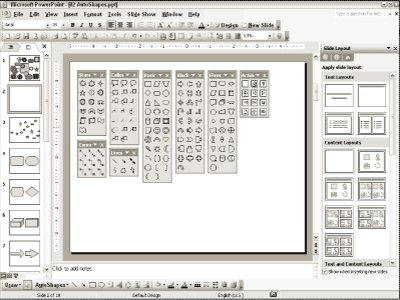 Figure 5-3: If you can find a place to work after opening all the AutoShape toolbars, you're either an optimist or have a very large monitor.
You can draw an AutoShape in two ways:
Choose any shape and click on the slide to place a default-sized AutoShape.
Choose any shape and then drag-and-draw on the slide to place an AutoShape of the size and proportion you require.
PowerPoint automatically applies a default fill and line to the AutoShape. Yes, those defaults can be changed. (See the sidebar, "Changing default fills and lines," later in this chapter.)
Text within AutoShapes
To add text to an AutoShape, draw an AutoShape and start typing. Anything you type shows up within the AutoShape.
Remember: You can't just create an AutoShape and start typing for some AutoShape types such as lines, connectors, and Action Buttons.
To type or edit text within an existing AutoShape, follow these steps:
Select the AutoShape.
Right-click and choose either Add Text or Edit Text.
Remember: In many ways, AutoShapes function in the same way as regular text placeholders.
That isn't surprising; any new text box you create on a slide is actually just a rectangle AutoShape with special characteristics.
You even use AutoShapes when you aren't aware. Many elements, like tables and charts, are special types of AutoShapes. In fact, if you ungroup a table or chart, you end up with a collection of AutoShapes, as I discuss in the section, "A tale of tables," later in the chapter.
"Sticky" AutoShapes tools
Sometimes, you want to pull your hair out because PowerPoint insists on making you work more. This is particularly true if you want to draw a hundred stars on your slide. PowerPoint will insist that you reselect the Star AutoShape after drawing each star. That means you're clicking within the AutoShape menu a hundred times! Maybe it's just easier to imagine a sky without stars?
Or maybe you should tame PowerPoint and get your work done fast — I show you how in this section.
PowerPoint changes the AutoShape crosshair cursor to the default arrow cursor soon after you draw an AutoShape. If you want to draw a hundred stars, don't go back to the Basic Shapes flyout menu a hundred times. Do this instead:
Select the AutoShapes menu on your Drawing toolbar and open the category you need (such as Stars & Banners).
Drag the handle of the flyout menu to create a standalone toolbar.
Double-click the AutoShape you need and the icon remains "sticky."
Draw your hundred or so AutoShapes.
Click the star icon once again (or any other icon) or just press the Esc key to get your hands off this "sticky" mess.
This is the original page. An AMP (Accelerated Mobile Page) version of this page is also available for those on mobile platforms, at AutoShape Magic - 1 of 4.