Writing a Script to Focus Your Ideas
Storyboarding Your Script to Clarify Your Ideas
Producing Your Script to Engage Your Audience
Getting Started
---
Writing a Script to Focus Your Ideas
The single most important thing you can do to dramatically improve your presentations is to have a story to tell before you work on your PowerPoint file. To learn how to do this effectively, you can follow Hollywood's lead.
In Hollywood, stories take a specific shape in the form of a document called a script. A script is much shorter and less detailed than a novel because it assumes that the visuals of a film will play a major role in telling the story. Instead of relying on long narrative descriptions, a script focuses on action and dialog. The best scripts distill stories to their bare essence and strip away anything that does not contribute to a story's singular focus.

Figure 1-4 The concept of a Hollywood script is the inspiration for the Beyond Bullet Points Story Template.
When a writer finishes a script, the document then becomes a powerful organizing tool that literally puts everyone on the same page. The script is the starting point for getting funding, attracting actors, and planning visuals, and it serves as a way for everyone to be clear on what everyone else is saying and doing. If you were a filmmaker and you started filming before you had a script, you would waste time and resources while you changed the plot, characters, and setting as you figured out the story along the way.
You'll take Hollywood's cue and kick off an efficient and effective process for your Contoso presentation by writing a PowerPoint script first, as shown in Figure 1-4. This step of writing a story first focuses your ideas and helps you figure out what you want to say and how you want to say it. Although writing a script adds a new step to your usual PowerPoint process, doing so will save you time and effort later.
To write a script, you need to momentarily set aside PowerPoint design issues like fonts, colors, backgrounds, and slide transitions. Although it might sound counterintuitive, when you write a script first, you actually expand your visual possibilities, because writing defines your purpose before you start designing. The more time you spend writing, the better your visuals will become. A script unlocks the undiscovered power of PowerPoint as a visual storytelling tool in ways that might surprise and delight you and your audiences.
Remember: Writing a script first will save you time and effort later, and improve the quality of your visuals.
When you begin writing your PowerPoint script in Chapter 2, you won't have to start with an empty page, because you'll use the Beyond Bullet Points Story Template in Microsoft Word to guide you every step of the way. The story template makes your job of writing a PowerPoint story as easy as filling in the blanks, because it includes all of the essential elements of a classical story. Just as Aristotle's ideas about story structure have shaped an endless variety of Hollywood stories, your story template includes a classical story structure that serves as the springboard for an endless variety of story possibilities for bullet-free PowerPoint presentations.
In addition to helping you tell a story, the story template helps you to figure out what you want to say and the order in which to say it. The challenge of any presentation is not to show all the information you have but instead to select the right information to present. The story template guides you through the important process of selecting only the ideas your audience needs to know and breaking them into digestible chunks that are easier for your audience to understand. All of your hard work pays off when you transform your story template into a PowerPoint storyboard.
---
Storyboarding Your Script to Clarify Your Ideas
With a completed script in hand, a Hollywood filmmaker usually turns to a storyboard artist to sketch selected scenes from the story to show how things will look on screen. Storyboards help teams collaborate effectively—the sketches help everyone see how the story will look so that they can plan various aspects of production such as staging, camera positioning, and lighting.
You'll tap into many of these powerful benefits by adapting Hollywood's storyboarding concept to your PowerPoint presentation, as shown in Figure 1-5. You won't need to sketch anything, but will instead adapt the basic idea of treating your slides as a sequence of illustrated frames on a storyboard. When you finish focusing your ideas with the story template, you will have a solid story that sets the foundation for your spoken words and visuals. In Chapter 4, you will transform your story template into a PowerPoint storyboard as you prepare and plan your visuals in Slide Sorter view.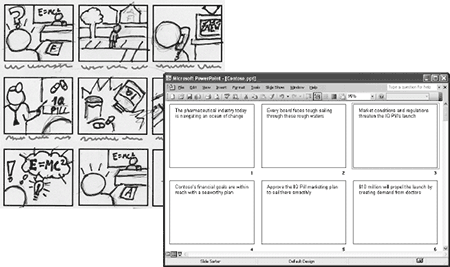 Figure 1-5 The concept of a Hollywood storyboard is the inspiration for the Beyond Bullet Points storyboarding approach.
In Chapter 5, you will add visuals and words to specific slides using a simple and elegant style that makes your job of turning your words into visuals much easier and faster. Don't worry if you don't have a professional designer working with you, because all the design techniques in this book are accessible to everyone.
Your storyboard will solve many of the problems, with the examples of Contoso slides or any PowerPoint presentation, because you start designing with a strong and coherent foundation in the form of a strong story. From the start, you will be able to work with your story in Slide Sorter view to review your story structure and sequence, check your pacing and flow, and use visuals to tie together the various parts of your story. This planning ensures that you continually build on and improve your strong story foundation with a single unified set of visuals and words. Developing your storyboard also increases your confidence in your topic and cultivates new and creative communication skills.
Remember: A storyboard sets the foundation for your spoken words and projected visuals.
---
Producing Your Script to Engage Your Audience
Usually, you experience the final results of a Hollywood script on a movie screen when you buy a ticket for a new release, find a seat, and sit back and relax as the lights go down and you watch the show. But next week you are giving a live presentation to a live audience, so you'll stretch the Hollywood model into the domain of live performance, as illustrated in Figure 1-6.


Figure 1-6 A blend of a movie and a live performance is the inspiration for the Beyond Bullet Points concept of production.
Using the approach described in this book, you'll be well-equipped to produce a media experience that will get you the results you want anytime you give a presentation. Focusing your ideas using a story template and clarifying them using a storyboard blends your message with your media, and dramatically expands your ability to enhance your presentation with sophisticated media tools and techniques. And every step of the way, you refine your ideas and continually rehearse the way you'll present them.
Your new storyboard improves the way visuals promote meaningful communication for both you and your audience. When you project your PowerPoint slides on a large screen, they work as visual triggers that increase your confidence as a speaker. You're no longer tied to the uncomfortable task of reading text off the screen and unintentionally ignoring your audience. Instead your slides briefly signal what you'll cover and remind you about the point you want to make. While the slide is displayed, you are free to look at your audience instead of at the slide.
Because your slides are simple, they minimize the work your audience must do to figure out what you're saying. By decreasing the attention your audience would pay to complicated slides, you'll increase the attention they pay to you and your ideas. The result is an engaging multimedia experience that balances visual and verbal elements and contributes to meaningful understanding.
And even if you had a fear of public speaking in the past, you'll breathe much easier with your new PowerPoint approach. These powerful tools increase your confidence and improve the quality of everything you communicate with your spoken words and projected images. Because you're more relaxed as a speaker, you'll become more confident in improvising during your live presentation.
The three-step Beyond Bullet Points approach opens dramatic new possibilities for treating your PowerPoint screen as a canvas to promote dialog and collaboration. You'll use a classical story structure and innovative techniques to engage your audience, but there are many more things you can do to help them feel more involved. You'll explore these techniques in Chapter 7.
---
Getting Started
Now that you've analyzed your presentation problem, selected a strategy, and reviewed the three-step Beyond Bullet Points approach, it's time to transform your Contoso presentation.
To get started on your Contoso presentation, you need a basic project plan, so you use Microsoft Outlook to send a meeting request for review sessions with your CEO, Chris Gray. Here are the milestones for this project:
Project plan for the Contoso presentation
Wednesday: Meet with CEO to review script.
Friday: Meet with CEO to review storyboard.
Monday: Meet with CEO to rehearse production.
Wednesday: Deliver presentation at board meeting.
Now that you've defined your project milestones, you're ready to move beyond bullet points into a new world of focus, clarity, and engagement.