Selecting a Strategy
Introducing the Hollywood Approach
Interpreting Classical Ideas with Modern Technology
Aligning Your Strategy with the Research
Understanding the Three-Step Approach
---
Selecting a Strategy
One of the reasons the Contoso board of directors, like most audiences, wants to move beyond bullet points is because they live in a media-saturated culture like the rest of us. Almost every waking moment of our lives, we are all exposed to visuals and sounds streaming across the screens of televisions, theaters, computers, and advertising displays. But that all comes to an abrupt halt when we look at the walls in our meeting rooms and see them filled with bullet points.
We all expect an increasing standard of production quality for every type of communication, including PowerPoint presentations. Boards of directors and audiences everywhere want much more than just a "visual aid" tacked onto a classical verbal presentation. They want a sophisticated communication experience in which spoken words and visuals blend together into a seamless integrated media experience that helps everyone to understand ideas and make decisions more effectively.
To transform your PowerPoint presentations into the type of experience that audiences expect, you'll need to adapt some ideas from the world's leading experts in bullet-free communication. And to find them, you need look no farther than north of your downtown Los Angeles office building to see their symbolic home—Hollywood.
---
Introducing the Hollywood Approach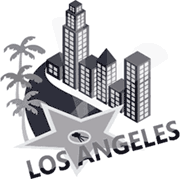 Hollywood films and PowerPoint presentations actually have much in common. Both use spoken words and projected visuals to communicate information, and both aspire to engage people and keep them interested throughout an entire experience. But the difference is that Hollywood somehow manages to do its job successfully without bullet points. Its secret? Hollywood films tell stories. PowerPoint presentations usually do not.
Hollywood has always known that a story is a powerful, effective, and efficient communication technique. No one needs special training or technology to understand a story, because it's the way humans have been communicating with one another throughout history. The structures of stories follow natural patterns that underlie the way we think and understand. Stories frame the context for communication and focus attention by making information specific and relevant to an audience. When you apply what Hollywood knows about stories to your PowerPoint presentations, you will quickly and dramatically transform your communications well beyond bullet points.
---
Interpreting Classical Ideas with Modern Technology
Of course, Hollywood didn't invent the idea of a story. It simply used the new technology of film to adapt the classical elements of storytelling recorded by the Greek philosopher Aristotle 2,400 years ago. It wouldn't be unusual today to walk into a Hollywood film school and hear filmmakers debating the fine points of Aristotle's classical ideas about plot, character, and three-act structure.
Just as film was a new technology that Hollywood filmmakers used to adapt Aristotle's ideas, PowerPoint is a powerful new technology that presenters can use to interpret these classical concepts. As the number of presentations dramatically increases, it is clear that all of us who use PowerPoint to communicate need to remember what Hollywood has never forgotten: it's all about the story. When you adapt this timeless idea to your PowerPoint presentations, you will ground your communications in a powerful technique that has worked effectively throughout human history.
---
Aligning Your Strategy with the Research
Before you say "Hello to Hollywood," it's important to recognize that Hollywood techniques have limitations in the context of PowerPoint presentations. Most of us go to a Hollywood movie for entertainment, but you're not giving a presentation at next week's board meeting to entertain. You'll be trying to persuade your audience to do or think something new, which will take more than razzle-dazzle. Although you do want to use sophisticated media techniques to communicate, you don't want your presentation to offer only sizzle and no substance.
Your PowerPoint approach should be informed by the latest research on how to use words and images to help people understand information. At the end of your presentation, you want your audience to comprehend and act on your ideas and not just remember your fancy slides or your fine performance. Fortunately, there is a body of research-based design principles that can provide you with the guidance you need as you adapt the fundamentals of the Hollywood process to PowerPoint. Many of these principles are already embedded into the process described in this book, and you can explore them in more detail in Appendix A.
---
Understanding the Three-Step Approach
What works for Hollywood will also work for you as you transform the Contoso presentation or any PowerPoint presentation beyond bullet points. With this book, you will adapt the process Hollywood has tested and refined through countless successful bullet-free films. This time-tested process consists of three basic steps, depicted in Figure 1-3.
To create a PowerPoint presentation without bullet points
Write a script to focus your ideas.
Storyboard your script to clarify your ideas.
Produce your script to engage your audience.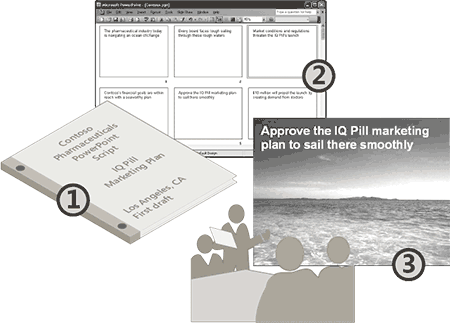 Figure 1-3 The Three-Step Beyond Bullet Points approach: script, storyboard, and production.