This book extract is from Beyond Bullet Points, a book that teaches how you can use PowerPoint to tell visual stories without using bullet points.
Author Cliff Atkinson uses his three-step approach to help readers discover how they can combine the tenets of classic storytelling with the power of projected media to create a rich, engaging experience.
Published by Microsoft Press, the book includes easy-to-use templates and advanced tips.
I wish to thank Cliff Atkinson, and Microsoft Press for facilitating the permission to extract.
---
In this chapter
Introducing the Scenario
Analyzing the Problem
Three Analysis Questions
---
In this chapter, you will:
Analyze a typical presentation scenario.
Consider some of the problems that bullet points present.
Learn the importance of a story.
Survey the Hollywood process for producing media.
Review a three-step approach to moving beyond bullet points.
Giving a presentation can be a challenge for anyone. But it's even more challenging when you have to give a presentation to the board of directors of your organization next week and they've specifically asked you not to use "boring" bullet points for your slides. What do you do?
The thought of public speaking strikes fear in the hearts of most people. Not only do you have to prepare to speak in front of a group of people you don't know, you also have very little time to figure out what to say and how to say it effectively. Where do you begin?
This book can help. It introduces the Beyond Bullet Points approach, which will help you to produce any presentation using Microsoft Office PowerPoint without relying on bullet points. You will be guided, step by step, through the makeover of a single presentation so that you can see the approach in action. Based on a blend of classical ideas and modern technology, this three-step approach helps you focus your ideas, clarify them, and bring them to life for your audience. You can easily apply the techniques in this book to any presentation—whether you're an entrepreneur, a salesperson, an educator, a professional speaker, a student, an engineer, or a scientist—because they're for anyone who uses PowerPoint to communicate.
See Also:
As you follow the specific example of this scenario, you can also visit
Sociable Media
to see examples of other types of presentations you might give for other purposes, including training, education, fund raising, sales, and more.
The benefits of this approach go much deeper than the aesthetics of your slides. You'll not only produce more engaging visuals, but at each step along the way, you'll also grow more confident as a speaker, more sure of your message, and more connected with your audience. There's plenty to say about the ideas underlying this new approach, but you have a presentation to give next week to the board of directors, so let's jump right into the specific scenario.
---
Introducing the Scenario
This book will guide you through the process of redesigning an existing PowerPoint presentation using the tools and techniques of the Beyond Bullet Points approach. As you see the approach unfold, you can use this fictional scenario to help you learn the approach and apply it to your own presentations.
Here's the scenario you face—it's your first day at your new job as the director of marketing for Contoso Pharmaceuticals in Los Angeles. You've wanted to work at Contoso for a long time, so you're thrilled to be here. When you get to your desk and turn on your laptop computer, there's an e-mail waiting for you from your boss, Michelle Alexander, the vice president of marketing.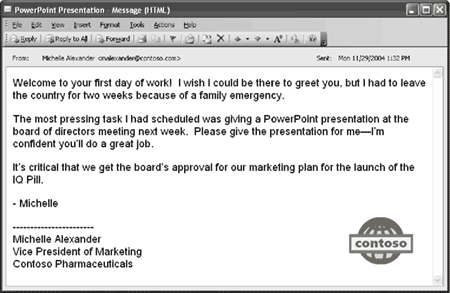 The IQ Pill is Contoso Pharmaceutical's new breakthrough drug that instantly doubles the intelligence of anyone who takes it. It's a miracle of science that has been under development for years and is finally ready to be released.

The successful launch of the IQ Pill is crucial to your company's financial performance next quarter, so the board has dedicated an hour of its meeting next week to review and discuss the marketing plan you will present. But there's a glitch. When you check your voice mail there's a message from Contoso's CEO, Chris Gray:
Welcome aboard! I was sorry to hear about Michelle's situation, and I hope everything is all right. Michelle told me she forwarded to you the materials for the PowerPoint presentation you're going to give to the board next week. I reviewed the presentation with her yesterday, and I approved the marketing plan—I think she did a great job. But we have a little problem. The board members have been giving me a hard time about our PowerPoint presentations, and I agree that the presentations can be unfocused, wordy, and dull. They've told me that they don't want to see any 'boring' bullet points at next week's meeting. They still want presenters to use PowerPoint, but they want the visuals to be focused, clear, and engaging. Take a look at our current PowerPoint file, and let's set up a meeting for Wednesday so that you can show me what you can do to improve it. See you then.
So, its your first day on the job and you've already been given these challenges:
Give a presentation to the board next week using PowerPoint.
Use no bullet points.
Be focused, clear, and engaging.
You expected to hit the ground running in your new job at Contoso, but you weren't quite expecting your first day to be anything like this.
A good way to start your new project is to step back for a moment and analyze the situation. Why would an audience ask presenters to move beyond bullet points in the first place? What were the Contoso board members really saying when they told the CEO that the current approach is producing "unfocused, wordy and dull" presentations? To find the answers to your questions, you go to the source: the current PowerPoint file that's waiting in your e-mail inbox. You locate and open the Contoso marketing plan PowerPoint presentation so you can analyze its contents next.
---
Analyzing the Problem
Analyzing a PowerPoint file outside of its presentation context can be difficult because you're missing some important pieces of information. You don't know exactly what the presenter intends to achieve with the presentation. You also don't know how the presenter actually works with the PowerPoint slides during the live presentation or how the audience responds. But even without this context, you can still ask three basic questions about every PowerPoint presentation to analyze its effectiveness.
---
Three Analysis Questions
In Slide Sorter view Can I see the focus of the presentation by reading only the slide titles?
In Notes Page view Does this presentation balance my spoken words and projected visuals?
In Normal view Will the slides look interesting to my audience.
Let's see how you'd answer each of these questions when you look at the Contoso PowerPoint presentation.
---
See Also:
Moving Beyond Bullet Points: A Three-Step Approach - 4 of 4
Moving Beyond Bullet Points: A Three-Step Approach - 3 of 4
Moving Beyond Bullet Points: A Three-Step Approach - 2 of 4

You May Also Like: Develop Your Public Speaking: A Few Thoughts on Fear | Aland Islands Flags and Maps PowerPoint Templates
---
Popular Posts
Ten Easy Topics for Pecha Kucha
But what are simple topics, that excite you, and are interesting to your audiences? Of course, if you already have a topic, you need not read further, but if you are still looking for ideas, here are ten easy topics that you can use for your Pecha Kucha presentations.
Jigsaw Graphics for PowerPoint
Here are 10 jigsaw graphics containing different shapes. These graphics are available in both black and white and are contained within separate sample presentations that you download. Additionally, these jigsaw graphics are vector shapes, so you can easily edit them within your Microsoft Office program by changing fills, lines, and effects or even applying Shape Styles.
Download and use these Jigsaw Graphics in your slides for just $4.99+
This is the original page. An AMP (Accelerated Mobile Page) version of this page is also available for those on mobile platforms, at Moving Beyond Bullet Points: A Three-Step Approach - 1 of 4.