Introduction
Using ToolsToo 5.1
Pricing and Support
Conclusion
---
Introduction
Arranging shapes and other objects on PowerPoint slides is just one of the few things that could be more intuitive -- and did you ever want to make all shapes on your slide equally sized? If you wish that there were better aligning options that PowerPoint included, then you are not alone. Many PowerPoint users, especially those who create slide all day want features that will make their workflows simpler and faster. ToolsToo, our review product is a PowerPoint add-in that tries to be that simpler and faster option right inside PowerPoint.
You can find more information about ToolsToo at the ToolsToo web site. My contact at ToolsToo.com for this review was Gil Segal - thank you, Gil.
Back
---
Using ToolsToo 5
Download the installer from the link given above. Run the setup routine -- once installed, you will see the new ToolsToo tab within the Ribbon in PowerPoint 2010, as shown in Figure 1. ToolsToo also works within PowerPoint 2007, but not in older versions. ToolsToo also has a Lite version that is free to use.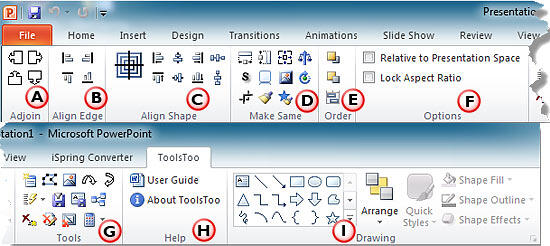 Figure 1: ToolsToo tab within the Ribbon
The options in this tab are explained below, as marked in Figure 1, above -- before we get to exploring all these options, it is important that you understand what a Reference Shape is. Many of the tools within ToolsToo use a Reference Shape as the basis for their function: when aligning left, for example, the selected shapes are aligned according to the left side of the Reference Shape. The user can choose whether to use the first selected object or the Presentation Space (a specifically identified object on the Slide Master) as the Reference Shape at any given time.
A. Adjoin
Lets you place one or multiple objects against a Reference Shape object. In simple terms, Adjoin does distribution of slide objects with zero space between adjoining slide objects.
B. Align Edge
Not just an align option, but also resizes objects so that they end up at the same position where the alignment has to end -- this is one of those options that you need to play with to understand.
C. Align Shape
Uses the same alignment options as PowerPoint typically does, but aligns all objects to the Reference Shape.
D. Make Same
A collection of tools including the very useful Make Same, Make Same Width, and Make Same Height options. There are plenty of other options within this group.
E. Order
Allows you to reorder slide objects in much the same way as PowerPoint does, but leaves the Reference Shape object in it's original order.
F. Options
Lets you select the Relative to Presentation Space and Lock Aspect Ratio options. If the former option is not selected, all edits will be based on the first object you select rather than the Presentation Space. The latter option needs to be selected if you want shape proportions to be respected while resizing with any of the ToolsToo commands.
G. Tools
Another collection of tools that will make your PowerPoint workflow simpler and easier -- our favorite is the Make Title option that lets you promote any text box or placeholder to the slide title. You can also convert any shape that has text to a slide title but this retains the shape as well. We wish there was a similar Make Body option!
H. Help
Brings up the ToolsToo user guide and the About dialog box for this add-in.
I. Drawing
This group contains several PowerPoint native commands so that you don't have to go back and forth between several tabs while working with ToolsToo options.
Back
---
Pricing and Support
ToolsToo costs $19.95.
Support is through email.
Back
---
Conclusion
ToolsToo is not one, but several add-ins for PowerPoint -- at least that's what we think after exploring the amazing options this add-in brings to the PowerPoint workspace. You'll need to spend at least half a day to learn all the options within ToolsToo -- but that will be time well spent because you will save hours and days of your time by using ToolsToo thereafter. And we cannot complain about the price:performance ratio as well -- a great investment!
Back
---
This is the original page. An AMP (Accelerated Mobile Page) version of this page is also available for those on mobile platforms, at ToolsToo 5.1: The Indezine Review.