Introduction
Using PowerMockup
Pricing and Support
Conclusion
---
Introduction
PowerMockup is a PowerPoint add-in that lets you create mockups of anything you want to design - maybe a web site, even a Visual Basic program, a Flash movie, or any idea that you want to sketch or storyboard. It works entirely within the PowerPoint program interface, as you can see in Figure 1. PowerMockup adds a rich set of user interface elements (buttons, text boxes, navigation bars, etc.) which makes prototyping new concepts very easy - all within PowerPoint. Using PowerPoint as a mockup tool has many advantages because almost everyone knows how to use it.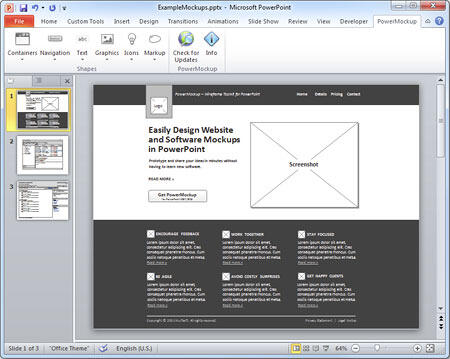 Figure 1: A mockup created within PowerPoint
PowerMockup is from Wulfsoft, a company based in Germany. You can learn more about PowerMockup here.
All design elements within the add-in are based on regular PowerPoint shapes that can be viewed and formatted even on systems that have no PowerMockup installed. Within systems that have PowerMockup installed, you get all these extra options within PowerPoint 2007 or 2010:
77 fully editable user interface elements
82 wireframe icons
Easy access to the add-in options via a separate Ribbon tab within PowerPoint
Here are some of the other benefits of using PowerMockup within PowerPoint:
Vector-based design
Export to PDF, PNG, EMF and various other formats
Ability to demonstrate an application's workflow as a slideshow
Customization through PowerPoint's standard diagramming features
Printing capabilities, zoom, undo/redo, grouping, audio/video support
Seamless integration into Microsoft Word documents (enables you to edit mockups from within Word)
My contact at Wulfsoft for this review was Andreas Wulf -- thank you, Andreas.
Back
---
Using PowerMockup
Download the installer, run the setup routine and follow the instructions. When installed, follow these steps to use PowerMockup:
Open a presentation within PowerPoint 2010 or 2007. Activate the PowerMockup tab of the Ribbon, highlighted in

red

in Figure 2.

Figure 2: PowerMockup tab on the Ribbon
The PowerMockup tab includes two groups, Shapes and PowerMockup, as shown in Figure 3.

Figure 3: Shapes and PowerMockup group within PowerMockup tab
All options within the PowerMockup tab are explained below:

A. Containers

Click this button to bring a drop-down gallery (see Figure 4). Within this drop-down gallery you'll find some of the containers for the mockup such as Browser Window, Ribbon Bar, Video Player, etc. Just click on any one of them to place it on the slide.

Figure 4: Container drop-down gallery

B. Navigation

Clicking this button opens the Navigation drop-down gallery, as shown Figure 5. This gallery provides elements used in navigation such as Button, Menu Bar, Horizontal/Vertical Scrollbars, Spin Box, etc. Click to place it on the Slide.

Figure 5: Navigation drop-down gallery

C. Text

This option enables you to insert text elements in your mockup. Some of these text elements are Table, Text Box, Text Area, etc. (See Figure 6).

Figure 6: Text drop-down gallery

D. Graphics

Click this button to bring up a drop-down gallery (see Figure 7). Within this drop-down gallery you'll find some of the graphics which can be used in the mockup such as Progress Bar, Placeholder, Apex Indicator, etc. Click on any graphic to place it on the slide.

Figure 7: Graphics drop-down gallery

E. Icons

The Icons button, when clicked brings up a drop-down gallery (see Figure 8) containing icons such as those for Shopping Cart, Users, Sitemap, Twitter, Facebook, etc.

Figure 8: Icons drop-down gallery

F. Markup

The Markup drop-down gallery includes elements such as Markers, Sticky Note/Comment and many more, as shown in Figure 9.

Figure 9: Markup drop-down gallery

G. Check for Updates

Takes you to the PowerMockup site to check and install any updates.

H. Info

Displays information about the add-in.
Based on the concept you need to create, choose and place any of the different elements, and create your mockup.
Figure 10 below shows a web layout mockup created within PowerPoint. All the mockup elements are native PowerPoint shapes, and thus editable. In Figure 10 below, most of these placed elements have been formatted using the Fill, Lines, and Effects options in PowerPoint 2010 (or 2007).

Figure 10: Web layout mockup created
Back
---
Pricing and Support
PowerMockup costs US$ 39.95 for a single user license. Multiple user licenses are also available.
Support is through email.
Back
---
Conclusion
PowerMockup is a very useful program that lets you use your PowerPoint skills for more than just creating presentation slides. Since it is built within PowerPoint, no learning curve is involved, and there's no reason why you cannot create your everyday slides with the extra options that this add-in provides. And the price is right too.
Back
---
This is the original page. An AMP (Accelerated Mobile Page) version of this page is also available for those on mobile platforms, at PowerMockup.