Introduction
About Slide Executive Desktop 2.9
New Features
Working with Slide Executive Desktop 2.9
Working with Slide Executive PowerPoint Add-in
Pricing and Support
In Conclusion
---
Introduction
If you work with tons of PowerPoint slides from clients, reviews, and samples like I do, you may soon land yourself into a slide nightmare. Slide nightmare is a state of slides (and mind) where you know that you do have the particular slide you want, but can't locate the presentation deck that contains that slide! It's time to invest in a slide management program like Slide Executive. In the past, I have reviewed previous versions of this program. So, this new review will focus on improvements and new features since the core program is relatively the same.
Back
---
About Slide Executive Desktop 2.9
Slide Executive Desktop 2.9 is from Novatrox AB, a company based in Stockholm, Sweden -- you'll find more information on the company at their web site (link no longer exists). Learn more about Slide Executive Desktop 2.9 and download the free trial version of Slide Executive Desktop 2.9 here (link no longer exists).
Version 2.9 of the program is the newest incarnation of Slide Desktop and you can read a review of the earlier version here. Other than the Slide Executive Desktop, Novatrox also creates Slide Executive Professional version, which is an online web service comprising a slide library and document management system.
My contact at Novatrox for this review was Liber Rodriguez - thank you, Liber.
Back
---
New Features
The following are some of the enhancements in Slide Executive Desktop 2.9:
Improved relevancy sorting in search results.
Improved indexing engine. The indexing engine is up to 200% faster when handling, PowerPoint 2003 or older, presentations.
A PowerPoint 2007 Add-in has been added to the Desktop edition. It enables you to search and add slides from your repository.
Improved PowerPoint Add-in handling. Some third party Add-ins do not function well with Slide Executive Desktop. This problem has now been resolved.
Duplicate slide handling has been updated so that all slides are always displayed when viewing a presentation. The search engine will however hide any hidden slides from its search result.
In addition, this version also fixes some bugs:
Fixed a bug where included folders with quotes in the path would fail.
Fixed a bug where moved or renamed included folders caused the indexing process to fail.
It is now possible to change the path to all presentations in one or more folders at the same time again.
This new version is available as a free upgrade to existing users.
Back
---
Working with Slide Executive Desktop 2.9
Download the installer, run the setup routine and follow the instructions. When installed, launch Slide Executive Desktop 2.9. Figure 1 shows the Slide Executive Desktop 2.9 interface.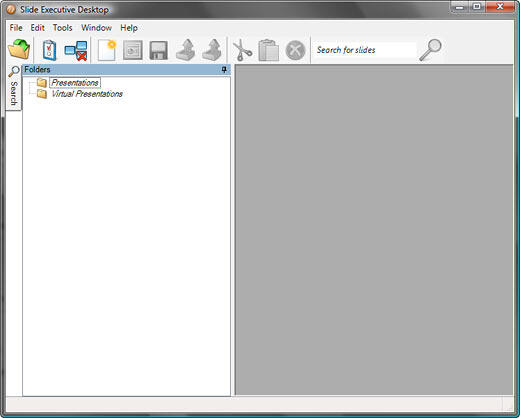 Figure 1: Slide Executive Desktop 2.9 interface
Access the Settings dialog box by choosing the Tools | Settings (or F7) option. Opt to include folders where you typically save and store all the presentations. Then click the Tools | Check Folders (or F6) option to start the indexing process. Figure 2 shows several indexed presentations on the left pane within the interface under the suitably named Presentations folder.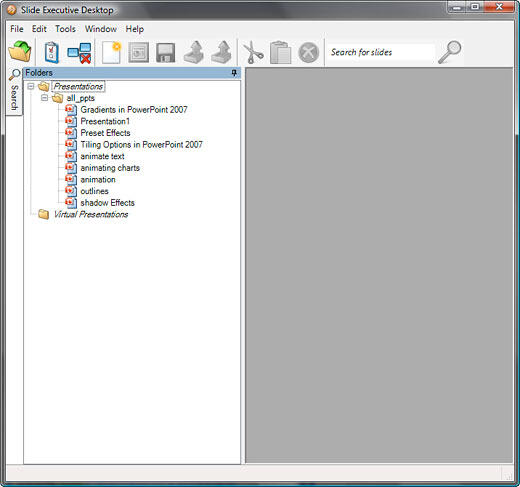 Figure 2: Indexed presentations
Double click any presentation on the left pane to see the content slide(s) on the right side of the interface as shown in Figure 3.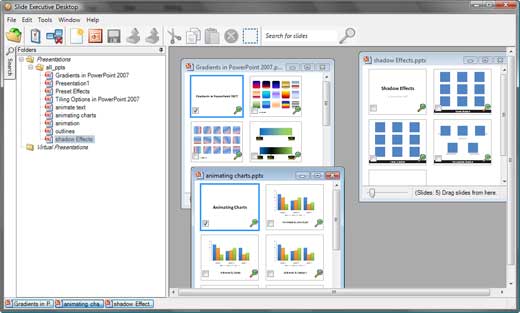 Figure 3: Open presentations
You can create a new Virtual Presentation comprising slides for various indexed presentations by choosing the File | New Virtual Presentation (or Ctrl+N) option. This brings up a New Virtual Presentation window. Drag and drop the slides you want to include in this window, as shown in Figure 4.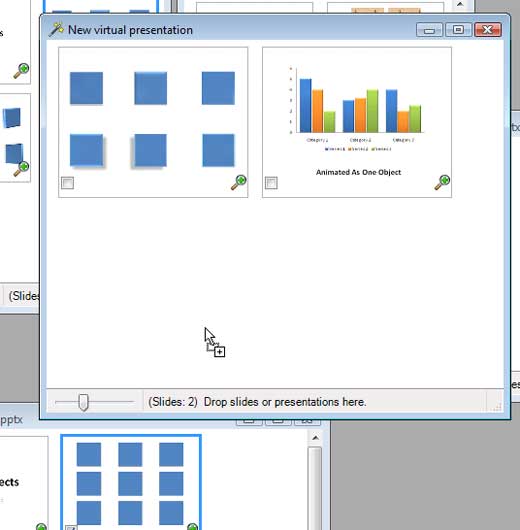 Figure 4: New Virtual Presentation
From the main menu choose File | Save Virtual Presentation, and give a name to the presentation.
To export the virtual presentation to a normal PowerPoint file, select the virtual presentation in the left pane, and then choose File | Quick Export Virtual Presentation. This brings up a Save as window. Here you can give a name and location to save it as a PowerPoint presentation (.PPT).
Of course, Slide Executive does so much more than just show you a catalog view of all your slides and create presentations. You can search for slides and create new presentations from the search results. The new Slide Executive add-in for PowerPoint 2007 allows you to do the same operations from within PowerPoint as well.
Back
---
Working with Slide Executive PowerPoint Add-in
Slide Executive 2.9 also includes an optional PowerPoint 2007 add-in that enables you to search and add slides, all from within the PowerPoint interface.
When you install Slide Executive 2.9's desktop version, you are prompted with a link to the PowerPoint add-in. Download the add-in and follow the instructions to end up with a Slide Executive tab on the Ribbon as you can see in Figure 5.


Figure 5: Slide Executive tab on the Ribbon
All the options on the Slide Executive tab are explained below:
Simple Slide Search: This allows you to do a basic keyword search.
Advanced Slide Search: The advanced option search allows you to input values such as filename, title and text in the slide to narrow your scope and achieve much more accurate results.
Web slide search: This option allows you to search presentations on web using Novatrox's SlideFinder search engine. This opens in a new two-tabbed window for basic and advanced searches, as shown in Figure 6.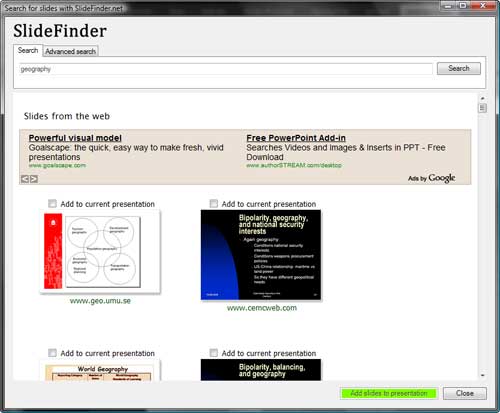 Figure 6: Search for slides with SlideFinder.net
About SlideFinder: Here you can learn more about SlideFinder.
Back
---
Pricing and Support
Slide Executive Desktop 2.9 is priced at US$365 and is available for online purchase.
Support options include email and telephone responses.
Back
---
In Conclusion
Slide Executive Desktop is a one-of-its-kind program. It's a cool tool for anyone who creates PowerPoint presentations often!
Back
---
This is the original page. An AMP (Accelerated Mobile Page) version of this page is also available for those on mobile platforms, at Slide Executive Desktop 2.9.