Searching Presentations
PointCapture and CaptureWorks
Download and Installation
Using PointCapture
Pricing and Support
In Conclusion
---
Searching Presentations
With over 30 million PowerPoint presentations being created everyday, you probably have a fair number of them on your hard disk or network. Nowadays, you need to create PowerPoint presentations at short notice and searching for a particular slide in a particular presentation can be both laborious and time-consuming. Thankfully, PowerPoint's open add-in architecture allows third-party providers to create new utilities that plug right into PowerPoint. One such third-party product is called PointCapture.
Back
---
PointCapture and CaptureWorks
PointCapture is from CaptureWorks, Inc., based in Maplewood, NJ, USA. CaptureWorks exploits proprietary technologies that can intelligently capture work that is done on real documents - evolved over many years, these technologies are a direct result of working with some of the world's largest publishers and businesses. CaptureWorks is a sister concern of Gluon, which creates high-end Xtensions and plug-ins for Quark XPress and Adobe InDesign.
CaptureWorks creates the JobCapture, PrintCapture and TaskCapture products that monitor job, task and print workflows. Their newest product is PointCapture that integrates with Microsoft PowerPoint to provide extensive search abilities that we'll explore later in this review.
For more info about CaptureWorks and their product portfolio, visit their website (link no longer exists).
You might also want to visit their PointCapture page (link no longer exists).
My contact at CaptureWorks for this review was Peter McClard and I wish to thank him for his assistance.
Back
---
Download and Installation
You can download a 10 day trial version of PointCapture from the CaptureWorks site. This version is identical to the full version other than the fact that you need to buy the product and enter a registration code to convert this trial product to a full version. Until 10 days, the product works just like the full version.
The downloaded file is under 1 mb and contains the PointCapture setup file and a manual in PDF format. The manual is quite informative and compact at around 18 pages. You might want to print this manual for reference. The manual contains important usage info including setup instructions, usage details and an appendix.
Installation is a quick affair - you'll find a new PointCapture group in your Windows' Start Menu.
Back
---
Using PointCapture
When you launch PointCapture for the first time, you might be intimidated. Thankfully, that's just a first impression and actually using the product will expose its versatility and depth. Having said that, I still wish they had a wizard for first time users.
PointCapture is one of those tools that's powerful enough to be indispensable - some time spent on learning the intricacies of using search terms will be helpful in the long run. For instance, all properties inherent in PowerPoint files (see File | Properties in PowerPoint) can be used as search criteria. So, if the Author field within the Properties dialog box is set to XYZ, you'll use the search term Author="XYZ". However, a drop down menu listing all Properties options would have made it so much easier rather than typing them as part of the search itself. That's certainly on my wish list for this product!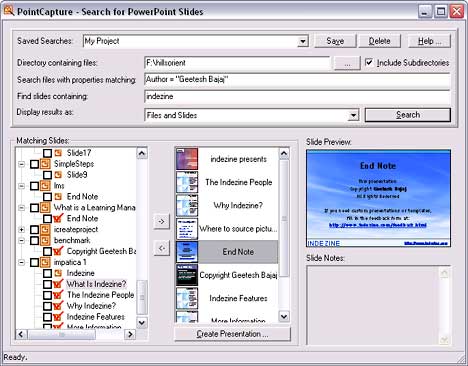 Update: The people at PointCapture actually did something about this grouse - the new version adds drop down boxes so that searches are easier for everybody - the earlier search interface is still available if you click the Advanced button (see new screenshot below).
All searches can be saved, edited and deleted.
A comprehensive listing of PointCapture search procedures can be found within the Appendix in the PDF manual.
Once you select some slides, you can output them to a new presentation. Such created presentations use a blank white template - you'll need to apply a template to the 'created' presentation to impart a professional look - PowerPoint ships with many free templates and many more are available online.
Back
---
Pricing and Support
Pricing is currently set at a promotional price of US$89 and that's quite a good rate for a product that can be a life-saver. The product directly competes with Accent Technologies' PowerSearch product that's priced at US$99. PowerSearch has a better interface but is not so expansive in its scope.
Support options include 60 days of complimentary technical support through phone or email. Currently, there's not much of a FAQ online for this product, but as the product evolves, I'm sure something of that sort would be in place.
Back
---
In Conclusion
I would have no hesitation using this product, although I can't resist adding that the interface design needs some attention (update: new interface is so much better). Help also needs to be more conventional - not a PDF manual that doubles up as a help option.
Other than these factors, I'm absolutely happy with PointCapture.
Back
---
This is the original page. An AMP (Accelerated Mobile Page) version of this page is also available for those on mobile platforms, at PointCapture.