Introduction
About PointClips
Downloading PointClips
Using PointClips
Pricing and Support
Conclusion
---
Introduction
Visuals make a presentation look good -- but users expect more from visuals in PowerPoint these days. They want the visuals to be kind to the presentation file size, and animate well. Most visual types don't live up to those expectations since they are sourced from clip media collections created for general use including the print and web. None of these collections were specifically created for PowerPoint. Most of these characteristics are shared by the phenomenal amount of clip art that Microsoft provides from its site.
Also, most of this sourced visual content cannot be readily edited or recolored in PowerPoint.
PointClips, the product that I am reviewing today surprisingly overcomes all these limitations because all this content is created within PowerPoint itself -- using PowerPoint's own drawing tools!
Back
---
About PointClips
PointClips is from Koke Creative, a company headed by Jeff Koke that is based in Austin, Texas, USA. You can learn more about PointClips and download a free sample presentation containing PointClips visuals at their site.
I asked Jeff about what sets PointClips apart -- here's his response:
Being vector illustrations, their main advantage is flexibility: they can be scaled to any size, from a tiny icon or bullet, to a graphic that fills the slide -- all without any loss of detail or quality (no jagged, pixellated edges); they have transparent backgrounds, so they can be placed on top of other elements without white boxes around them; and they are easily editable by ungrouping their components and editing the colors or individual points. If needed in other applications, they can be copied and pasted into Word or Excel, or exported as JPEG or PNG for any other application, including web sites.
You can read the rest of Jeff's conversation on my blog.
Back
---
Downloading PointClips
PointClips is available as both individual clips and packages:
Individual clips are downloads of single PowerPoint slides containing the PointClip you choose.
Packages include several related PointClips -- current packages include 50 slides containing 50 hand-crafted icons and clips. Presently, packages available are:

Business Basics
Objects and Equipment
Networks & Technology
People at Work

Some of these packages do have overlapping PointClips.
Once you buy individual clips or a package, you can download it immediately after purchase.
Back
---
Using PointClips
Follow these steps to use PointClips:
Open the downloaded individual clips or packages -- you'll see this is actually comprises PowerPoint slide(s) containing the clip/icon, as shown in Figure 1.

Figure 1: Slide containing a clip
Select the clip/icon, right click and choose Copy from the context menu. Open other presentation, navigate to the slide on which you want to place the clip/icon, right click and choose Paste from the context menu.
Clips/icons are fully scalable, click on it to select it, and click and drag from any of the four corners of the select box to scale it. Select and drag the clip/icon to move it to the desired position.
You can also ungroup the clip as a native PowerPoint object. Right click on the clip/icon, and choose Grouping | Ungroup, as shown in Figure 2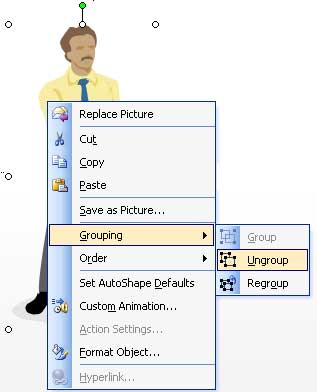 Figure 2: Ungroup clip/icon
Once ungrouped, you can select any of the individual elements -- and animate them in sequence to create a build. You can also edit these drawings and alter the shapes -- to do that, right click on the ungrouped element and choose Edit Points from the context menu.
Of course, you can also change the fill and line colors of individual, ungrouped elements.
Also, since Word and Excel use the same drawing engine as PowerPoint, you can always paste these clips into your Word and Excel files as well.
Back
---
Pricing & Support
Individual PointClips cost $5.00 whereas PointClip packages cost $99.00 each. Payments are through online secure servers -- and you can pay by credit card.
Support is through email and an online FAQ.
Back
---
In Conclusion
PointClips is a great collection -- but its biggest drawback is the limited number of PointClips available -- and hopefully that will change soon. Beyond that, this is an awesome collection that takes full advantage of PowerPoint's powerful drawing engine.
Back
---
This is the original page. An AMP (Accelerated Mobile Page) version of this page is also available for those on mobile platforms, at PointClips.