Introduction
AKVIS MultiBrush is a Photoshop-compatible plug-in that allows to enhance photos and retouch portraits. The plug-in is a new enhanced version of AKVIS Stamp. AKVIS MultiBrush performs picture enhancements, removes unwanted objects from digital pictures such as spots, stains, or even unwanted elements in a photograph. A useful tool for portraits which allows the user to remove wrinkles, scars, scratches, and enhances imperfect skin, this plug-in also available as a standalone application that runs independent of Adobe Photoshop.
MultiBrush is from AKVIS, a company based in Russia that specializes in graphics programs and scientific research. Apart from MultiBrush, AKVIS also creates other Photoshop-compatible programs like Chameleon, ArtSuite, ArtWork, Coloriage, Enhancer, Retoucher, etc.
You can download a free 10-day trial version of MultiBrush from the AKVIS site.
My contact at AKVIS for this review was Katerina Kharina. Thank you, Katerina.
---
How To Use
Follow these steps to use AKVIS MultiBrush:
Open any image in an image editor such as Adobe Photoshop.
Choose the Filter | AKVIS | MultiBrush option, as shown in Figure 1, below.

Figure 1: AKVIS MultiBrush
This opens the AKVIS MultiBrush 4 interface, as shown in Figure 2, below.

Figure 2: AKVIS MultiBrush 4 Interface
The interface is explained below:

A. Control Panel

The two buttons on the left side are to undo and redo actions. The buttons on the right side of the control panel are to apply the changes, and buttons of info, help, and preferences.

B. Control Panel

Toolbar contains a group of tools, which are used to edit images. Click on the corresponding button to select tools for painting, retouching, toning, and the eyedropper. Buttons marked with a small triangle contain a submenu of additional tools, which are selected by either clicking with the right mouse button or clicking and then holding the left mouse button on the desired tool.
Here is the list of tools:
Color Brush, Color Pencil
Eraser, History Brush
Clone Stamp
Chameleon Brush
Blur, Sharpen
Smudge
Lighten, Darken, Saturation
Eyedropper
Hand
Zoom
C. Preview
Preview shows a large preview of the image.
D. Navigator
On the top right, you'll find the Navigator.
E. Settings Panel
Settings Panel here you can set the parameters for the selected tool.
F. Color
Color tab allows to choose colors. The Swatches palette tab contains a collection of frequently used colors. And the History palette shows the list of every change made to a file.
Note: History palette is available in Home Deluxe and Business versions only.
Using the tools and parameters make the changes as required.
Apply the result to the image by pressing the Apply icon (see icon below) to return to the image editor.

Here's a "before" and "after" sample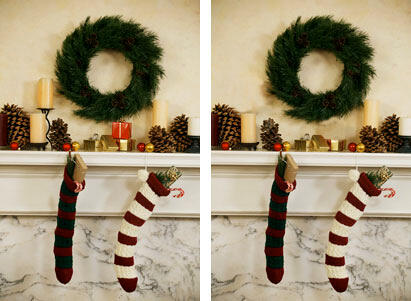 This is the original page. An AMP (Accelerated Mobile Page) version of this page is also available for those on mobile platforms, at AKVIS MultiBrush 4.