Introduction
Feature list
Pricing and Support
Conclusion
---
Introduction
Xara Web Designer 11 Premium enables you to design web pages with no HTML or JavaScript skills. The program is available in two versions: Web Designer and Web Designer Premium. Web Designer Premium offers advanced web design features over and above the features available within Web Designer. Xara Web Designer 11 Premium is the newest version. In comparison to the Web Designer 10 (or earlier) you'll find plenty of new features and content in Web Designer 11.
With Xara Web Designer 11 Premium you will be able to create all the effects of a dynamic site including sticky objects, full width stretching backgrounds, and responsive web design. Select any web design from the Designs gallery to use as a starting point. This includes web graphics, complete pages, responsive web site behaviors, and even pre-built multi-page sites. Once the choice is made, customize the web graphics, import and edit photos, create vector graphics, apply animated effects and animated transitions to layers and page links in your website. Additionally, create web-based slide-show style presentations, Flash animations, and text layouts.
Xara Web Designer 11 sites are W3C compliant, cross browser compatible (IE 8+, Firefox, Safari, Chrome) and XHTML, CSS standards based. It can also import a huge range of files types for vector graphics, image and text including PDF, RTF, RAW, PSD, TIFF and of course JPEG, PNG, GIF. Premium offers some extra import formats (SVG, ODP, PPTX). Websites made with Xara Web Designer 11 are ready for the latest iOS and Android smart phones and tablets. Additionally, cloud.xara offers simple way to view, edit and update the text or images of your Xara website using a web browser on any computer or tablet (even a Mac or Android tablet!), from anywhere in the world, and to re-publish the website. This can be perfect for collaborative editing, for commercial designers who want to give clients limited access to text editing, or for anyone who needs to edit their site remotely.
Xara Web Designer 11 Premium is from Xara, a company based in Gaddesden Place, UK. Other than Xara Web Designer 11 Premium, Xara also creates other graphic software such as Xara Web Designer 10 Premium, Xara Web Designer 9 Premium, Xara Designer Pro 7, Xara Picture Editor, Xara Xtreme 5 Pro, Xara 3D Maker 7, etc. You can learn more about their products and download a trial version of Xara Web Designer 11 Premium from their site.
My contact for this review was Nova Fisher. Thank you, Nova.
---
Feature List
Download the installer, run the setup routine and follow the instructions. When launched, you will see the Xara Web Designer 11 Premium interface, as shown in Figure 1, below.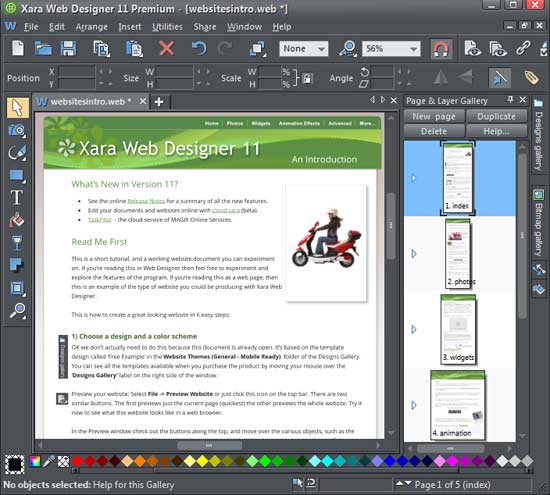 Figure 1: The Xara Web Designer 11 Premium interface
In this review we'll explore the new feature list. The working process of the application is same as of the previous Web Designer MX Premium product.
Xara Web Designer 11 Premium has some major upgrade that introduces new features and content and improved usability. Following are the key new features:
Sticky objects
Stretchy backgrounds
New animation possibilities
Text handling enhancements
Document sync with Dropbox or GDrive
Online editing with cloud.xara (beta)
New slideshow widget
New templates
Secure FTP publishing options
Import & export enhancements
TaskPilot 'Website M' hosting included free
There are some other minor enhancements:
Objects are automatically resized down to column width when you insert them into a text column
Ability to control the inter-page gap in vertical and horizontal supersites
Web export options dialog now usable offline
A new option Arrange | Combine Shapes | Intersect all shapes (the overlapping areas of shapes become separate shapes)
Improved support in the drawing tools for modern touch devices, including the Microsoft Surface stylus
Small improvements in the drop-down menus
Some improvements to photo gallery widgets (you can now set the size of the pop-up)
New photo text panel SmartShape
InfoBar pulses on tool selection.
Once you are done creating your site, you can quickly export it as a web page or multiple pages. The output is clean HTML and CSS and can be viewed thereafter in any web browser (see Figure 2, below).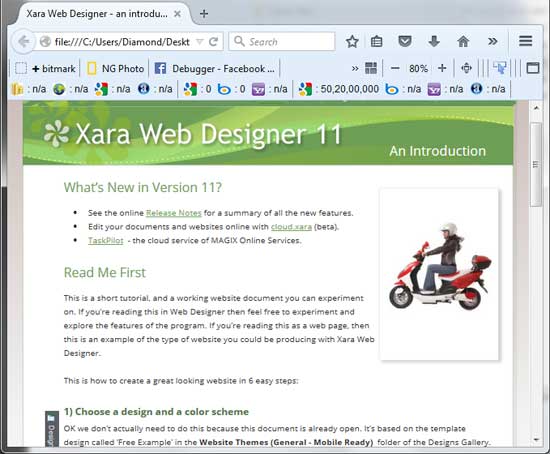 Figure 2: Exported web page
---
Pricing and Support
Xara Web Designer 11 Premium costs USD 49.99 and is available currently at an introductory rate of USD 42.49.
Support is through e-mail, an online knowledge base and FAQs. Extensive online tutorials including demo movies are available.
---
Conclusion
Xara Web Designer 11 Premium provides so much for one small price. It's a very useful program that's both snappy to use and full featured thus providing an amazing price:performance ratio.
---