Stencils are something that were very useful in the years before printing wasn't too common. You placed a stencil, and painted over it on a surface. While stencils came in all designs and shapes, one of the most common uses of stenciling was to paint alphabets. And today, even though we no longer need stenciled alphabets, they look distinctive. And that's probably the reason why there's a renewed interest in stenciled typefaces. We explore a few of them on this page. Before we explore further, do remember that stenciled fonts only look good at large sizes. Avoid using them for your bulleted text or body type.
Each of the slide thumbnails below can be clicked to see a larger representation.
1. Capture it
Download Capture it
Capture it is a distinctive stencil style typeface with a character of its own. Note that the B has no stem! Also it has an awesome texture that gives an appearance of a stencil brush! Even better, Capture it also includes a second variation for a reverse stencil effect.
---
2. HVD Peace
Download HVD Peace
HVD Peace is again not just another stencil font. It has character in the form of smudged edges that result from not being too careful while lifting the stencil after applying paint! Also notice that there is a little rotation in some of the alphabets that results in a complete, organic result.
---
3. Stardos Stencil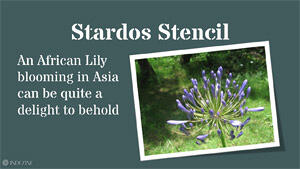 Download Stardos Stencil
OK, Stardos Stencil has no organic appearances. There are no smudges or painted fills. However, it's an amazing confluence of geometry, art, and type-creation. It is obvious that so much work has been put in creating these results.
---
Click below to view on SlideShare
Click below to view on YouTube
This is the original page. An AMP (Accelerated Mobile Page) version of this page is also available for those on mobile platforms, at 3 Free and Favorite Stencil Fonts.