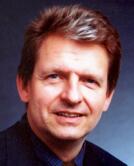 Joachim Fritze was born and grew up in nothern Germany. He is a chemist by profession with twenty years of experience in the sales and marketing of dentistry stuff. An avid PowerPoint user for almost a decade, Joachim churns up PowerPoint presentation all the time and loves to use Perspector, the 3D add-in for PowerPoint.
Joachim lives in Liechtenstein, and is married with two children.
Geetesh: How do you typically use PowerPoint, and what type of presentations do you create / present? Also, tell us more about your PowerPoint rants and raves. What do you like, and what do you dislike about the program?
Joachim: I have been working in marketing & sales division of a health care industry firm since some years. Everybody here is so used to PowerPoint—it simply is the standard presentation instrument in every meeting. This can be a strength—but in the meantime, it also presents a shortfall of the program since everybody has seen the typical PowerPoint charts at least a hundred times—bars and pies, cylinders and circles, scares and rectangles.
Worst case examples are the bullet lists, animated or not—after some years they become pretty uninteresting for everybody.
In a competitive situation, where you have to sell an idea, a product, or a service to a group of people whom you have never met before, it is difficult to hold the attention of the audience and make a lasting impression if you have nothing new to show.
It can be even worse when you work internationally. I am not a native English speaker—nor are lots of people in the audiences I have to talk to. So it is natural that part of the information I want to transfer may not reach the targeted brain if it isn't re-inforced through other parallel, communication channels.
Over the years, I did my best to support my messages with the creativity that PowerPoint tools can provide. But unfortunately everybody is doing so—and it becomes more and more difficult to make a difference with the built-in options.
In a nutshell: PowerPoint is the best presentation tool on the planet for me, but it is becoming more and more difficult for me to use only PowerPoint and create with it an impression that will last. I need more tools.
---
Geetesh: How did you get started with Perspector, the 3D add-in for PowerPoint.
Joachim: I looked at stock photos, and used strong images to anchor my central messages more intensively. I started with Photoshop to improve the images I used, or to create professional looking clipart, and imported it into PowerPoint.
Then I went over to Xara/Xara 3D because the drawing functions are great, the import/export options fantastic, and the price/performance positioning more reasonable than the upgrade costs for Photoshop and Illustrator.
I did all this to let my presentations look more unique than the ones from others, so that people will remember me and the solutions I have to offer. But even with Xara/Xara 3D, it was difficult to create what I really wanted to have—3D and perspective drawings in PowerPoint.
And then I found Perspector. And the product lived up to the claim in the name: I could create perspective graphics. Very fast, very easy, without having to learn how to make them with one of the expensive professional 3D graphic tools in the market, like Lightwave or 3DSMax.
Perspector 3 now also offers 3D-charts, which hasn't been the case 12 months ago, but the tool was worth every dollar also in the earlier versions.
Back
---
Geetesh: Tell us more about Perspector, their support, your experiences, etc.
Joachim: Perspector easily generates a perspective 3D-version of simply every 2D-shape which is available in PowerPoint, plus it includes also a number of prefabricated shape-arrangements/cliparts, which you can pick from a wizard-like library. In most cases, you can choose from several variations of a shape. For instance the bullet point list or the pyramid-chart.
You work in a preview window, and when you are satisfied with the result, you click the OK button—and after a rendering-time of 5 to 10 seconds, you get a beautiful output.
For the more experienced user, Perspector offers amazing options to spread a shade range equally over shapes you picked from a starting shade to an end shade. You can decide what degree of shine your shapes should have, and where you would like to set light sources.
You have different views to control the correct position of your construction in the 3D-room, and you can group pieces together, rotate and resize them—and ungroup them again when appropriate.
Of course, this way you can also create real perspective text, and you can twist text and pictures around every shape you decide. You can also fill the surfaces of a cube—or you can cover a sphere with a map of the earth, rotate it the way you want so that you have exactly any continent in front, that you are going to talk about—and of course, you can also animate the earth or any other shape in 3D.
Such earth maps take just 3 clicks, and your earth rotates around a given axis during your presentation. You don't need Perspector to view the results. So every PowerPoint user can integrate slides generated by Perspector in their presentations, although they cannot modify them without having the add-in installed.
And there is more. The professional version contains a big number of slide layouts, so you can put different slides of your PowerPoint presentation together, arranged as required in the 3D-room, and compare or relate the content elements in a very elegant way.
There is a library of perspective 3D-charts built in where you can pick your preferred example from, but can also modify every single detail you might want to change. For beginners, there are a number of sample presentations available at the web site, so that they can play with them to understand how they have been made.
But there's more. With the libraries you open, you can load a "how to do" video, so that you can explore the possibilities. By the way, the whole command architecture is very similar to PowerPoint—so without learning a single new command, you should be able to generate your first graphic in minutes.
Exact positioning in 3D is not that easy, so in case that you have to put elements in exact positions to each other, you can write the exact values in the coordination sections of the feature window you may open for every shape or group you work with by right-clicking the object.
If you have to modify an existing Perspector file, you simply double-click it to edit it to your needs.
Perspector also works together nicely with other PowerPoint add-ins. For instance, pptXTREME SoftShadows or AutoShape Magic. I have worked with Perspector now more than a year and I never had a problem. Also, animated Perspector charts are handled like normal PowerPoint objects. A rotating earth can in addition to its rotation created by Perspector, also be moved across the screen and animated with the normal PowerPoint animation controls.
If there is a feature or behavior you do not understand, you can ask for help by e-mail. I did this several times, and got an answer in about 24 hours which helped me out every time.
Back
---
Geetesh: Do you also use any other PowerPoint add-ins?.
Joachim: I also tried other add-ins. I bought all the CrystalGraphics add-ins, but some of them modified my screen resolution and others did not install completely. I couldn't use most of the features as I expected it. I had to remove them.
Perspector did what I expected from it. It is the best add-in I ever worked with, in terms of stability, product quality, price performance ratio, and customer support. With the new 3D chart library, the opportunities to use the program are incredible. I can highly recommend Perspector and do not want to work without it again.
---
Geetesh: Would you like to share some trivia about a non-conventional usage of PowerPoint, or just something you want to share with Indezine readers?
Joachim: In the early years with PowerPoint, it was fun to see the surprise in the eyes of my audience whenever I used a never-seen-animation, or a clever combination of PowerPoint's 3D and transparency options. Give it a try. I am sure you will love the program and it will pay off in very short time.
P.S. To see the eyes of the audience members, I try to use light backgrounds in the presentations all the time. This way I have light in the room and I can take up energy from those who concentrate on me.
---
This is the original page. An AMP (Accelerated Mobile Page) version of this page is also available for those on mobile platforms, at Joachim Fritze.