The PowerPoint Content Publishing Team creates content for the PowerPoint section of the Office Online site at Microsoft.com. They are a group of six. Here are one sentence profiles and a picture of all of them:
Shellie Tucker has been writing about PowerPoint and other Office programs since 1999 and finds it thrilling to discover that a piece of content is exactly what someone was looking for.
Eric Schmidt is the newest member of the PowerPoint Content Publishing team and can't believe that he gets paid to play with PowerPoint!
Joy Miller has worked as technical writer for Microsoft for about 11 years and has worked on Word, FrontPage, Windows SharePoint Services, and PowerPoint.
Mary Sobczyk has been working on Office products since Office 95 and her favorite PowerPoint 2007 feature is SmartArt graphics.
Jen Zamora has been working with PowerPoint templates as a Content Project Manager for three years and is very impressed with the templates that our PowerPoint customers submit to Office Online.
Eric Jensen has been the PowerPoint editor for about two and a half years, and will be adding content creation to his editorial role in the future.
Geetesh: Tell us more about the PowerPoint Content Publishing team.
Team: There are six of us that internally at Microsoft are considered the PowerPoint Content Publishing team. We focus on creating the different types of PowerPoint help content, such as training courses, video demos, templates, articles, tours, podcasts, and much more.
Each of us has expertise in different areas of PowerPoint and also in certain content types, such as training (Shellie) or templates (Jen). We like to keep our options open when choosing the best content type for a given subject matter. For example, we think showing someone (by demoing) how to use PowerPoint animations is much more effective than writing an article on how to do it.
---
Geetesh: How do you all in the Content Publishing team work individually – and as a team?
Team: Individually, we review customer comments about our help content on Office Online – looking for strong and weak content trends. As a team, we talk about whether a proposed action plan addresses customer concerns and requirements. We share our ideas and peer review each other's work before we publish it. We also work closely with the people on the product team at our Silicon Valley and Redmond campuses and Microsoft Most Valuable Professionals (MVPs) who review our work for technical accuracy and provide their PowerPoint and customer expertise.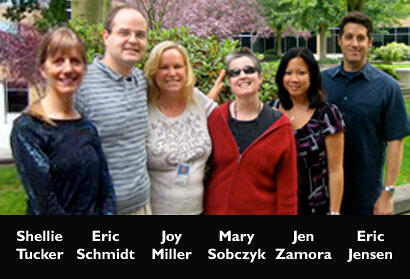 ---
Geetesh: Can you share some thoughts on what visitors to the PowerPoint section of Office Online are looking at – what interests users more, what is popular, and what is surprising?
Team: Customers with different levels of expertise require different types of content. For example, power users, such as designers, want more information about advanced features like animation, drawing, charting, and SmartArt graphics. Newer users want to know what is the difference between a theme and a template and how does a slide master fit into the mix? People who know PowerPoint basics generally want to migrate over to the more advanced features and so we help them do that, too.
Creating one source of content for two (or more) different user levels can be tricky but we try to address this by creating different content types. An article with step by step procedures to change theme colors may help an entry level user, whereas a quick demo on SmartArt graphics can quickly help an advanced user move ahead on their presentation. Plus, as we introduce new types of content, we realize that more complicated features or procedures might best be absorbed (or learned) if we package together a demo with an article containing step-by-step procedures. We're experimenting with new ways to present our content that will hopefully make it easier for people to learn the product more quickly. We're still learning which types of content work best for different customer aptitudes and how to best cover different levels of feature complexities.
In training courses, there are certain things that people get especially passionate about. One of them is course audio. Early on, we didn't provide audio narration throughout, but we got persistent pleas to have the full course read aloud, so we implemented full-course audio (that you can turn off if you prefer.) But there will always be people who dislike audio and offer comments such as "I don't need you to act like my mother and read the text for me."
---
Geetesh: Many, many visitors throng the Office Online site – and you are in a position to monitor their visits. Are there any site improvements made in the past few years that directly resulted from this data?
Team: Aside from our regular reviews to improve existing PowerPoint content and create new content based on customer requests, we do have some Office Online site-wide-related feedback that we've taken to heart that has resulted in noteworthy improvements to the site.
Office Online receives over 80 million unique visits per month, so one thing that we did was make it easy for customers to see what other people are reading or looking for. On the PowerPoint home page, you'll see 3 new tabs: Most Read, Most Searched, and Top Issues. These tabs are populated based on what customers are viewing.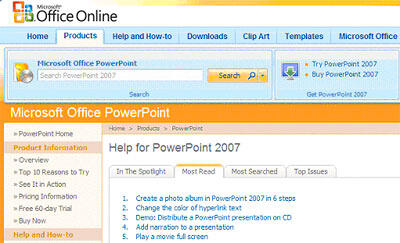 We've also received a lot of customer questions about pricing (How much?) and purchasing (Can I buy now?). So, we've added links at the top of the page to make it easy for people to try or buy PowerPoint and other Office programs.
In response to customer requests to see how to do something, we've started creating more demos. You can see the PowerPoint demos at the Office showcase.
We're also trying to build a PowerPoint community and make it easy for people to share great Office content. You can now submit your own templates (link no longer exists) for PowerPoint, Word, Excel, Access, and Publisher 2007 or use the Community clips tool to create and submit your own help video. We'd love to see your PowerPoint tips and tricks!
---
Geetesh: Tell us more about the challenges you face: working with different PowerPoint versions, interacting with similar Content Publishing teams for languages other than English, creating new content – and anything else you can share.
Team: We have the perpetual challenge of trying to help customers with the version(s) they're actually using while, at some point, needing to immerse ourselves in new features of the version that's upcoming.
Another challenge is to be in touch with customers' needs and pain points. Working closely with those who are developing and testing Office gives us access to the software in an inside way—but it doesn't always show us what customers need from us or how they use our products in "real life". The PowerPoint MVPs are an invaluable asset to us in this regard. They show us reality, in a good and vital way.
Another big challenge is, how can we continuously make our content useful and engaging to our customers. The Web is constantly changing, and we strive to continually think outside of the box to keep up with what is going on outside Microsoft. One thing that we've done recently is start an Office group on Facebook, Office 2007: Help! I'm lost!.
We're aware of the language and cultural differences among the people worldwide who use PowerPoint. We realize that we can't produce help content for a worldwide audience in one sitting, so we break it down. We produce content for the English-only audience first and then work with our international partners to localize the text and images so that all cultures are embraced and everyone has access to similar information.
---
Geetesh: Can you share some trivia or something funny – or even something unconventional about the way site visitors interact – or just something you want to share with Indezine readers?
Team: The thing we enjoy most is reading the customer comments about content we've created. (Comments are entered by customers into the box below, after clicking one of the buttons under Was this Helpful?) The first time you read that something you've created has helped somebody is an amazing feeling. By the same token, it is disheartening to read those comments where we haven't been successful. The best comments are those that are constructive criticism of what we can do to make the content better. We do read your comments and many of you are quite witty, and our biggest regret is that because of the sheer volume we can't respond to each of you. Did you know that 500 million people use Office? Even if one out of every hundred customers left only one comment, that's still quite a few for us to review.

---