Nancy Ancowitz is the author of Self-Promotion for Introverts®. which was picked as one of the best books of 2009 by Publishers Weekly. She is a business communication coach specializing in career advancement and presentation skills.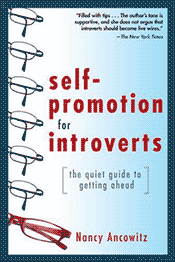 Her clients range from CEOs to emerging leaders in the business and creative worlds. She has spoken at New York University, the Smithsonian Institution, and the US Navy.
Ancowitz is a blogger for Psychology Today and she's appeared in the New York Times, the Wall Street Journal, Monster.com, WABC-TV, and Woman's Day.
Previously, Ancowitz managed marketing communications for a multibillion-dollar business as a vice president at JPMorgan Chase & Co. For more information, go to her site.
Geetesh: Nancy, when I read your book I started thinking that this must be the easiest book on human psychology—by someone who is not even a psychologist—that a layperson can read and understand. What motivated you to create a book of this sort?
Nancy: Thank you, Geetesh. I wrote my book as an introvert for introverts. It struck me that the business world is filled with unsung brains behind the operations—techies, bookworms, wordsmiths, and wizzes of all stripes. Many are introverts who get absorbed in activities that Jo(e) Extrovert considers solitary confinement. Yet, if you're an introvert who avoids the spotlight yet wants to get ahead, it's up to you to get the word out about your gifts and accomplishments.
The good news is that self-promotion is just a skill and anyone can learn it. The purpose of my book is to make learning that skill accessible and even enjoyable, particularly for introverts.
---
Geetesh: Enjoyable? Really? For some people, getting your taxes audited might be higher on the list!
Nancy: Despite the "self" in self-promotion, it doesn't have to be all about you. Nor does self-promotion mean you have to hoodwink everyone you meet at networking events into hiring you, buying your wares, or introducing you to their cousin the CEO.
---
Geetesh: What's the alternative, especially for introverts?
Nancy: Why not raise your visibility by consistently helping people—informing them, educating them, and bringing them together? You can do that well as an introvert by using your quiet strengths. You don't have to be a windbag to host, chair, and spearhead initiatives that matter to you. You can also generously introduce people in your circle; you can do that in ways that work best for your personality, whether that's by e-mail, on social networking sites, by phone, or through conversations with one person at a time rather than at big, noisy gatherings. As an introvert, you tend to dive deeply into the subjects that interest you. So position yourself as an expert by writing and/or speaking about your area of expertise. Don't waste your energy trying to appeal to everyone. This is particularly important for introverts because we get worn down from too much interaction. Remember that you only need to reach a tiny sliver of "el mundo."
---
Geetesh: What stigmas do introverts face?
Nancy: In American society, which is fairly extroverted, introverts are often seen as loners, losers, and antisocial misfits. I'm curious to hear how introverts are perceived from your readers around the world.
---
Geetesh: How did you discover you were an introvert and what's your working definition of the word?
Nancy: I took the popular Myers-Briggs Type Indicator® personality assessment along with everyone in my department when I worked at a major firm on Wall Street. I learned that I was an introvert, which meant that I'm more energized by my quiet time as opposed to an extrovert who gets jazzed by lots of people contact and bored by too much time alone.
---
Geetesh: As you rightly say in your book: "Introversion is not curable—and I hope you see that it's not a malady." How do you try to convince everyday people you meet about the truth in these words?
Nancy: I just state the facts. We're half the population. How could there be something wrong with half of us? For a fun story about this, see my blog post titled "Myths about Introverts. Dispelled."
---
Geetesh: Are introverts half the population in different cultures around the world?
Nancy: Typically yes. According to the MBTI® Manual: "Using any psychological instrument in a culture different from that in which it was developed and tested requires caution and respect for diversity." It continues: "However, MBTI researchers and practitioners in a wide variety of cultures report results very similar to those found by researchers and practitioners in the United States."
In the way of a quick intercultural insight, the manual also says that some Brits observed that US introverts "exhibit behavior that in the United Kingdom was associated with Extraverts: sociability, comfort with small talk, disclosure of personal information, energetic and fast-paced conversation, and so forth." My takeaway is that the characteristics associated with introversion and extroversion may vary from culture to culture. However, you're still an introvert if you're fueled more by solo activities than social activities.
---
Geetesh: Some everyday business practices like delivering PowerPoint presentations are normally associated with being more communicative, talkative and energetic in front of a crowd. Are introverts at a disadvantage?
Nancy: Not necessarily. Delivering PowerPoint or any other kind of presentation involves communicating with your audience and even entertaining them. While a less seasoned presenter might take comfort in hiding in the dark behind a podium and reading bullets from slide after densely packed slide, I'm sure that readers of your blog—introverts and extroverts alike—know better.
If you're an introvert, why not focus on your advantages as a public speaker? If you like to do research—like rooting around the Web for lots of fun factoids, you can come up with killer content for your presentations. You probably also have the patience to think deeply and map out your key talking points. If you're a good listener, you can learn a lot by talking to experts who can contribute valuable quotes and information.
---
Geetesh: How about the performance aspect?
Nancy: Many introverts are gifted speakers and performers. Billionaire investor Warren Buffett comes to mind. He shared his story with me about how he overcame his fear of public speaking as a young man. And now his confidence and eloquence as a speaker are evident.
While introverts are often more contemplative behind the scenes and we're not typically big chit chatters, we can be energetic in front of a crowd, especially if we're passionate about our subject matter. Becoming a strong presenter usually takes some lessons, and doing a practice speech on videotape with input from a trusted adviser is also a good idea; but mostly it takes lots of practice.
The beauty of public speaking for introverts is that it's a highly efficient use of our social energy. We get up in front of an audience once and reach so many more people than we could otherwise in the course of a day.
---
Geetesh: Can you offer any shortcuts to make public speaking easier for introverts?
Nancy: Resting up, preparing, and practicing your presentation will enable you to play to your strengths as an introvert. Why rest up? Don't we all need our eight hours of zzz's? Of course, sleep is a basic human need. However, resting between social engagements is particularly important for introverts because we need to catch our breath while we're alone—before we expend a lot of our social energy.
Why prepare and practice? Just as an extrovert gets energy from thinking out loud, brainstorming, and bouncing ideas off plenty of people, if you're an introvert, you prefer to think before you speak. So if you prepare your key points and practice them, public speaking gets much easier.
Of course, you could argue that an extrovert would do a better job by preparing and practicing too. Sure, but it's more essential for an introvert, who is less inclined to wing it.
---
Geetesh: Many introvert presenters think of themselves as being less successful because they are not the outgoing type. But your book says that this is simply not the truth—so if they had to do just one thing to be more communicative and successful, what do you think that would be?
Nancy: Ask yourself this: What is the one most important message you can deliver to your audience? How can you make your time together most meaningful? And how can you make it all about them, even if you're selling something?
Remember why members of your audience bothered to show up. Are they there to learn something? To connect with other members of the audience? Or possibly because they're required to be there for work?
---
Geetesh: What you focus on becomes your reality—you put that across so well in your book. Can you offer an example?
Nancy: That's a good point, Geetesh. Here's an example from my book: Let's say you interview for a high-paid position at a prestigious law firm. Your credentials and background are an ideal match for the position and the firm. You meet with three partners in a series of interviews and give excellent answers despite four hours of relentless grilling. However, you make one mistake. While you're saying good-bye to the senior partner on your last interview, you accidentally launch a miniscule projectile of saliva, which lands on her check. While the partner doesn't seem to notice and you appear calm, later, when thinking about about the interviews, you're convinced you failed miserably. Why? All you can think about is that you spat at the senior partner. You picture what went wrong—over and over, in a slow-motion playback of the trajectory of spittle—and you ignore the overwhelming majority of things that went right.
Here is 5-minute video which contains another fun story (my interviewer dons swimming goggles) about the importance of what you focus on.
---
Geetesh: So do introverts engage in more of that negative self-talk than extroverts?
Nancy: Research on the brain has found that introverts may have a higher level of internal chatter than extroverts. In my book I interviewed Debra L. Johnson, Ph.D., a physiological psychologist, who recommends that introverts embrace their inner dialog. "If the dominant functional pattern is to engage in a running monolog about activities and demands, this self-talk might be harnessed by explicitly 'reminding' oneself about important behaviors," she says. "For example, a person might include a self-comment to the effect of, 'I did really good work on that project—everyone has told me that' Or 'In a staff meeting today, I have to speak up about my involvement.' Or he or she could even plan and rehearse exactly what to say in a meeting."
I also interviewed Bob McPeek, Ph.D., director of research at the Center for Applications of Psychological Type (CAPT), who points out that there is evidence suggesting that introverts are more likely to engage in self-reflection. "Much of it," he says, "is along the lines of tossing and turning at 3 a.m., replaying the same event in your mind, and beating yourself up for it." He adds that there's also a "positive side to self-reflection that introverts may exhibit that is more like a healthy intellectual curiosity about yourself."
---
Geetesh: Can you share any anecdotes or insights from people who have read Self-Promotion for Introverts®?
Nancy: One reader said that my advice to get the support he needed to reach his goals strongly contributed to his landing a job. He hired an executive coach, who helped him nail his second round of job interviews. "It became clear an offer was in the bag when the CEO drove me to the airport," says the reader, who is now a senior vice president at a multinational food company. So even if you're an introvert who values her or his quiet time, don't expect that you can achieve everything on your own. As a coach myself (and as someone who hired a coach while on Wall Street), I've repeatedly experienced what a sounding board, thinking partner, and stalwart supporter can do for a client seeking his next opportunity, promotion, raise, or deal.
Another reader, Shelley-Ann West, a user experience design consultant, offers that she wrote affirmations around what she perceived as her weaknesses and reframed them as strengths. "I used to say 'I'm not ready,'" she says. "I turned that around to, 'I am ready! I will learn what I need as I move along.'" West shares that she conducted her first webinar last year and it was very successful. She continues, "I stopped waiting until I knew everything and just tried it out."
Another reader, Larry Underwood, author of Life Under the Corporate Microscope, says that Self-Promotion for Introverts® provides, "a solid game plan" and that it offers key strategies that "don't involve changing the introvert's personality" and instead focus on "their strengths and accomplishments by quietly informing people what they bring to the table." Underwood paraphrases Sargeant Joe Friday, a fictional detective from the classic American TV show, Dragnet (and echoes what I said in response to one of your earlier questions, Geetesh): "Just the facts, please; just the facts."
---