Chuck Dietrich is the CEO of SlideRocket, an online presentation platform founded in 2006 with the vision that provides for every part of the presentation lifecycle and helps you make great presentations. Chuck holds a BA from University of Colorado in Economics and an MBA from University of Utah.
In this interview, Chuck talks about his role at SlideRocket, how PowerPoint users can complement their workflows with SlideRocket, and how SlideRocket is continuously improving and adding new features.
Geetesh: What does SlideRocket represent to you?
Chuck: There are a lot of ways to answer that question so I'll give you two answers.
Presentations are arguably the 2nd most pervasive form of business communication next to email. Presentations are ubiquitous but the technology and workflows we're used to haven't changed in over 20 years. SlideRocket is reinventing presentations by embracing today's technologies that let you collaborate with your social graph to produce engaging communications that deliver quantifiable results. In this sense, SlideRocket is much needed presentation innovation.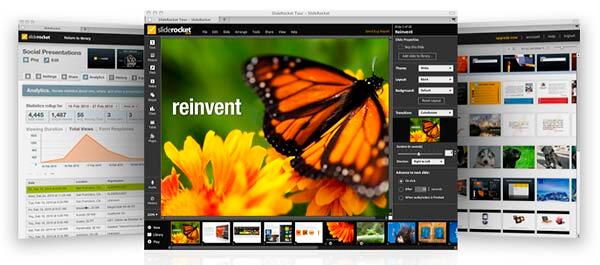 The second and most essential part of the SlideRocket equation is a team of incredibly talented and passionate professionals that make up our company. Everyone at SlideRocket is dedicated to helping our customers understand the benefits of a connected and collaborative environment for efficiently creating, sharing and delivering stunning presentations and we all believe we have an amazing set of technology to enable that.
---
Geetesh: Many people approach SlideRocket with a PowerPoint perspective trying to make themselves comfortable in a SlideRocket world that is similar to the PowerPoint world they inhabit – how do you help them with SlideRocket?
Chuck: Because so many people have been struggling with the limits of PowerPoint, there is a real hunger for a new solution and an eagerness for change.
However, any time you ask someone to make a change you have to put yourself in their shoes and clearly illustrate how this change is going to benefit them. Illustrating these benefits with SlideRocket is easy because SlideRocket addresses many of the problematic workflows or technology restrictions that people have unfortunately accepted as the status quo. One example of this is sharing. With today's technology you have to concern yourself with large email attachments, email inbox quotas, software version and platform (PC, Mac, Linux, iOS, Android etc.) compatibility. You're never really sure if your intended audience got your presentation or could view it. With SlideRocket sharing is simple – you just send a link in email or IM or embed your presentation in your web page or blog. Everyone sees the content as you intended and can focus on your ideas rather than waste time trying to get the technology to work. Customers get the difference in user experience here very quickly this is just one example of how SlideRocket can benefit you and your audience.
---
Geetesh: I see that plenty of visual content can be included in SlideRocket presentations so painlessly – what motivated the decision to make visual content so accessible?
Chuck: Humans are very sensory creatures. Our visual sense lets us track and process motion and it's an ability that's kept us alive through the ages. Are those bushes moving because there's a hungry lion behind them? We also process and have emotional responses to color and audio and as advertisers have learned it pays to engage all our senses to create a lasting impression. From a learning point of view, studies have shown that combining both audio and visual components results in an 80% retention rate. Clearly when you want to engage or educate or convince an audience with a presentation you want to engage their senses through audio, video, animations, transitions, builds and the use of provocative imagery to impress them and help them remember what you had to say. SlideRocket makes all of this easy and we take it a step further letting your audiences interact with your presentation through our Twitter and PollEverywhere plugins. These plugins let you get instantaneous feedback from an audience but more importantly get them actively participating using their kinesthetic sense via their mobile device. SlideRocket aims to let you build very engaging experiences with a minimum amount of effort, so you can focus on telling your story.
---
Geetesh: Tell us more about your user base – who uses SlideRocket.
Chuck: SlideRocket customers cut across nearly every market segment – from entrepreneurs, SMBs and Fortune 500 companies to students, educators and nonprofits. Within these markets, sales and marketing teams are the largest and fastest growing customer segment.
Customers who are using SlideRocket today are what Geoffrey Moore (Crossing the Chasm) would call Early Adopters and Pragmatists. These are folks who like to try new things and will use new technology to solve their problems. The good news for us is that these people exist in small, medium and large business so we have a really healthy cross section of small business owners and departments in both growing businesses and very large enterprises across a broad variety of industries. These customers were universally looking for a better way create, share, manage and measure their presentations when they learned about SlideRocket.
---
Geetesh: How does feedback from SlideRocket users help you create a better presentation tool – can you share information on any new features that evolved as a direct result of customer feedback.
Chuck: We're fortunate to have a large base of users who enjoy the Lite (free) version of SlideRocket who along with our paying subscribers contribute a great deal of feedback. This feedback comes in the shape of bug reports, emails, phone calls and participation in our UserVoice research lab where anyone can add their vote to a feature or idea about SlideRocket. All of this feedback is regularly reviewed and helps drive the next set of features and fixes and because we're a SaaS (Software as a Service) provider it means customers don't have to wait years and years for new features to be released.
---
Geetesh: PowerPoint import and export is quite faithful in SlideRocket – why is that so important?
Chuck: We don't expect everyone to move from a PowerPoint world to a SlideRocket world overnight so it's very important for us to support the way you're working today as we help you discover the SlideRocket way. When you're importing or exporting to PowerPoint we do our best to retain the work you've already done while letting you embrace SlideRocket's innovations and benefits. For many customers we recommend a pilot project to see how SlideRocket can work inside your business without disrupting the flow of communications. Once this is a success we can then roll out to other departments and divisions.
---