Andrew Abela is an Associate Professor of Marketing and Chair-elect of the Department of Business & Economics at the Catholic University of America in Washington, DC, and author of Advanced Presentations by Design.
His consulting clients include Microsoft, ExxonMobil, Motorola, Burger King, eBay, and Kimberly-Clark. Prior to academia, he ran the Marketing Leadership Council, was a consultant with McKinsey & Co., and a brand manager at Procter & Gamble. He lives with his wife and their six children in Great Falls, Virginia, and was born and raised on the island of Malta.
Geetesh: Tell us more about yourself, your exposure to presentations such as those created using Microsoft PowerPoint, and why you think that presentations can be made to look and express better.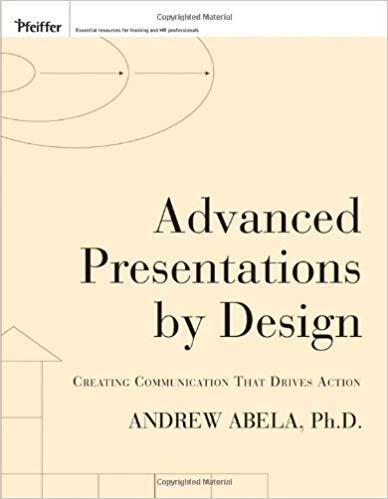 Andrew: I am a professor of marketing at the Catholic University of America. At the end of each semester, I used to have to sit through PowerPoint Hell while my students presented their term projects. I realized that by graduating yet another crop of students who could not design an effective presentation, I was just adding to the presentation problems of the business world. Finally I thought – Enough! – and I decided to develop a way to teach them how to design presentations that actually work – which I now call the Extreme Presentation method.
Before coming to academia, I was a managing director at the Corporate Executive Board, a consultant with McKinsey & Company, and a brand manager with Procter & Gamble. All three of these organizations have been held up at various times as the gold standard for business communication; the first two for presentations and the third for their famous 1-page memos. I thought to myself that, based on that experience, I should be able to do something better than what's out there.
So I developed the methodology, piloted it with my students and found it to be highly effective, and then mentioned it to a few colleagues. The market research organizations at Microsoft, Kimberly-Clark, and JP Morgan Chase jumped on it. Market research was a great trial ground, because if you can turn a typical 75-slide, numbers-loaded market research PowerPoint presentation into something that will drive action, then you can do it for any kind of presentation!
Market researchers are a closely-knit group, so word spread quickly. In the four years since the first workshops, I've been invited to share this methodology with researchers, marketers, and others at numerous companies, including eBay, Dell, HJ Heinz, Burger King, Motorola, and ExxonMobil, among others.
---
Geetesh: Why do you call your method the "Extreme" Presentation method?
Andrew: The idea is that anyone trying to present complex information today, and trying to persuade people to do something with it, is facing an extreme challenge. Because your audiences are super busy, they're distracted by their mobile email, and they're already overwhelmed with information – and you're there to give them more information. It's an extreme challenge, and so it needs an extreme solution: the Extreme Presentation method.
---
Geetesh: What inspired you to write your book: Advanced Presentations by Design?
Andrew: In designing the method, I didn't want to just rely on my own experience as to what works. In particular because it was clear to me that what works is very different from what people normally do, so we really have to challenge people's beliefs. If you're going to challenge people's beliefs, you better have strong evidence for that. So I did an extensive review of all the research that I could find that was relevant. I looked at over 200 empirical studies of all aspects of presentations: storytelling, layout design, font, color, etc. This was not easy, because relatively few of those studies are about PowerPoint presentations themselves. The rest I had to search for in other research fields: advertising research, psychology, education, even legal research (some good studies on what kinds of presentation are most effective for convincing juries). Once I started gathering all the research, it made sense to put it all into a book.
Everyone who is exposed to the Extreme Presentation method tells me that it is radically different – and that it works really well. And so I thought that getting it into a book form would be a good way to get the word out.
---
Geetesh: Can you share some thoughts about what a reader will take away from the book.
Andrew: Readers will get a ten-step approach to designing a presentation that drives action. The ten steps will take them through audience analysis, objectives, storytelling, slide layout etc. Once you get good at it, it will actually take you less time to create your presentations, and you will have more impact, in terms of getting people to act on what you present.
---
Geetesh: What do you think about common elements like color, visuals, and layout in a presentation? How should they be approached, and what is their role?
Andrew: The big idea—supported by extensive research—is that anything that supports your message is good, but anything that is neutral or irrelevant is bad. In other words anything that is not directly supporting your message should be ruthlessly eliminated. So colorful themes, cute Clipart, all these things have no place in an effective presentation.
In terms of layout, to avoid the "Death by PowerPoint" that comes with lots of bullets on a slide, I talk about what designers call the "squint test." Squint at your slide, so that it is all blurry and you cannot read any of the text. If you can get some idea of what the slide is about just from the visual layout, then your slide passes the squint test. If not, redo it. In the book I provide 36 examples of slides that pass the squint test, which are also available for download on my website. I've been meeting with the Microsoft PowerPoint program planning team recently, and their SmartArt feature is an excellent way to implement the squint test.
---
Geetesh: In your opinion, what is the raison d'être of any presentation.
Andrew: The purpose of any presentation is to help solve a problem for the audience. If you're not helping them solve a problem, then you are just wasting their time, and yours. People say to me "But I'm just developing an informational presentation." My response is – there is no such thing as an informational presentation. Either your audience is going to use your information to do something, i.e. to solve some kind of problem, or else they don't need it.
Ask yourself: what would happen if they didn't receive the information in my presentation. If the answer is nothing would happen, then you really shouldn't be wasting your time giving the presentation. But if they would lose some kind of opportunity, or run into some kind of problem, then that is what you should focus your presentation on. Instead of saying: we're here to give you an update on x project, you want to say we're here to show you how our work on x project so far can help you meet your sales objectives for this quarter, for example.
This should be true not only for the entire presentation, but also for every message in your presentation: each message should be a response to some kind of a problem or objection.
---
Geetesh: If there's just one thing that people can do to create and deliver better presentations, what do you think that one thing ought to be?
Andrew: One thing? Buy my book. Oh - you mean in terms of presentation design advice. Three things then, not just one:
Every message in your presentation, as well as your overall presentation itself, should be set up as a response to a problem or question.
Every slide must pass the "squint test."
There should not be any irrelevant details on any slide in your presentation.
---
Geetesh: Do you want to share any thoughts with Indezine readers, share an experience, or add anything that we haven't covered in this conversation yet?
Andrew: A great presenter once told me that if you want to be a big success on the speaker circuit, then tell people what they already know, but do it in new and creative ways, that way you'll make them feel good about themselves.
I've never been able to follow that advice myself, because in this case, much of what people think they know about presentations is dead wrong. You don't have to take my word on this: look at the typical presentation at any conference, or in any meeting or classroom. Death by PowerPoint is an epidemic.
So instead I'm offering something very different. As a result I sometimes get pushback. But once people try it, they become believers – and it's often the most vocal opponents who become the most die-hard supporters.
Here's a link to Andrew's blog.
---
This is the original page. An AMP (Accelerated Mobile Page) version of this page is also available for those on mobile platforms, at An Interview with Andrew Abela.