Theme Builder is an application created by Microsoft to create and edit themes. The full name of the application is Microsoft Theme Builder, but for reasons of simplicity, we'll call it Theme Builder throughout this series of pages. As of now, Theme Builder is a Windows only application, but any Themes edited and created within this application work in Mac versions of Office too.
Theme Builder was first publicly announced by Senior Product Lead for PowerPoint, Ric Bretschneider on the MSDN site on December 17th 2007.
With the Theme Builder, you can create Office Themes from scratch that cover all the basics.
Download a copy of the latest release from the Microsoft Connect site (see Figure 1).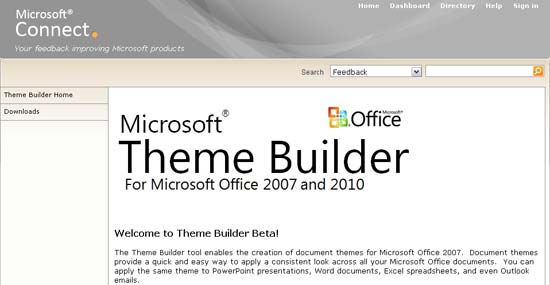 Figure 1: The Microsoft Connect page for Theme Builder (January 2011)
You'll end up downloading the Theme Builder.msi file. Activate this file to begin the setup for Theme Builder.
Launch Theme Builder through the Theme Builder shortcut in the Windows Start Menu. Figure 2 shows the Theme Builder interface.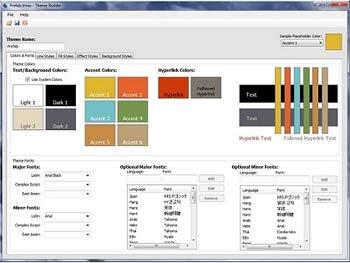 Figure 2: The Theme Builder interface
The Theme Builder includes five tabs that lets you work with different theme elements:
Colors and Fonts
Line Styles
Fill Styles
Effects Styles
Background Styles
In the next series of pages, we'll show you how you can use Theme Builder to create amazing themes using these elements.
Note: Do remember however that Theme Builder does not let you edit individual PowerPoint nuances like Slide Layouts, placeholders, etc. For that you'll have to apply the theme to a PowerPoint presentation, edit the layouts and placeholders inside PowerPoint, and then export the changes to a Theme file again.
You May Also Like: Saving Themes In PowerPoint, Word, and Excel 2011 for Mac | Theme XML Files
This is the original page. An AMP (Accelerated Mobile Page) version of this page is also available for those on mobile platforms, at Theme Builder.