This tutorial is part of the PowerPoint to Secure PDF series, in the previous tutorial, I showed how to create PDFs from a single exported PNGs. In this tutorial we'll explore options in Adobe Acrobat Pro to insert multiple PNG files.
Follow these steps to get started:
Launch Adobe Acrobat Pro. From the File menu, choose Create PDF | Merge Files into a Single PDF, as shown in Figure 1.

Figure 1:

Merge files into a single PDF

This summons the Combine Files window (see Figure 2). Click the Add Files button to reveal a fly-out menu, and then choose the Add Files option.

Figure 2:

Combine Files

This opens the Add Files window, as shown in Figure 3. Select all files by individually selecting them (press the shortcut key

Ctrl

+

A

to select all files in a folder), and click the Add files button.

Figure 3:

Add files

This will add all the selected PNGs, and get you back to Combine Files window in Adobe Acrobat Pro, as shown in Figure 4.

Figure 4:

Added files

Once the files are added, you can select one or more options (see Figure 5):

Figure 5:

Re-arranged files
Re-arrange the file sequence by selecting the file, and then clicking the Move Up and Move Down buttons.
Delete selected file by clicking the Remove button.
Set the PDF file size by choosing the small, medium, or large options, remember larger file sizes equate to higher quality PDFs.
Now click the Combine Files button shown in Figure 6 to start the merge / conversion process.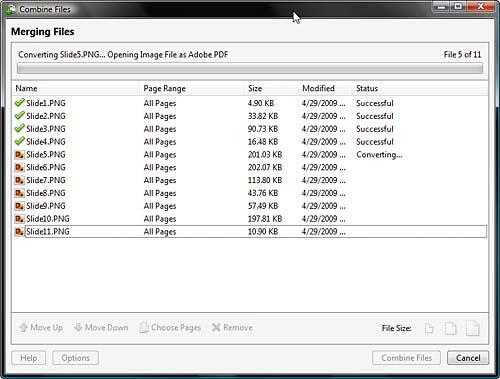 Figure 6:
Files merge / conversion process
When the PDF is created, a Save As windows opens (see Figure 7). Provide a name to the PDF, choose the location, and click the Save button.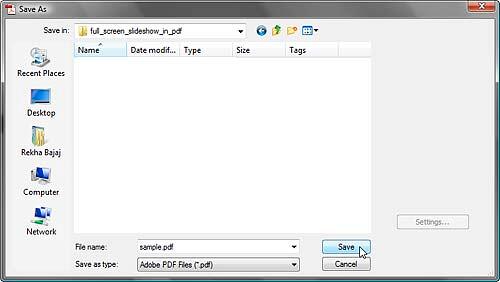 Figure 7:
Save PDF
Figure 8 shows the created PDF.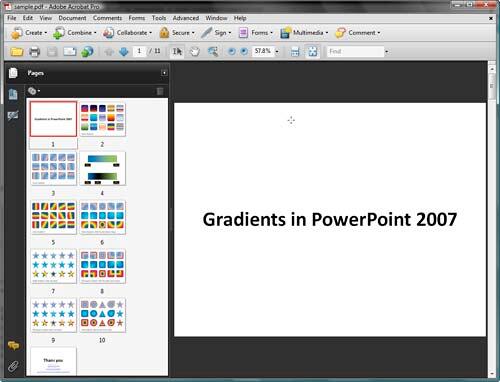 Figure 8:
PDF
In the next tutorial of this series, we'll explore how to insert new slide pages in Adobe Acrobat Pro.
Previous Topic: Creating PDFs from PNGs in Adobe Acrobat
Next Topic: Inserting New Slide Pages in Adobe Acrobat